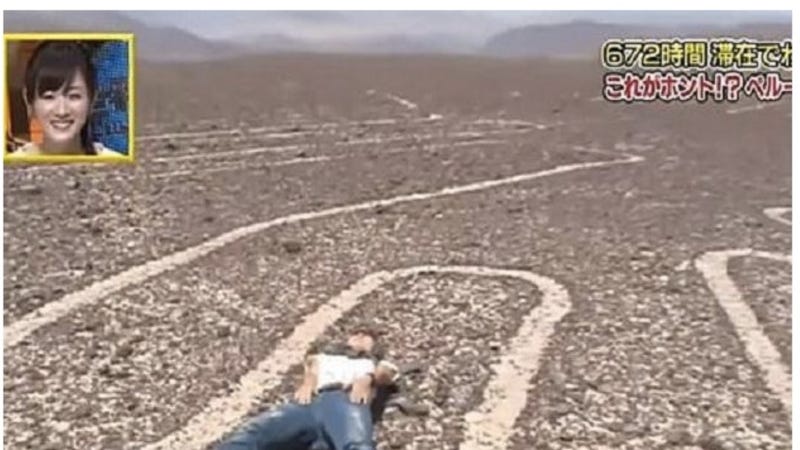 A video showing a Japanese TV reporter lying down next to the world famous Nazca Lines in Peru has reignited concerns about how to control access to one of the world's great archaeological sites.
Images of the March 2013 incident surfaced this week, a month after Peru's government said it would seek criminal charges against several Greenpeace activists who damaged the site when they staged a publicity stunt there in November.
The lines, a Unesco World Heritage site, are one of Peru's leading tourist attractions. Believed to have been etched into the ground more than 1,500 years ago, the ancient geoglyphs depict images of plants and animals, including a hummingbird, a monkey and a spider. The lines are spread out over 400 square miles of desert in southern Peru.
Visits to the area require special permission from the government. Visitors must use special shoes to avoid damaging the lines, although many opt to view them from the top of surrounding foothills or from an airplane.
Peru's Culture Minister Diana Alvarez Calderon said this week the government intends to press criminal charges against a Peruvian archaeologist who led the Japanese TV crew into the protected area. The minister said the group was not authorized to enter the area on foot, but instead film the lines from an airplane.
Greenpeace issued an apology after several of its activists laid out large letters reading "Time for Change! The Future is Renewable" near the figure of the hummingbird. The group released photographs of the message, which was timed with a U.N. climate conference being held in Lima.
Peruvian officials say footprints from the activists left at the site could remain in the ground for decades. Prosecutors are planning to file charges of "attacking archaeological monuments" against three of the activists, who left Peru shortly after the incident. Government officials say they plan to seek their extradition.