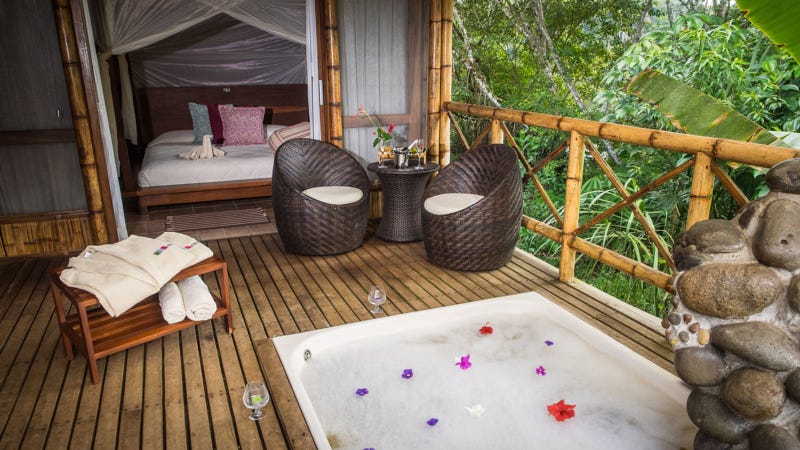 As New Englanders line the snowy streets of Boston today to cheer the Super Bowl champion Patriots, a smaller group of Ecuadorean hotel workers are lining the lobby of a jungle ecolodge ready to welcome the second-place Seattle Seahawks.
La Selva, a luxury eco-lodge in the Ecuadorean Amazon, is offering the Seahawks a free three-day stay in the jungle (airfare to South America not included).
The offer, which comes on the heels of Ecuador's $3 million Super Bowl ad, is an attempt to increase the lodge's exposure in the U.S. But La Selva's staff say there's more to it than that.
"The winner always takes all the prizes, and gets all the attention," sales director Elena Guachamin said in a phone interview from Quito. "We are Latin American and we are always trying to take care of people, so we thought it would be a nice gesture on our part to have a prize for the losing team."
La Selva is a luxury jungle spa with 18 rooms, which would make for cozy living if all 53 Seahawks show up. It usually charges guests $1,300 for three-day all inclusive packages.
That's chump change for most NFL players. (The Seahawks stand to split up an estimated $3 million in Super Bowl runner-up bonuses, according to last year's payout.) But the lodge's staff is hoping that some Seahawks will accept their offer for a free stay.
Audra Clemons, the lodges' PR rep in Florida, says she has contacted six players through their agents, as well as the Seahawks' VP for communications to see if he can help her reach the other players. So far, no one has committed, but the hotel is hopeful.
"I think we can get a few players," Clemons told Fusion. "With the country putting so much emphasis on the Superbowl it means a lot to the ecolodge to actually follow through with the campaign and have someone come down."
Manuel Rueda is a correspondent for Fusion, covering Mexico and South America. He travels from donkey festivals, to salsa clubs to steamy places with cartel activity.