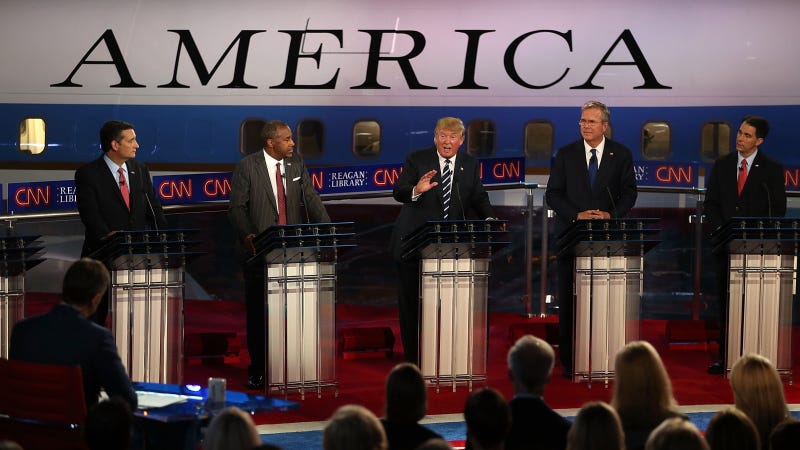 On Wednesday, the National Wildlife Federation announced it was no longer holding a long-planned energy and environmental forum for Republican candidates. Originally scheduled to be held on October 8 at Franklin Pierce University's Manchester campus in New Hampshire, NWF canceled the event at the last minute due to "a lack of sufficient candidate participation," according to Andy Buchsbaum, vice president of conservation action at the National Wildlife Federation.
As of last week, only three of the 15 Republicans running for president had confirmed attendance: Virginia Gov. Jim Gilmore, former New York Gov. George Pataki, and Kentucky Senator Rand Paul. However, earlier this week Sen. Paul said he would no longer be attending, Miles Grant, NWF director of communications, told The Huffington Post. All of the candidates were invited.
Former U.S. Senator Judd Gregg, a New Hampshire Republican, had signed up to moderate the forum. He chalked some of the lackluster turnout up to difficult logistics.
"With such a large field of candidates traveling to many places, attempting to get them to one location for a conversation about energy and environmental issues was a significant challenge to take on," he said in a statement. "I am confident that these issues, which are of great importance to New Hampshire citizens and our presidential candidates, will continue to be discussed throughout the remaining months leading up to the First-in-the-Nation Primary."
The NWF and the New Hampshire Audubon have also been planning a similar Democratic forum, but no date has been announced. Democratic presidential candidate Bernie Sanders has even called for an issue-specific debate on the environment, saying "I think environmentalists deserve a debate so we could talk about how we move aggressively to transform our energy system away from fossil fuel."
While energy and environmental issues have composed a significant chunk of the Democratic presidential candidates' discussion, Republicans have been reluctant to make anything more than the occasional pro-Keystone XL pipeline, anti-climate change, or EPA-bashing remark.
Republicans are increasingly alone in their unwillingness to confront climate change as a real issue, and not just in the U.S. but across the world. A recent study of nine conservative party views on climate change found that opposition to any mitigation of greenhouse gas emissions "is only the case with the U.S. Republican Party, and hence not representative of conservative parties as a party family."
"Of all the major conservative parties in the democratic world, the Republican Party stands alone in its denial of the legitimacy of climate science," wrote Jonathan Chait at New York magazine of the study. "Indeed, the Republican Party stands alone in its conviction that no national or international response to climate change is needed."
So in a way, the failure to show up to a discussion about energy and environmental issues isn't a bad representation of the current Republican candidates' approach to the matter.