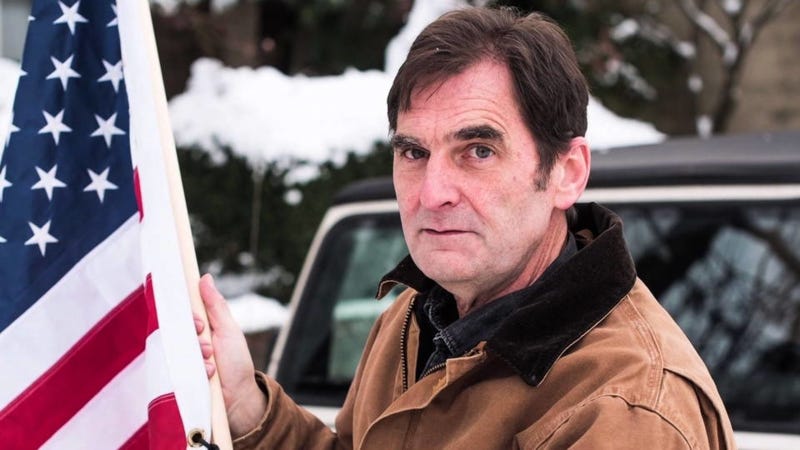 An Oregon man could face decades behind bars for his part in a coordinated direct action that disrupted the flow of millions of gallons of tar sands oil from Canada to refineries in the United States.
Ken Ward, founder of the Climate Disobedience Center—which serves as a catalyst for civil disobedience across the country—was charged with trespassing, burglary and sabotage for shutting off a valve on Kinder Morgan's Trans Mountain Pipeline.
Ward faced up to 30 years behind bars for the action last October north of Seattle, Washington.
But the 60-year-old activist said he felt he had no other choice to get the message out that the world is headed for potential climate catastrophe.
"Since doing this action, I think to myself did I make a mistake?" Ward said. "But then I ask, if I didn't do this what could I have done that would have been more effective—so that's why I did it … nothing else is working."
Taking climate change out of the politics and into the legal system may be the best chance for tackling the problem, Ward said. Throughout history, small groups of people who turned out to be right have been able to make a difference because of direct actions—especially nonviolent direct actions in modern times, he added.
Ward compared it to the civil rights movement when African Americans would sit at the 'whites only' counters in restaurants. Those types of actions broke open conversations about race and racism. Ward hopes nonviolent direct actions against the fossil fuel industry can do the same for the climate conversation.
"When people put themselves at risk, it causes other people to stop and ask what's going on here in a way that no other political behavior or activity does," Ward said.
Signaling that he might be right, on Feb. 1, a Skagit County jury couldn't agree on the charges against Ward despite video and photo evidence of him breaking into a Kinder Morgan valve station and shutting off the valve near Burlington, Wash.
On Feb. 12, prosecutors refiled felony charges against Ward and he will face a retrial. Despite that, Ward said the hung jury in the first trial showed that some of them agreed with his action.
"We didn't argue points of law, we just talked about what the climate threat was in general and in Skagit County—some number of that jury agreed with me that it's a huge threat and a bigger problem," Ward said.
To make his point to the jury, Ward showed them a map of Skagit County with five feet of sea level rise—the predicted rise by the end of the century. That put half of the county underwater.
"I think that was quite powerful, and they took it with them into the jury deliberation room," Ward said.
"We've reached a point where despite all the efforts of climate deniers and people putting out fake news on this, there's a considerable proportion of the population that gets that there's something out of whack," Ward said. "All these scientists can't be wrong, and we're heading toward potentially catastrophic times."
Direct action has become all the more important since the election of President Donald Trump, Ward said, as Trump wants to expand the fossil fuel industry and exit a global climate treaty signed in 2015 by nearly 200 nations that would see countries cut carbon emissions and transition to green energy.
Ward has been working on environmental issues since he was in high school—first as a volunteer then as staff personnel for various organizations. He worked for 20 years lobbying for environmental policies before taking a couple of years off to parent his child. It was then that Ward had the time to read up on climate change directly from science journals.
"That convinced me that what we were doing in the policy lobbying world was going to be insufficient to address the problem," Ward said.
There were two reports that really made an impact on Ward, he said.
One was "Carbon Logic" by Greenpeace, released in 1997. It showed that to keep the level of carbon in the atmosphere below 450 parts per million, the world would not be able to burn even the known fossil fuel reserves at that time.
"That was staggering," Ward said.
Climate activist Bill McKibben of 350.org had argued that 350 ppm was the highest safe level of carbon in the atmosphere. But that limit was breached in 2015 as the carbon concentration passed 400 ppm.
Scientists believe that will result in worse effects than those already being experienced around the planet including "rising seas, monster storms, wildfires, and extreme weather of all kinds," according to the 350.org website.
"Passing 400 ppm is an ominous sign of what might come next," it added.
The second report that impacted Ward was former NASA scientist James Hansen's paper, "A Slippery Slope," which was the first time anyone carefully traced how burning fossil fuels lead to climate change and sea level rise.
Because scientific evidence points to climate change posing existential threats to the planet, Ward sees his action as a necessity. He had planned to use the necessity defense at his February trial, but was denied by the judge.
The defense of necessity is used by defendants who say they had to commit a crime in order to prevent a greater danger from occurring.
"We were all set on (using the necessity defense) and we had a whole set of climate scientists that were set to testify—including Bill McKibben," Ward said.
But the prosecutor opposed the defense and Judge Michael E. Rickert denied Ward's request to present the defense saying there was "tremendous controversy" over whether climate change was man-made.
In the retrial, Ward said his defense will ask again to use the necessity defense and if denied they will appeal the decision.
Ward has had success with the necessity defense in the past. In 2013, Ward and other activists used a lobster boat to block a shipment of 40,000 tons of coal to Massachusetts' Brayton Point Power Plant.
They used the defense of necessity and it was accepted by the prosecutor, Ward said, adding the case showed that taking the climate change battle out of the political arena and into the courts gives activists a shot at enacting change, Ward said.
In the 2014 court case over the lobster boat blockade, District Attorney Sam Sutter dropped all the charges saying, "climate change is one of the gravest crises the planet has ever faced."
"The evidence is overwhelming and it keeps getting worse. So we took a stand here today, the Bristol County District Attorney's Office," Sutter said.
"I'm sending a message that this was an act of civil disobedience," Sutter concluded.
Other climate activists have attempted to use the necessity defense with less success—including a group of Michigan climate activists who also attempted to shut down a tar sands oil pipeline.
In their case, the activists locked on to Enbridge's Line 6B in an effort to stop construction on the line. It was the same pipeline that ruptured in 2010—spilling nearly one million gallons of tar sands oil near the Kalamazoo River causing a major environmental crisis. It was the largest inland oil spill in U.S. history.
The activists argued they had to stop the construction in order to prevent another catastrophic spill in the future but in the end were convicted of misdemeanor and felony charges.
Ward said his victory in using the necessity defense in the lobster boat blockade shows that opinions are beginning to change.
"I think that showed that there are people in the legal system looking for the opportunity to take effective actions on climate," Ward said.