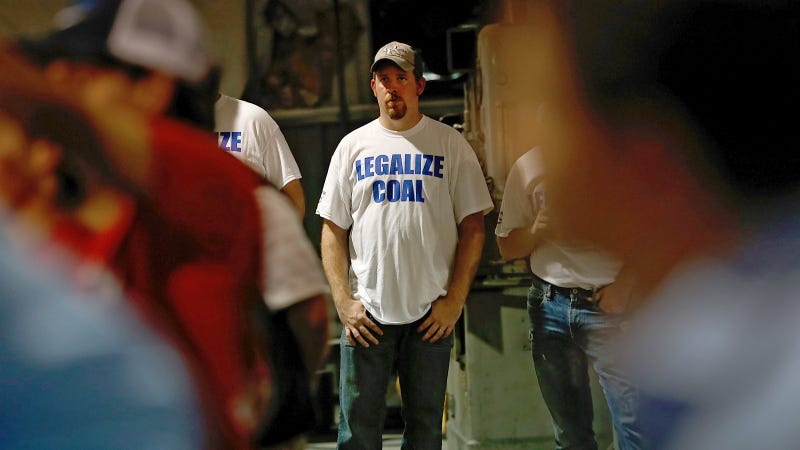 The environment is one of the most contested issues between Republicans and Democrats this election season. Whether debating climate change's existence, fighting over the use of public lands, or trying to pass a clean water update, there is little common ground. Within this realm, energy policy is probably the most heated topic, with fossil fuel extraction often pitted against clean energy. And within energy policy, the future of coal is where it all just bursts into partisan flame-throwing.
The standard narrative is that Republicans want to protect the industry and its jobs, and are willing to fight tooth and nail to do just that. Meanwhile, Democrats want to do away with coal altogether and all of its costs—which include substantial local and global pollution—with little regard for those who rely on the industry for their livelihoods. In political parlance, this is what Republicans refer to as the "war on coal."
On Wednesday, the Obama administration exposed just how oversimplified and misconstrued this narrative is.
As part of the administration's broader POWER+ Plan—which proposes more than $9 billion of investment to support economic diversification in coal communities—the White House announced nearly $39 million of funding for nine states affected by the decline of the coal industry. The 29 projects are projected to create or retain more than 3,400 jobs.
For example, nearly $3 million will go to a project in Eastern Kentucky aimed at training people for careers in the tech industry, an area that has already proven appealing for former coal industry workers.
The largest grant of $7.5 million will go to Kentucky's University of Pikeville to help launch an optometry college in the region.
Even Senate Majority Leader Mitch McConnell, who will take any opportunity to bash the Administration's policies towards his home state of Kentucky, welcomed the injection of funds, saying that he was pleased to work to "help secure these competitive grants."
If elected, Clinton has pledged to continue many of Obama's environmental policies, and when it comes to helping struggling cities and towns in historically coal-dependent areas, she is committed to a $30 billion plan.
In a recent speech in Virginia, Trump attempted to lay out his vision for coal country, which even the local paper found unconvincing in its vagueness and low-energy delivery.
But there was no shortage of scaremongering.
Trump said that Clinton will be a "horror show" for miners, and that she would be even worse than Obama if elected.
"The mines will be gone if she gets elected," he said.
In talking to a few miners who said "Mr. trump, we love mining," Trump inferred that coal industry workers don't want to go into a new industry.
"They want to be miners," he said. "But their jobs have been taken away and we're going to bring them back."
According to the Appalachian Regional Commission, about 23,000 Appalachian coal jobs were lost between 2011 and 2015.
According to Trump, bringing back these jobs should be easy—the only thing that caused their disappearance being the Obama administration's destructive policies.
Again, the story isn't so simple.
Coal production in the United States is at a 35-year low, according to the U.S. Energy Information Agency, which in 2015 attributed the decline to "low natural gas prices, lower international coal demand, and environmental regulations."
Basically, other sources of power are becoming cheaper while the negative impacts of coal are becoming more pronounced and harder for countries like China, which already suffers debilitating air pollution, to swallow.
Republicans waging the war for coal have a starkly different impression. They see themselves as fighting for "an abundant, clean, affordable, reliable domestic energy resource," according to this year's Republican National Committee. The well-documented local and global destructive environmental impacts of the energy source don't even need to be noted in the discussion, nor do the economic drivers leading to the industry's slow decline.
At least 50 coal companies have filed for bankruptcy over the last few years, including the nation's largest coal company, Peabody.
However, there is evidence that at the individual level, some coal stakeholders are starting to confront the realities of climate change. At the same time, many others are taking advantage of opportunities like these grants from the Obama administration to move on to jobs in more secure industries.