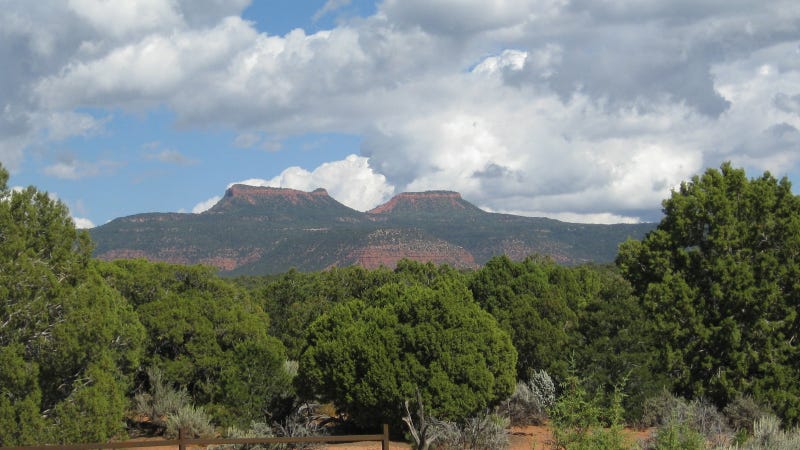 President Barack Obama used his executive authority on Wednesday to create two new national monuments in the west, covering about 1.6 millions acres of public land.
The decision was met with praise from environmentalists and Native American groups, who had sought the protections, while congressional Republicans steamed and promised to work to undo the decision in the upcoming Donald Trump administration.
All of the land designated by Obama was already public land owned by the federal government under the 1906 Antiquities Act. Making the areas into monuments limits the amount of development that can take place on the land that might mar their "historic or scientific interest." The antiquities act was previously used to protect landmarks such as the Grand Canyon, Devil's Tower, and the Petrified Forest.
The new Gold Butte National Monument consists of about 300,000 acres of land in southwestern Nevada. This area was in the news in recent years because of its use by rancher Cliven Bundy, who grazed his cattle on public land without paying for the right to do so, prompting a standoff with the federal government. Bundy is currently awaiting trial from that incident, but I can't imagine he's too happy with the news.
The other area, Bears Ears National Monument, is significantly larger, consisting of 1.35 million acres in the Four Corners region of Utah, close to the Navajo Nation, which was part of a coalition of tribes that had sought the designation. In addition to its natural beauty, the area is of historical significance to native groups of the region, containing many artifacts and archaeological sites.
"Today marks a significant victory for Utah Navajo people and the entire Navajo Nation and we thank President Obama for supporting our efforts and for listening to our people," Navajo Council Delegate Davis Filfred said in a statement on Facebook. "With today's action, our ancestral homelands in the Bears Ears area will be protected and preserved for future generations."
To say that Utah Republicans are upset about the move would be an understatement. Sen. Orrin Hatch called the designation a "travesty," while Sen. Mike Lee told Buzzfeed News he would "work tirelessly" to undo the designation. Rep. Jason Chaffetz, one of the loudest voices in Congress for developing public lands, called it a "midnight move" (as of press time it is 6 p.m. EST, 4 p.m. in Utah).
A bunch of white dudes ignoring the desires of Native Americans. What could be more American?
Patrick Hogan is a reporter for Fusion based out of New York. E-mail at patrick.hogan@fusion.net.