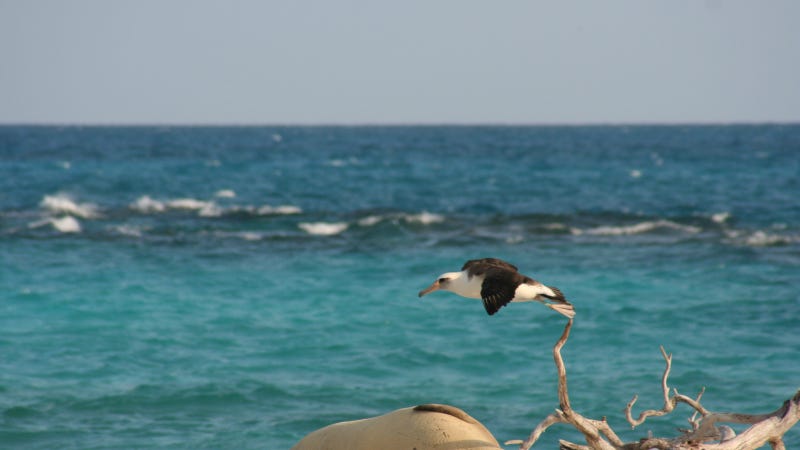 Just a day after designating an expansive new national monument in Maine, Obama has upstaged himself with the creation of the largest protected area on the planet.
In concert with the celebration of the National Park Service's centennial, the announcement expands Papahānaumokuākea Marine National Monument off the coast of Hawaii from 140,000 square miles to nearly 600,000 square miles, some four times the size of California.
The designation means that commercial fishing and mining will be prohibited in the region. Subsistence fishing by locals and scientific research will continue to be allowed.
First established in 2006 by President George W. Bush, the expanded monument builds on Obama's consistent push to preserve America's most cherished natural sites in the face of numerous grave environmental threats, including climate change. It will be Obama's 26th creation or expansion of a national monument.
Sen. Brian Schatz of Hawaii said in a statement that "expanding Papahānaumokuākea will replenish stocks of 'ahi, promote biodiversity, fight climate change, and give a greater voice to Native Hawaiians in managing this resource. This declaration sets us on a strong path forward for our irreplaceable environment and the generations to come."
The White House also announced that Obama will travel to Hawaii next week and visit the Midway Atoll located within the expanded reserve. He plans to use the occasion to draw attention to the way climate change is hurting the oceans and the importance of safeguarding public lands and water for future generations.
According to the Pew Charitable Trusts, since Bush established Papahānaumokuākea more than a dozen other large marine reserves have been created globally.
"Papahānaumokuākea inspired an international movement to safeguard large areas of ocean and create the world's first generation of great parks in the sea," said Joshua S. Reichert, an executive vice president at Pew who oversees strategy for its Global Ocean Legacy project. "By expanding the monument, President Obama has increased protections for one of the most biologically and culturally significant places on the planet."
More than 7,000 species call the reserve's waters home. Around a quarter of them are found nowhere else on Earth and a number of them are endangered species, including green turtles and Hawaiian monk seals.
The announcement comes days after a new report from the National Oceanic and Atmospheric Administration (NOAA) laid out how the impacts of climate change, including sea-level rise, ocean acidification, and coral bleaching, will make life much harder for Papahanaumokuakea wildlife. And the damage will be occurring soon.
"Existing evidence suggests that the monument's northernmost atolls may be among the first ecosystems to be irrevocably impacted by global climate change, thus providing early indications of what we can expect to see in other locations going forward," said Dan Polhemus, a co-author of the report, in the Aug. 23 news release.