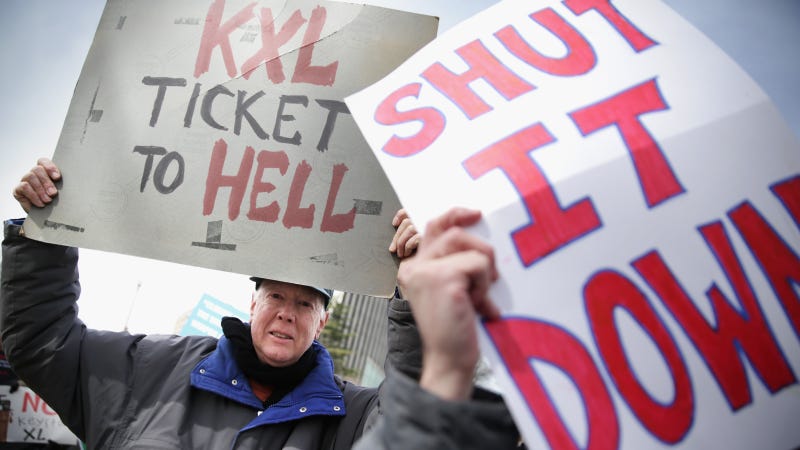 President Barack Obama announced today that his administration is voting against the Keystone Pipeline, a long-delayed project that would run oil from Canadian tar pits through the United States.
Obama said in a press conference today that the State Department, found that the "Keystone XL pipeline would not serve the national interest." The president added, ""I agree with that decision."
The president outlined three reasons for his opposition to the project. "The pipeline," he said, "would not make a meaningful long-term contribution to our economy." Obama added that "the pipeline would not lower gas prices for American consumers," and that "shipping dirtier crude oil into our country would not increase america's energy security."
On Monday, TransCanada — the company behind the proposed Keystone XL pipeline — asked the Obama administration to delay a decision on whether the project should move forward. Canada has seen its economy contract in large part because of delays on the project and a dip in oil prices generally.
But the president said he planned to move forward with the decision this week. The New York Times explains that halting the Keystone pipeline — which environmental activists have opposed for years — could be a means for Obama to secure his green legacy:

Environmental protection advocates say Mr. Obama is poised to reject the pipeline project in large part to make a bold statement about his commitment to curb climate change in advance of a United Nations summit meeting in Paris.
The pipeline projected has been largely supported by GOP leaders, who see it as a way to stimulate job growth in the U.S. In an op-ed published last year, former House Speaker John Boehner described the project as a way to make the U.S. an energy juggernaut:

America has the resources to become an energy superpower, but we need the right infrastructure in place to get there… That energy boom, however, is being throttled by a pipeline system that has not kept pace with our changing energy landscape.
The project's critics, however, point out that it is likely to have harmful environmental effects. The NRDC laid out the arguments against the pipeline in a blog post last year, explaining that the pipes could leak:

Studies show that tar sands pipelines are more vulnerable to leaks than those carrying traditional crude because of the oil's corrosive nature and the chemicals necessary to make it run through the pipes…
Once mined, tar sands leave behind a filthy legacy in the form of toxic sludge stored in giant, largely unregulated "ponds," which are leaking a combined three million gallons of toxic sludge into the once-pristine Athabasca River — every day.
And climatologist James Hansen wrote in a 2012 New York Times op-ed that the pipeline could contribute to global warming:

Canada's tar sands, deposits of sand saturated with bitumen, contain twice the amount of carbon dioxide emitted by global oil use in our entire history. If we were to fully exploit this new oil source, and continue to burn our conventional oil, gas and coal supplies, concentrations of carbon dioxide in the atmosphere eventually would reach levels higher than in the Pliocene era, more than 2.5 million years ago, when sea level was at least 50 feet higher than it is now…. Sea levels would rise and destroy coastal cities. Global temperatures would become intolerable. Twenty to 50 percent of the planet's species would be driven to extinction.
The president, however, said that the rejected pipeline would probably do neither. "This pipeline would neither be a silver bullet for the economy… nor the express lane to climate disaster." A moot point, as of today.
Danielle Wiener-Bronner is a news reporter.