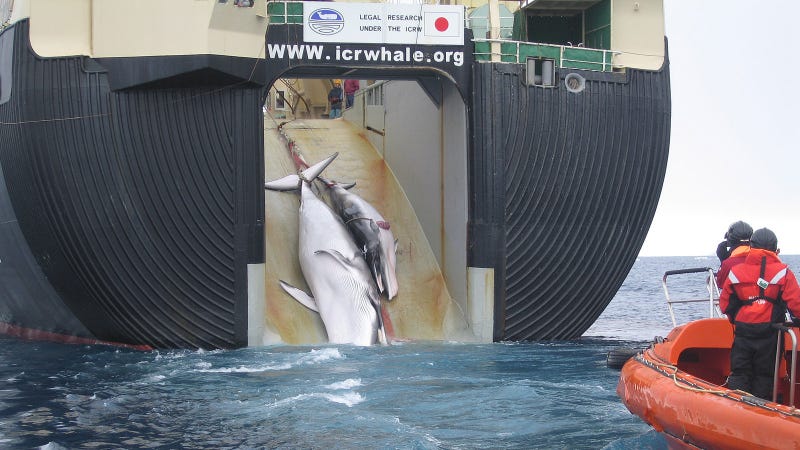 Norway's whaling season just started up again, and it's more atrocious than ever. The quota for the 2017 season, which is set by the Norwegian Government, is 999 minke whales, an increase of over 100 whales from last year. Moreover, a significant portion of the whales killed by Norwegian fishermen are pregnant, which means that the casualties from the hunt are actually higher than the official numbers. And, as if that's not enough, documents gathered by various environmental groups show that a portion of the whale meat ends up as feed for animals on Norway's fur farms.
The World's Top Whaling Nation
Two decades ago, the International Whaling Commission (IWC) put a moratorium on whaling worldwide, ostensibly protecting the world's largest mammals from the world's greediest mammals. But Norway and Iceland both registered objections to the ban, and continued to hunt whales commercially; Japan also circumvented the IWC moratorium by claiming that it hunts whales for scientific reasons. While headlines have tended to focus on Japan's shady use of science to maintain its whaling industry, Norway has quietly replaced the Land of the Rising Sun as the world's leading whaling nation.
According to a 2016 report from the Animal Welfare Institute (AWI), Norway hunted more whales than both Iceland and Japan combined in 2014 and 2015. In all since 1993, Norway has taken more than 12,000 whales in continued defiance of the IWC ban. And Norway has shown no sign of scaling down its whaling industry; in March of 2017, the country's Minister of Fisheries, Per Sandberg, indicated that he would like to see whaling quotas double in near future.
Norway's Whaling Quotas are "The Height of Biological Recklessness"
Norway's Ministry of Fisheries claimed in an email that the quota increase for the 2017 season is "within the scientific procedures set by IWCs Scientific Committee," and that the quotas "are based on the findings and procedures of the IWCs Scientific Committee… and are set according to the best available scientific advice." There is a small grain of truth to this statement, as Norway uses a model developed by the IWC, called the Revised Management Procedure (RMP), to calculate its whaling quotas. However, as the IWC has a ban on whaling, it is a stretch to say that Norway's whaling quotas are based on IWC procedures. Moreover, conservationists have voiced concern that Norway is misusing the IWC's model, and that the country's whaling quotas definitely don't have the backing of the IWC or the scientific community.
"The Norwegian quotas are not set or endorsed by the International Whaling Commission as there is an international ban on commercial whaling in place," explained Jennifer Lonsdale, co-founder of the Environmental Investigation Agency (EIA). "The RMP is a complex model that has been developed for the IWC to calculate catch limits should it wish to do so in the future but only when adopted as a component of a package of several management measure."
Additionally, Norway's use of the RMP model appears to be rife with problems; it appears that the country often manipulates the mathematical parameters of the model to increase whaling quotas, in contradiction to IWC guidelines. This manipulation has happened consistently throughout the 21st century. "The Norwegian Government cannot call its quotas sustainable when it allows the manipulation of IWC agreed scientific procedures to calculate the quotas at levels it chooses." said Lonsdale. "And of course these numbers aren't endorsed by the IWC because the IWC has a moratorium on whaling."
Nicolas Entrup, a consultant to OceanCare, echoed these sentiments in an interview with the EIA, explaining "it is the height of biological recklessness for Norway to set whaling quotas that the world's leading cetacean scientists have not declared to be sustainable." The IWC for its part has passed a resolution calling on Norway to reconsider its less than conservative setting of its quotas and another one calling on Norway to stop all whaling activities under its jurisdiction.
Declining Domestic Demand has Made Norwegian Whalers Look Elsewhere
In addition to relying on questionable conservation methods, Norway's whaling quotas seems even more incredulous when compared alongside Norway's plummeting demand for whale meat. According to the AWI, Norway's total consumption of whale meat is about half a pound per person per year, and a study from the Economics for the Environment Consultancy found that in fewer than 5% of Norwegians regularly ate whale meat in 2010. The result is that for the past decade, whalers in Norway haven't come close to reaching their quota limits, bringing in close to 50% of the allowable quota.
As domestic demand has fallen, the Norwegian government has propped up the sinking industry. A 2009 report from the World Wildlife Fund explains that "whaling in Norway has been strongly subsidized since 1993," through government actions including fuel tax subsidies, price supports and free storage for whale meat. "Ultimately… [Norway's whaling industry] is not an issue of what is sustainable," said Entrup. "Rather, it's about what is necessary – commercial whaling is no longer necessary and the global ban must be enforced."
Facing shrinking domestic demand for meat, the whaling industry has turned to another one of Norway's controversial industries: the fox and mink fur industry. In 2014, the AWI and the EIA released documents that showed that over 100 metric tons of whale meat were sold to Norwegian fur farms to be turned into animal feed, the equivalent of about 75 whales. "The Norwegian government claims it's important to have whale meat as a source of food for people," said Lonsdale, in an interview with National Geographic. "Now we discover it's going to feed animals in the fur industry, which we find completely unacceptable."
Norway has also looked abroad to help keep its whaling industry afloat. Despite the fact that the international trade in whale products is banned by the IWC and other international treaties, Norway lifted a domestic ban on the export of whale meat and blubber in 2001. In the years since it has increased exports to Japan, and in 2016, Norway exported nearly 200 metric tons of whale products to Japan, more than the total exports of the previous two years combined.
Shaming Whalers Might be the Best Way to Save the whales
While the IWC's moratorium on whaling doesn't have any teeth to enforce its regulations, conservation groups have used awareness campaigns to motivate the public against the whaling industry. In the past two years, the EIA has launched campaigns against Icelandic and Norwegian seafood companies that are complicit in the whaling industry. "Big supermarket chains and seafood buyers are mindful of their public reputation and have responded well to our requests for them to not buy from companies associated with whaling," explained Lonsdale. "This puts pressure on Norway and Iceland and their seafood exporting companies." These campaigns have been successful in convincing a number of international seafood buyers to move away from companies that are tied to the whaling industry.
Conservation groups have also helped mobilize the U.S. government, albeit slowly, to condemn whaling activity. In 2014, under what is known as the Pelly Amendment, the Obama administration officially recognized that "Iceland's international trade in whale meat and products diminishes the effectiveness" of international conservation efforts. While there were no trade sanctions accompanied by Iceland being certified under the Pelly Amendment, this sort of government-to-government public shaming can be effective.
In 2015, Iceland's foreign minister stated "we here at the Ministry for Foreign Affairs have noticed first hand how Iceland is sometimes looked down upon because of [continued whaling]." And in March of 2017, Havlur hf, Iceland's sole fin whaling company, announced for the second year in a row that it would not be hunting the endangered whales. Kristján Loftsson, the company's owner, made it clear that he was suspending the hunt not because of conservation concerns, but because of economic reasons. Still, considering that fin whales make up a large portion of Iceland's whale catch, conservations have been encouraged by the movement.
As for Norway, the 2017 season is continuing as planned. "Norway is a modern nation but its whaling practices are cruel, irresponsible, unnecessary and frozen in time," said Lonsdale, in a statement published by the EIA. "Norway's reputation is consistently stained by the blood of the sentient and intelligent whales that it kills."