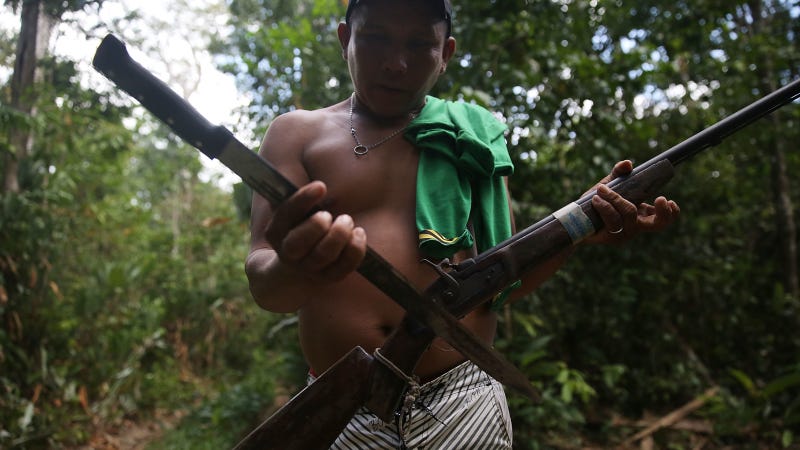 BRASILIA, Brazil—Two years ago, after he received his first death threat from a neighboring farmer, Reinile Alves do Santos told his 13-year old that he was no longer allowed to play soccer in the streets of Claro, a quilombola community in the state of Tocantins, Brazil. He moved him to a different school, and prohibited him from going out alone.
"It is one thing for me to be threatened," Santos said. "But I don't want this man anywhere near my wife or son—I don't want them to be visible to him."
The community of Claro—one of an estimated 3,000 quilombola communities across Brazil—is comprised of the descendants of slaves who escaped plantations during the 16th and 17th centuries. Such communities are recognized in the 1988 constitution, but for years, many have been entangled in territorial conflicts that have intensified as mining and agricultural interests expand across resource-rich states, such as Tocantins.
After the first death threat, the farmer was detained by police. But his lawyer quickly posted bail and, a month later, Santos says he received a second death threat, this time more direct. While he was working on post as a security guard, the farmer approached in his truck.
"He told me to keep my eye out for him, and that he would kill both me and the police officer who responded after the first threat," Santos said. "I lost my job that night—the company said they couldn't afford to have someone providing security who might be killed on the job."
As the president of the local quilombola association, Santos has repeatedly denounced farmers for occupying and deforesting land that, he says, legally belongs to the quilombola. The community has been waiting more than 10 years to have their land demarcated and as the state drags its feet, Santos says the depletion of natural resources on their property continues. In this case, the farmer claims to hold a title to a portion of the land claimed by the quilombolas.
Santos believes that the title is either falsified or the result of land grabbing in which new investors acquire land, either legally or illegally. Later this month, they will each make their case before a local court.
The scenario in Claro not uncommon in Brazil, a country marked by a highly contested rural landscape that has pit traditional communities—quilombolas, indigenous people, and small-scale farmers—against capital investment. Too often, the result is violence.
In fact, according to Global Witness, 2015 was the worst year on record for the murder of land and the environmental defenders across the globe. Of the 185 deaths counted worldwide, Brazil accounted for the most with 50 lives lost last year, a number almost double that reported in 2014. Most murders in Brazil took place in the northern states of Maranhão, Pará, and Rondônia; most deaths were attributed to plantations or large ranches on land that has been claimed by rural communities.
In Tocantins, as in many Brazilian states, vast amounts of land have no clear owner. This ambiguity has facilitated the entrance of agribusiness, mining, and logging activity, which has surged in north central Brazilian states. Under state control, these areas can be granted in collective or individual titles to rural communities or sold to private interests. In some cases, they are targets of land grabbing.
"As the price of the land increases…and there is more incentive for production, we are going to see more people coming after this land," said Álvaro Lotufo Manzano, who works at the Public Ministry of Tocantins. The state is absent, he added, and in some areas, it can take authorities up to a year to respond to a complaint. "In this case, the conflict becomes personal," said Manzano. "People are going to act on their own account, and that's why there are so many deaths."
United Nations Special Rapporteur on the Rights of Indigenous Peoples, Vicky Tauli-Corpuz, made a visit to Brazil earlier this year and declared that the expansion of the agricultural frontier deeper into the Amazon had resulted in "open warfare" between farmers and indigenous groups, which are often the victims of this violence. Between 2003 and 2014, the Indigenous Missionary Council estimates that 754 indigenous people were killed in Brazil.
Aside from inciting land conflict, even when legally obtained, extractive industries have left their mark on the environment. Deforestation has slowed in recent years, but between August 2012 and July 2013, the state of Tocantins lost nearly 30 square miles of forest. The largest pressure, according to the state ministry of environment, is the expansion of soy plantations already prominent in neighboring states of Maranão and Bahia. Traditional communities that border such operations are affected by groundwater pollution and drifting chemicals used on the crops.
In the Amazon, illegal mining operations have poisoned indigenous groups while large dams, such as the Belo Monte dam in Pará state, threaten to displace entire communities altogether. In January, a judge suspended construction of Belo Monte and levied a hefty fine against the operator, Norte Energia, for failing to consider impacts on local indigenous groups. The victory was celebrated, but for most of Brazil, the reality remains: rural communities are often left to their own devices, defending land that contains fertile soil, valuable lumber, and prized minerals.
Earlier this month, 26-year-old Clodiode Souza, a member of the Guaraní-Kaiowá in Mato Grosso do Sul state, was killed in a standoff with local farmers. Police were dispatched to the region, where so-called pistoleiros are often hired by farmers to disperse camps like the one set up by members of the Guaraní-Kaiowá, who say the farmers had entered land demarcated as an indigenous reserve.
While the Guaraní-Kaiowá reserve has been legally defined by the state, many reserves are still waiting for their borders to be drawn. The body tasked with that job, FUNAI, is understaffed, lacking resources, and is admittedly not fulfilling its mandate.
"In the constitution that was signed in 1988, FUNAI was given a five-year period to demarcate all indigenous land in the country," said Eduardo Biagioni, an environmental coordinator at FUNAI. "Thirty years later, we still have a third of them left to go." The result, he reaffirms, is ongoing violence in parts of the country that are far from the view of authorities. Crimes committed in these areas, as a consequence, are often left unpunished.
And when the violence is not physical, says Biagioni, the toll is psychological. The Guaraní-Kaiowá, for example, report a suicide rate 34 times higher than the national average. Brazilian anthropologist Spensy Kmitta Pimentel has described them as "protest suicides" that result from "an experience of helplessness." Land loss remains the single largest predictor of suicide among indigenous tribes.
The limited resources allocated to FUNAI reflect a lack of political will from a country in crisis that has not prioritized the rights of indigenous or traditional communities. In coming years, that scenario is likely to grow worse. Currently, a bill working its way through the national Congress seeks to take the job of demarcating territory away from FUNAI and give it, instead, to Congress.
"In this case, the decision whether or not to demarcate an indigenous territory will depend on the political environment in Congress," said Biagioni. "The political configuration today in Brazil attends the interests of agribusiness, not that of the indigenous."
In May, President Dilma Rousseff was put on mandatory leave after both houses of Congress voted in favor of her impeachment. Her vice president and replacement, interim president Michel Temer, swiftly dissolved the Minister for Agrarian Development, which oversaw agrarian policies and programs meant to reduce land conflict, facilitate ongoing agrarian reforms, and guarantee land for traditional rural communities.
This past week, small-scale farmers, quilombolas, and indigenous communities from across the state of Tocantins gathered in the capital to discuss strategies that would serve to mitigate violence in the countryside and accelerate the regularization of the land. In a march on the state capitol, in Palmas, the groups placed 500 wooden crosses in a nearby lawn that were meant to symbolize the death of the cerrado, the vast savannah ecosystem on which they all depend.
After three days of organizing, indigenous communities representing five states ratified a document addressed to the president, the minister of justice, FUNAI, the Public Ministry, and Brazilian society. The text made explicit their rejection of politically-backed development projects that came at a cost to traditional rural communities. It also served as a call to arms, deploring all Brazilians to defend indigenous rights in the face of large-scale infrastructure projects such as hydroelectric dams and irrigation systems. Finally, they asked the state to take responsibility for the killing of indigenous people and punish those responsible.
"We demand swift and thorough punishment for the assassination of our leaders," the end of the document read. "We blame the Brazilian state for this process of violence and genocide against leaders in Mato Grosso do Sul, especially the Guaraní and Kaiowá," it continued, in explicit reference to the leader killed earlier this month. "Impunity has driven the massacre of our people."
Boarding the bus back to his quilombola community, Santos carried a neat bundle of documents that he would use to file a restraining order against the farmer that had twice threatened to take his life. Over the past days, he had found solidarity and support from members of indigenous and traditional farming communities. "These weren't just any threats I got," Santos said. "He said he would fill my face with bullets, and that I shouldn't cross his path if I didn't want a truck to run over me."
It would be more than 24 hours until Santos would reach his house, but he felt that his optimism had been revived. "I am simply fighting for my rights," he said. "What I want for myself, and the same that I would want for anyone else."