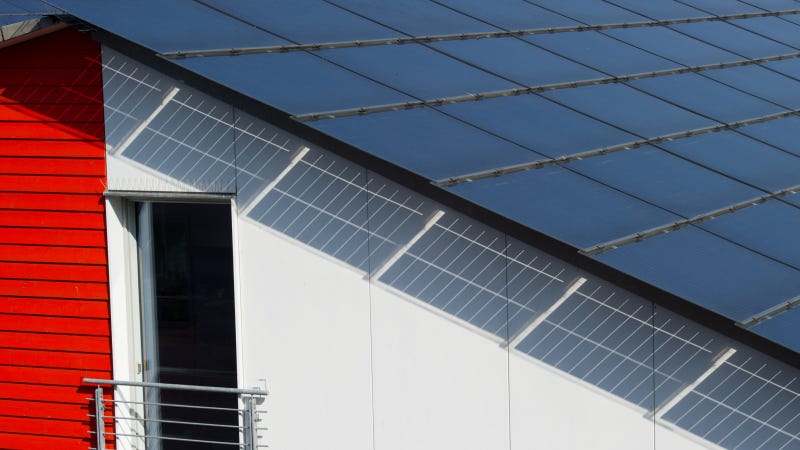 The Nevada Public Utilities Commission has approved a measure reducing the credits rooftop solar customers can receive from selling power they generate back into their local grid.
The new statute means Nevada residents will lose a critical financial incentive to install rooftop solar panels on their homes. In a statement leading up to the decision, Lyndon Rive, CEO of SolarCity, America's largest rooftop solar provider, blasted the proposal.
"It will destroy the rooftop solar industry in one of the states with the most sunshine," Rive told Bloomberg. "There is so much wrong with the decision, the only option for the PUC is to reject it. The one beneficiary of this decision would be NV Energy, whose monopoly will have been protected."
At the end of 2014, Nevada had the second-most homes using solar power, at 52,000, trailing only California, according to data from the Solar Energy Industries Association.
The commission, as well as Warren Buffett-owned utility NV Energy, had warned that current rate structures place an unfair burden on non-solar users.
"Under existing rates, costs are being unreasonably shifted away from small commercial and residential net metering customers to other ratepayers," the commission said in a statement. That has resulted in "non-net metering customers paying higher rates to compensate for the reduced collection of revenue."
Shares in solar companies were tanking on the decision Tuesday. SolarCity stock was down 6%, while SunEdison shares were off more than 19%. The financial implications for these companies are more than just a one-day stock move, as analysts believe the decision could be replicated elsewhere.
"With annual residential and commercial solar installations expected to double in the U.S. by 2020, more states will see a call towards revising utility rates and compensation for solar," MJ Shiao, an analyst at GTM Research, told me in an email. "Nevada's decision today shows that even states with a significant solar presence will not necessarily rule against policies that significantly detract the economics for existing solar customers.
Rob covers business, economics and the environment for Fusion. He previously worked at Business Insider. He grew up in Chicago.