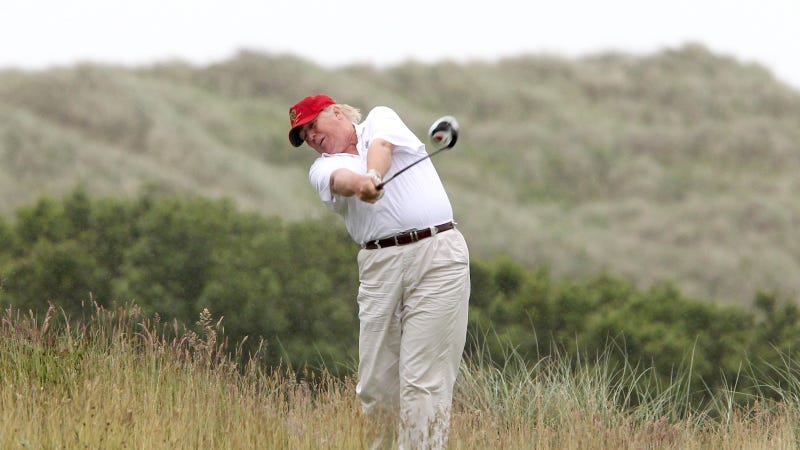 Donald Trump holding hypocritical, even paradoxical, viewpoints is nothing surprising. A new campaign aims to highlight one of these logic-bending instances in relation to one of Trump's favorite pastimes: being affiliated with golf courses.
It's long been known that Trump, who vehemently denies human-caused climate change, supports building infrastructure to protect his own personal investments from the impacts of climate change. In May, a story in Politico revealed how Trump is trying to build a sea wall designed to protect one of his golf courses from "global warming and its effects."
The Politico investigation found that in an application to build a coastal wall around a golf resort in Ireland, Trump's company Trump International Golf Links Ireland explicitly cited the risk of sea-level rise and extreme weather due to climate change.
Friends of the Irish Environment is leading the #NatureTrumpsWalls campaign against the sea wall, which would occupy more than 1.5 miles of beach along Ireland's coastline.
According to the group, the wall would reach 15 feet in height, and would consist of "200,000 tons of rock dumped in a sensitive coastal sand dune system:"

Doughmore beach is one of western Irelands most consistent beachbreaks and widely popular with a deep community of surfers and beachgoers. Construction of this seawall will destroy the sand dune habitat, restrict public access to the beach, negatively impact the quality of the surfing waves, and ultimately result in beach loss.
The campaign is being run in co-operation with Save the Waves, an international organization to works to protect coastal ecosystems around the world. The campaigners hope to gather at least 75,000 signatures in support of their cause.
Tony Lowes of Friends of the Irish Environment told The Irish Times that Trump began dumping boulders along the public beach without permits in 2013 following a series of winter storms. The area has also been designated as a 'Special Area of Conservation' by the European Union Special Habitats Directive.
In the past, Trump has attempted to defend, and even advertise, the environmental record surrounding his golf courses, going as far as saying that putting a golf course on existing dunes would help preserve them because they "wouldn't blow away in a storm."
This is not the first time a Trump-owned golf resort has come into conflict with local environmental concerns.
As Fusion recently reported, in his 2008 book, Never Give Up: How I Turned My Biggest Challenges into Success, Trump writes about his first golf course, built in Florida in the 1990s.
In the book, Trump talks about his concern for the dozens of gofer tortoises found on the property, a species that was of special concern to the state and thus enjoyed certain legal protections starting in 1999. However, records unearthed by Fusion show that just a few years after groundbreaking at the Trump International Palm Beach, the tortoises had vanished.
As Deirdra Funcheon reported, "no one who spoke to Fusion could shed any light on what happened to the tortoises on Trump's rented golf-course preserve. It's unlikely they could have migrated very far on the course without drawing attention; it's less likely they would have passed beyond the course's fenced boundaries, to the county jail and parking lot beyond. If they died, how? And what happened to their bodies?"
Just another Trump-started mystery.