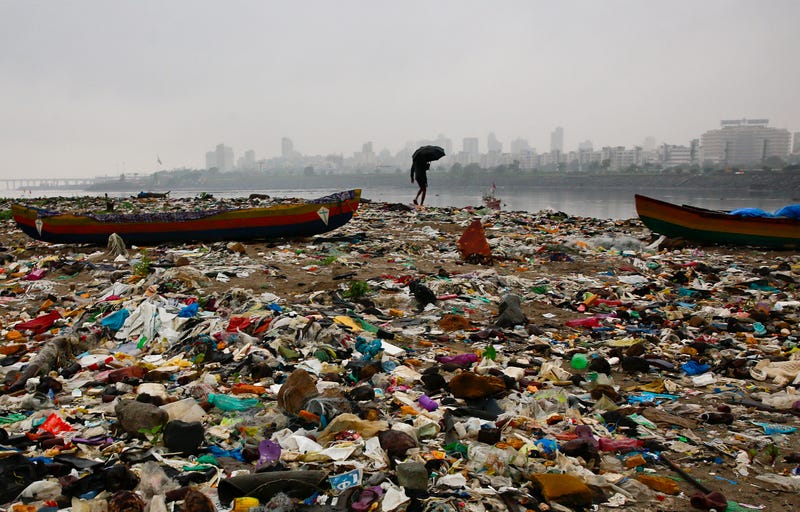 Last week in Nairobi, Kenya, the UN Environment Assembly (UNEA) passed a resolution to stop plastic waste from entering the world's oceans.

More than 200 countries signed the agreement, declaring that the flow of plastics into our waters must be stopped and promising to move away from single-use and disposable plastic packaging.
According to the UNEA's announcement "the assembly also passed 13 non-binding resolutions and three decisions. Among them were moves to address marine litter and microplastics, prevent and reduce air pollution, cut out lead poisoning from paint and batteries, protect water-based ecosystems from pollution, deal with soil pollution, and manage pollution in areas hit by conflict and terrorism."
The problem, though, is that the resolution has no specific targets and doesn't have any enforcement mechanisms. Still, this is the first time that all member nations have publicly agreed that ocean pollution is a global emergency that must be dealt with. The news was cautiously welcomed by many environmental organizations, as this consensus agreement could perhaps be the groundwork for more specific future actions.
Of course, more needs to be done. As Project Earth has reported before, plastics in our ecosystems is a massive problem that requires wide-ranging action from both business and government. Unfortunately more direct action at this UN conference was blocked by a few big players. The United States rejected an earlier proposal that would have included specific targets for pollution-reduction, and China and India, two of the world's biggest ocean polluters, refused to include specific reduction language in the final resolution.
Diplomacy unfortunately evolves in excruciatingly frustrating baby-steps, so it's often up to individual players to step away from the slow-moving herd and push things forward themselves.
Banning Plastic, One Step at a Time
Kenya, the host nation for this year's UNEA conference historically hasn't been known as an environmental leader. Yet earlier this year the Kenya enacted a nationwide ban on all single-use plastic bags.
This was a bold move for a poor nation consistently tip-toeing the line of economic hardship and political turmoil. Kenya has one of the highest poverty rates in the world and is highly involved in the plastic bag industry, supplying bags to many neighboring nations. Yet after many attempts the ban has finally been fully implemented and is being strictly enforced. With jail time of up to 4 years and potential fines reaching $40,000, they are not messing around.
And it's working. Arriving in Nairobi a few days after the UN conference, after having spent some time in smaller towns along the Kenyan coast, I saw first-hand the effects of the ban. In both remote rural villages and major shopping centers in the capital , you simply cannot find a plastic bag. While buying veggies in a small fruit market in the coastal town of Kilifi, my dozen or so plum tomatoes were wrapped up in a newspaper; and when my beer-run to the dirt-road gas station moved past a handful of cans, the attendant shook his head at my request for a bag and instead handed over re-used carton box.
In just a few months, and despite the usual doomsday prophecies from business interests, the population has adjusted and alternative industries have sprung up to replace plastic. Handmade straw baskets now hold mangoes at road-side stalls and small paper-bags have replaced plastic in all manner of transactions.

The main alternative to single-use plastic in Kenya has been reusable cloth fibre bags. Walking the streets of Nairobi, I came across young kids selling the colored fibre bags as a way to earn some much needed food money. Besides helping the environment, this new packaging option has allowed locals to get involved in sales usually dominated by big plastic players. For a populace desperate for economic opportunities this change and chance is welcomed.
Kenya now joins Italy, Morocco, Bangladesh, and a handful of nations who have completely banned plastic bags. Many others have introduced partial bans or taxes on their distribution. Like the current roadblock at the UN, implementing widespread regulation is difficult, so stepping away from centralized decision-making is often the quickest way to get things done. States like California, and cities like Montreal, have gone at it themselves and banned bags entirely.
The recent news from the UN was a positive step forward. However progress is a heavy, slow-moving thing, and so to truly tackle this issue, taking into account the increasing consumption demand for products around the world, it's individuals–be it nations or cities or personal shoppers–that will have to step up and help lead the way.