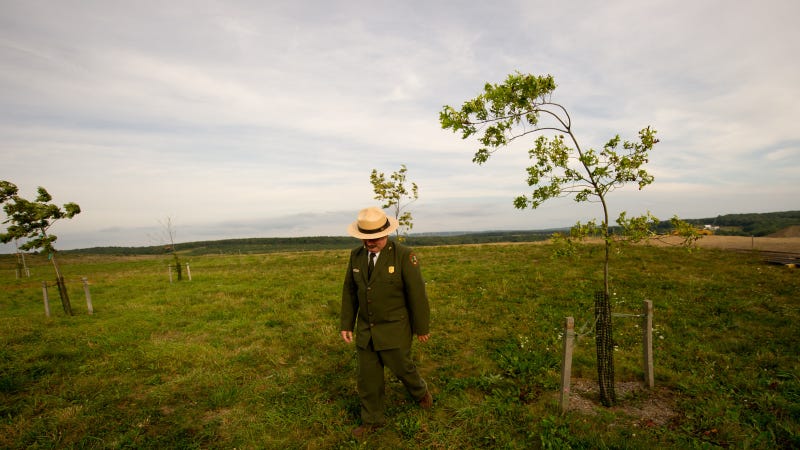 The National Park Service is holding its centennial celebration this week. Admissions to the Park Service's 412 sites will be free from August 25 through 28. This is great news because everyone loves national parks. The merits of the NPS, unlike some other environmentally oriented agencies such as the EPA, are not up for debate. That doesn't mean politicians can't find something about the agency to fight about, and they are butting heads over how these 84 million acres of land will be managed over the next century.
As people take a hard look at NPS's role in all this during the 100th anniversary celebration, it's clear that the important decisions start with this election, and that they go right to the top of the ticket. Judging by their past statements and actions, Donald Trump and Hillary Clinton have widely diverging views on the importance of America's parks.
Let's start with Clinton. Her campaign has a detailed factsheet about how she would steward "America's great outdoors" as president. She wants to double the size of the outdoor economy within 10 years; restore and revitalize more than 3,000 city parks; and usher in a ten-fold increase in renewable energy production on public lands and waters within ten years, among other things.
While Clinton hasn't said much about her personal take on parks this campaign, she had a fair amount to say to the National Parks Conservation Association in 2008 when she last ran for president. When asked what the national parks meant to her, she said that they "they embody the American spirit."
"Our national parks are the crown jewels of America's natural and cultural heritage," she said. "I have spent countless hours at our national parks, taking in the beauty and splendor they have to offer."
She also repeated President Theodore Roosevelt's century-old quote that we have the "great central task of leaving this land even a better land for our descendants than it is for us."
In short, Clinton is likely to continue many of the Obama initiatives when it comes to environmental policy. Trump is not.
Trump hasn't made many public statements specifically about national parks, but an assessment of his relationship with environmental issues paints an discouraging picture.
Speaking last week at a gun rights rally in Yellowstone National Park, one of America's most popular and treasured parks, Trump promised that if elected, by the end of his first term, "there'll be no environment left, not even a scrap."
"The truth, my friends, is that the concept of the environment is a socialist plot to destroy capitalism." Trump claimed. "The whole thing is a hoax. It's garbage."­
A Republican staffer clarified to The Huffington Post that Trump most likely meant to say he wants to scrap the Environmental Protection Agency, but still that's quite the Freudian slip.
As Steven Cohen, executive director of Columbia University's Earth Institute, pointed out in a June op-ed, Trump really doesn't seem to have any coherent environmental strategy:

It appears that Trump does not think about the environment in terms of its importance as a threatened global resource or understand the full dimensions of the issue. But in this sense, his views of environmental issues are similar to his views of other policy issues. As a real estate developer, celebrity, and TV personality, his expertise is in building his brand and getting noticed.
Which brings us to Donald J. Trump State Park.
As Ben Adler explained last year in Grist, this unplanned park just north of New York City is a perfect example of Trump's brand-first approach. Trump originally bought the land with hopes of developing a golf course (the only green thing he really seems to love), but locals rejected the proposal. Eventually, Trump gave up on his aspirations and donated the park to the state.
As Phil Reisman, a columnist for the Journal News, the Westchester newspaper, recently recalled, "Trump announced the parkland donation in Putnam Valley nine years ago at an elaborate event, which included a catering tent, bottles of Trump Ice-brand water and a TV crew."
A decade later, Trump—who did not make any sort of donation to create a private endowment to help with park upkeep—appears to remain committed to a stipulation in the deal that his name be "prominently displayed" at the property's entrances, according to documents obtained by Gannett's Albany Bureau earlier this year.
Unfortunately for Trump, having his name boldly displayed at then entrance to a dilapidated park doesn't sit well with many nearby residents and politicians. At least 20 Democratic state lawmakers have signed onto a bill requiring the state to strip the property of Trump's name, and a petition to change the park's name to anything else has garnered over 2,000 signatures. According to the Gannett, Trump has suggested he would oppose any effort to take his name off the land.
In the end, Trump will probably co-opt mainstream Republican policy when it comes to environmental issues. This is also discouraging.
Spurred on by Obama's willingness to act unilaterally on environmental issues and the strength of the anti-government, Tea Party contingent, the Republican party is still vehemently pro-fossil fuel and anti-environmental regulation. Part of this year's Republican platform includes an amendment calling for "the indiscriminate and immediate disposal of national public lands" as Jenny Rowland, who works on public lands at the Center for American Progress (CAP), wrote earlier this summer.

The provision calls for an immediate full-scale disposal of "certain" public lands, without defining which lands it would apply to, leaving national parks, wilderness areas, wildlife refuges, and national forests apparently up for grabs and vulnerable to development, privatization, or transfer to state ownership.
Rowland told me that when it comes to the NPS, while "Obama has used his executive authority to designate 23 new national monuments, half of which have had a primary focus on traditionally underrepresented communities and histories…a handful of congressional Republicans have worked to undermine or repeal the Presidential authority under the Antiquities Act."
Rowland said that one of the main challenges NPS faces going forward is congressional inaction.
"Recent years have seen a disintegration of the historically bipartisan nature of conservation and public land policy in Congress," she said. She noted that CAP recently identified a so-called congressional anti-parks caucus, "which has put many of the country's foundational conservation laws at risk by filing at least 44 bills or amendments that attempted to remove or undercut protections for parks and public lands in the past three years alone."
Even if these legislative efforts stall, another recent CAP analysis found that every two and a half minutes the American West loses a football field worth of natural area to human development. Climate change also threatens the future of many NPS sites as we know them.
So we'll take care of our national parks, one way or another.