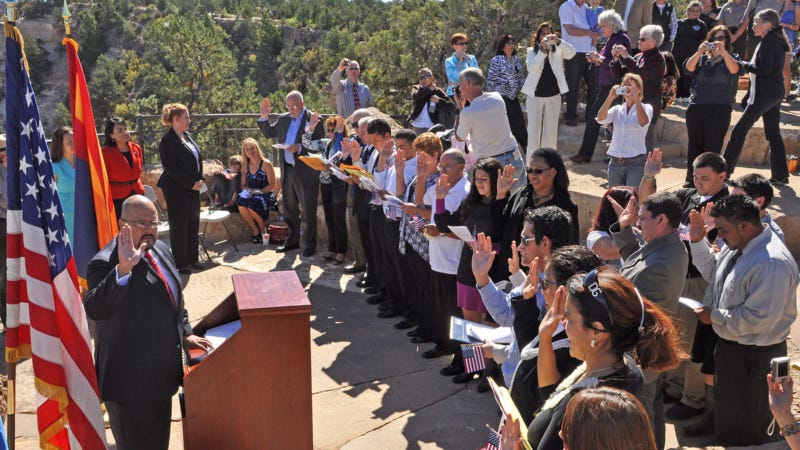 Sixteen naturalization ceremonies will take part at national parks across the country as part of the National Park Service's 100th anniversary celebration on August 25. The events are part of a year-long partnership between the NPS and U.S. Citizenship and Immigration Services (USCIS), during which the agencies hope to hold at least 100 naturalization ceremonies in national parks and historic sites.
"At USCIS, we believe that being an American means understanding and honoring our history and the places the National Park Service is charged to protect," USCIS Director León Rodríguez said in a statement about the celebrations this week.
The ceremonies, located everywhere from Carlsbad Caverns National Park, NM, to Pictured Rocks National Lakeshore, MI, will welcome 450 new U.S. citizens into the country. With the 16 ceremonies on August 25, USCIS will have held 78 naturalization ceremonies in national parks so far in 2016.
In a year when immigration is an especially hot topic due to its role in the presidential election, the NPS wants to clearly stake its place on the inclusive side of the debate while at the same time acknowledging historic shortcomings when it comes to reaching out to minorities.
In a recent report, the Park Service stated that the diversity of America "is not represented in the National Park Service," and that "indisputably, much of the success of the NPS in coming years will depend on its ability to diversify and prove its relevancy to new populations."
As Nathanael Johnson recently noted at Grist, "the park system mostly caters to the people who can afford a major road trip, and they are overwhelmingly white."
"One survey found that 78% of park visitors were non-Hispanic whites," he wrote. "That's a problem for the Park Service, because the country's demographics have shifted radically since it was established. The United States is an urban country, with 80% of us living in cities, and its white majority will soon be history."
National Park Service Director Jonathan B. Jarvis said it's especially meaningful to have the naturalization ceremonies coincide with the 100th birthday of the NPS.

"National parks tell the stories of notable people, great achievements, and monumental events that shaped our nation, our government, and our society," he said. "These magnificent places belong to all Americans and we invite everyone, especially our newest citizens, to Find Your Park."
One thing's for sure, having the chance to celebrate new citizenship in a national park—often referred to as "America's best idea"—is a good way to nurture welcoming feelings that might make new citizens feel proud and maybe even excited to be Americans. These are valuable feelings to develop in a time when so much of the rhetoric towards new immigrants is off-putting and negative.