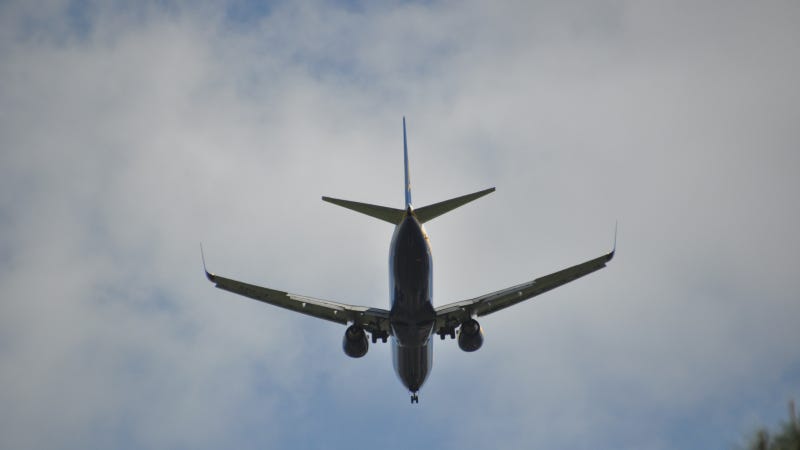 What would you give up to help reduce your carbon footprint? How about one of the greatest time-saving technologies man has ever invented?
Eric Holthaus, a meteorologist, consultant and freelance environmental writer for Slate and other publications, recently celebrated his one-year anniversary of giving up airplanes. Of course, many Americans go years without flying, so that may not seem like much of an achievement.
But as a freelancer, air travel was a critical part of Holthaus' job. He said he found himself living a contradiction: writing about the perils of climate change while not doing enough in his own life to reduce his carbon footprint.
So he pledged to give up airplanes. On Friday, Holthaus summarized his one-year anniversary of flightless life. We wanted to learn a little bit more about his decision.
Fusion: Do you recall the moment when you made the decision to give up flying?
Eric Holthaus: As someone who thinks about weather and climate everyday, I felt like I was living in this illusion of making a difference, of having a positive impact on the problem, just because I'd written something about it. But when you look at the numbers needed and the scale of the changes that are needed, it was clear that I was contributing at least as much to the problem as [I] was to solution.
The moment was when the IPCC report came out last fall; its conclusions addressed geoengineering for first time. Thanks to the IPCC, it's been increasingly accepted that there's no quick-fix technological solution, you can't just put up lots of artificial trees to suck carbon out of atomsphere. That kind of hit me.
More importantly was the conclusion that immediate, substantial and sustained emissions reductions — that's the language they use — was the only thing that would be able to keep the planet within the two degree Celsius level [the 2009 Copenhagen agreement signed by world leaders states global temperatures should not be allowed to climb by more than two degrees Celsius. — ed.]
I thought about what that meant for my own life — conveniently I was at the airport talking to my wife about report. And we said why don't we just quit flying. It felt like the right decision at the time, like a small gesture — I calculated that my carbon footprint was 12 times the global average. To be such a huge consumer, to make any kind of cut was right thing to do for me to feel comfortable writing about this stuff in a non-hypocritical way. I'll still have a footprint, but at least I am making an effort to reduce it.
FUSION: Why flying, as opposed to driving?
Eric Holthaus: The issue is is that you can travel much farther much more quickly, so it's a matter of compressing those emissions into such a short amount of time. Last month, a report came out, the Deep Decarbonizatoin Pathways report, and it said in an optimal scenario where the U.S. was reducing its emissions quickly, within next 30 years or so, airline emissions would still represent half of all greenhouse gases. [Two round-trips between Chicago and Frankfurt, Germany, for instance, produce as many greenhouse gas emissions as a year's worth of household power usage — ed.] There's no fuel alternative on the horizon that can scale quickly enough to change that. There's no electric system superior to oil that can produce enough power to get a huge chunk of metal off ground, that's the amazing thing about petroleum, it can pack a lot of energy in a small amount space, and there's not yet an alternative.
FUSION: Is a footprint of 12 times the global average normal for most Americans?
EH: If you factor in that a lot of China's manufacturing is for products consumed in the U.S., then we have a footprint that's three times the global average. We also have a historical responsibility to reduce our emissions — we are the country most responsible for the proliferation of greenhouse gases in the atmosphere since the start of industrial revolution. So we have a special responsibility to reduce our emissions.
I was working as a climate change adaptation consultant for the Ethiopian government, so I was flying back and forth from Ethiopia. Just those flights alone were the bulk of what was pushing me up there, so we came to an agreement to do my work remotely rather than in person, and I was still able to assist in that project.
We ran the numbers yesterday, and we reduced our footprint two-thirds just in one year. This is not really that fair of a comparison — I was flying a lot, like 75,000 miles a year. That's not typical. The average American probably hasn't flown at all, or maybe once, in a year. But for business travelers or anyone who has to do it for their job, that's kind of the issue here. If you take a family vacation once every three or four years to Seattle from Georgia, it's not that big of a deal compared with someone who's flying every weekend.
FUSION: How did this affect your finances?
I've had to scale my life down a little bit, in terms of geography as well as just aspiring for as much work as I can possibly can get, and I've felt pressure to kind of live within those constraints. I'm a freelancer, I don't get vacation days, no paid time off at all, so any time I spend traveling, I have to make up somewhere, or I have to work while I'm traveling. I was in New York for a site retreat in early September, and I couldn't justify going back there to cover the climate rally and the U.N. summit. I wanted to be interviewing people and getting that story, but I didn't want to make that trip twice, and it's a 20-hour train ride.
Fusion: What has being on the road all the time been like?
One of the benefits of the bus or train, the moment you get on, you have a plug right there, so it's not that different from sitting in an office or at home. For anything, being away from the Internet for a couple of days can help me focus and write — if I have a long-form essay, it's nice to have a couple of days away from distractions where I can focus on my work rather than the rat race, with Twitter and all that stuff.
Anytime you act in accordance with your beliefs or values — that's what most people try to do everyday in everything we can, it felt like like the reward for that for that is being able to experience the world in a way wouldn't have otherwise.
FUSION: In your Slate piece, you mentioned you considered traveling via cargo ship. What happened with that?
That's definitely something I want to try someday, that would be an experience. I had heard about people taking cargo ships — I didn't know it was a legitimate way of traveling. There are shipping companies that have cabins for people that want to travel, and there's this whole subculture of people. You can travel from Duluth, Minnesota, to Singapore on a ship. It would take 60 days out to take that journey, making all these stops at random ports in Poland that you'd never really want to go to. Meanwhile, you'd have 100,000 tons of grain from Minnesota sitting next to you. It's obviously one of those rich experiences that are out there that we can participate in. Most people are not be able to take 60 days to take trip to Singapore, so it's obviously not something that works for everyone. But it's interesting to see a window into that world.
Fusion: Is there anything that can be done to get more frequent fliers to consider taking this kind of step?
EH: If there's a compawny that doesn't want to wait for new laws to come through, if you have a company mission statement that talks about being environmentally conscious, the next step is taking action and preferentially choosing lower forms of transport. Teleconferencing people working from home saves a lot.
I also think having a price on carbon, putting that into our decision-making structure, would shift people's choices, shift the calculus.
Transcript edited for grammar and length.
Rob covers business, economics and the environment for Fusion. He previously worked at Business Insider. He grew up in Chicago.