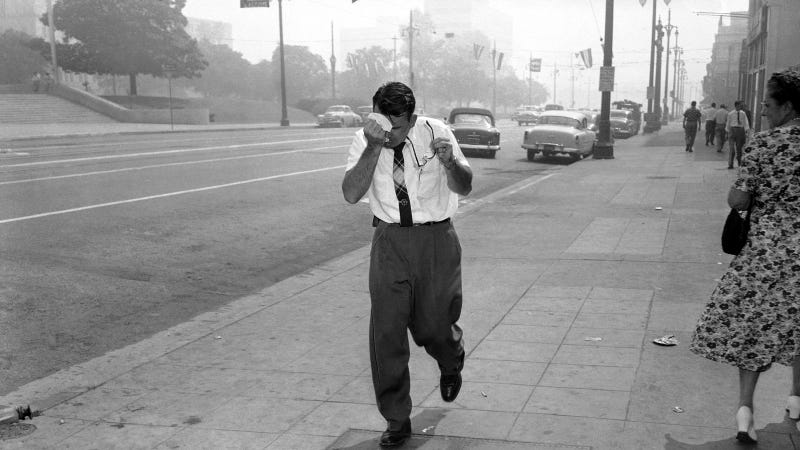 According to the American Lung Association's 2016 State of the Air report, 52%—or 166 million—of all Americans live in counties with dangerous levels of particle or ozone pollution.
In a statement, National President and CEO of the association, Harold P. Wimmer, said the figure is actually an improvement. "Thanks to cleaner power plants and cleaner vehicles," he said, "we see a continued reduction of ozone and year-round particle pollution in the 2016 'State of the Air' report." But he added that climate change is making it hard to decrease that figure.
Ozone pollution, or smog that results from car and factory emissions, can cause a number of ailments. According to the EPA, "breathing ozone can trigger a variety of health problems including chest pain, coughing, throat irritation, and airway inflammation. It also can reduce lung function and harm lung tissue. Ozone can worsen bronchitis, emphysema, and asthma, leading to increased medical care."
Particle pollution happens when small acid, chemical, metal, and soil or dust particles seep into the air. The smaller the particle the more dangerous it is to human lungs—fine particles are what make smoke and haze. The EPA warns that breathing in small particles can lead to: "premature death in people with heart or lung disease, nonfatal heart attacks… aggravated asthma" and other health problems.
The 2016 State of the Air report looked at data from 2012 to 2014, and determined that the most polluted counties were in California. Of the ten most polluted cities (by ozone) six were in the state:

1. Los Angeles-Long Beach, CA
2. Bakersfield, CA
3. Visalia-Porterville-Hanford, CA
4. Fresno-Madera, CA
5. Phoenix-Mesa-Scottsdale, AZ
6. Sacramento-Roseville, CA
7. Modesto-Merced, CA
8. Denver-Aurora, CO
9. Las Vegas-Henderson, NV-AZ
10. Fort Collins, CO
The list of most polluted city by year-round particle pollution also included a large number of Californian counties (two counties tied for sixth):

1. Bakersfield, CA
2. Visalia-Porterville-Hanford, CA
3. Fresno-Madera, CA
4. Los Angeles-Long Beach, CA
5. El Centro, CA
6. San Jose-San Francisco-Oakland, CA
6. Modesto-Merced, CA
8. Pittsburgh-New Castle-Weirton, PA-OH-WV
9. Harrisburg-York-Lebanon, PA
10. Louisville/Jefferson County—Elizabethtown—Madison, KY-IN
CNN points out that California is also home to some of the cleanest cities:

One of the cities with the best air quality is Salinas, California, which it isn't too far from Bakersfield in the San Joaquin Valley. [Environmental Medicine professor George] Thurston explained that geography, industry and meteorology are all important factors when understanding why some cities are prone to poor air pollution. Since Salinas is on the water, pollution can dilute faster.
The American Lung Association explains that year-long particle pollution has declined since the 2015 State of the Air report, but that short-term particle pollution has been spiking—especially in California, which has seen record droughts over the past few years. From the association, "increased heat, changes in climate patterns, drought and wild fires are all related to climate change, which has contributed to the extraordinarily high numbers of days with unhealthy particulate matter."
Something to keep in mind as we talk about climate change in the future.
Danielle Wiener-Bronner is a news reporter.