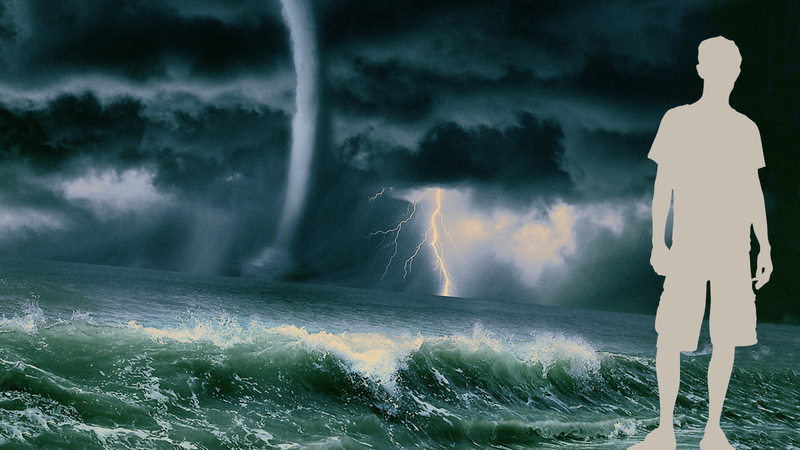 Lots of teenagers think the world is going to end.
For 16-year-old Dakota, this is no idle threat.
"It doesn't take very much to see what people are doing in modern times is bad," he told Fusion. "We're basically committing genocide against the natural world."
Growing up in a liberal, middle-class suburb outside Vancouver, Canada, Dakota, whose last name Fusion is withholding because he is a minor, became interested in climate change and the dangers of a culture based on consumption.
But he soon decided the solutions he kept hearing about—like increasing renewable energy—would be inadequate to deal with the problems at hand. He also became frustrated by his peers, who, while sharing his concerns, lacked his urgency.
"They were distracted to say the least," he said. "I felt very alone about that."
Through the Internet, Dakota discovered Deep Green Resistance (DGR), a group founded in 2011 that calls for "decisive ecological warfare" against industrialization. On its website, DGR says that, "Individual cells rarely have the numbers or logistics to engage in multiple simultaneous actions at different locations." Thus, it must fall to "paramilitary groups" to "disrupt" entities that are destroying the environment.
Lierre Keith, a writer, farmer, and the group's leader, told me DGR itself does not engage in acts of violence, and has not been tied to any.
However, the group does support confronting the existential threats it perceives by any means necessary. The group has claimed its members were recently visited by the FBI. (A representative for the FBI's Seattle office said it would not comment on specific investigations).
Environmental activism has evolved considerably in the past decade — with much of it being toned down since arguably peaking during the World Trade Organization anti-globalization protests 15 years ago that saw hundreds arrested.
More recent activity has been led by anti-fracking and fossil fuel protests groups, but these have been mostly locally or regionally focused, and often fought in the courts.
DGR's view as society's problems being so deeply rooted — and their strategy for confronting them — met the standard of urgency Dakota had come to view as necessary to confront the threats he perceives.
"We are living in a world that cannot exist without all its members being slightly insane," he said. "The utopia for me is not when we have reached the point where every single problem has disappeared, but when we have a much deeper understanding of what the problems are, which again can tie back to education."
The group does not allow minors to commit acts that would put them in legal danger. So thus far, he said, he's helped organized and promote conferences and speaking events from other radical thinkers; the last protest he attended was staged at the World Cup to "raise awareness of the patriarchy in FIFA" —  feminism is another another pillar of DGR.
Still, he remains committed to the group's overarching confrontational mindset, which explains why members do not run off to live in the woods. One of DGR's most recent protest involved blockading the pathway of a proposed pipeline routes.
"One of the points we emphasize is that civilization needs to be resisted, it doesn't need to be hidden from," Dakota said. "The point is to take an active role and do what it takes to stop it."
Dakota still leads a regular teenage life. He's on his high school team's distance-running team, and is gearing up to take his college entrance exams.
But he said his parents probably "long for a more stereotypical teen" who "conforms to the status quo."
But they were the ones who first instilled in him a progressive mindset to begin with, he said.
"Unfortunately for my parents, they did a good job at exposing me to it and so need to deal with me as I am."
Rob covers business, economics and the environment for Fusion. He previously worked at Business Insider. He grew up in Chicago.