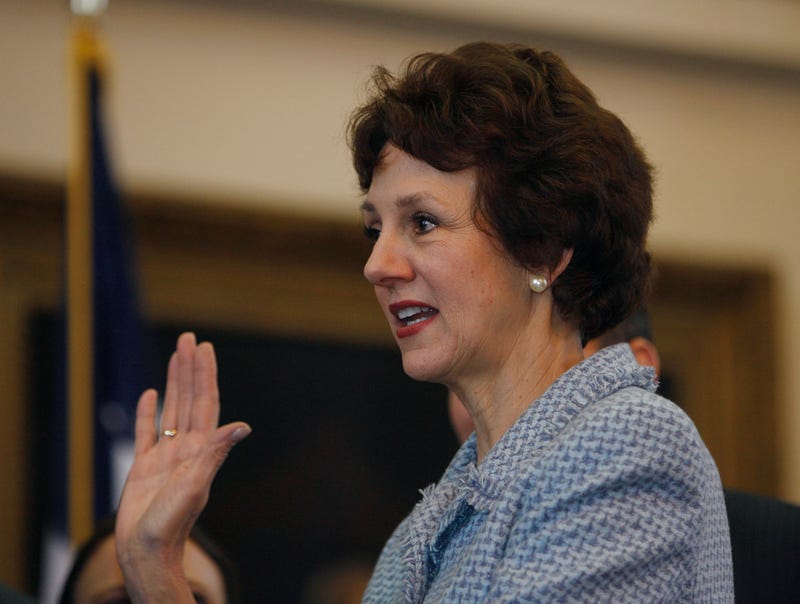 Back in the late 1980s, when Ken Kramer was president of the Sierra Club Lone Star Chapter, he found an unlikely ally in a fight against a proposed transmission line out in far West Texas: Susan Combs. The line would have crossed her family's ranch, and the group was concerned in part about endangered cacti that grew there.
Her allegiance, however, was with landowners, and after she was later elected to the state legislature, Kramer found himself lobbying someone who appeared to care more about property rights than environmental protections.
Last week, President Donald Trump nominated Combs to serve as the assistant secretary for policy, management and budget in the U.S. Department of the Interior. Combs would "play an important role in policy development, management reforms to align efforts among the bureaus, and stewardship of Interior's fiscal resources" as the department's chief financial officer, chief acquisition officer and chief performance officer, according to a press release from the department. A spokeswoman for the agency said she would also oversee the National Invasive Species Council, which helps coordinate "action and cooperation with states on mutual invasive species problems."
U.S. Sen. Ted Cruz was among several lawmakers representing the Lone Star State who lined up to applaud Trump's pick. Back home, she was Texas' agriculture commissioner, and then comptroller, the state's chief financial officer. Cruz called her a "committed public servant who understands, like most Texans, that the federal government isn't the answer to every challenge."

"Susan understands that the Interior can safeguard our resources while also encouraging beneficial economic growth," Cruz said in a statement.
But because the Interior is the umbrella agency for the U.S. Fish and Wildlife Service, which is tasked with enforcing the Endangered Species Act, some environmentalists are concerned Combs may threaten the law. She oversaw Texas' endangered species program as comptroller, regularly challenging protections proposed by Fish and Wildlife and setting aside state funds to cast doubt on scientific work supporting potential endangered species listings. After leaving office in 2015, she filed a petition to delist the golden-cheeked warbler. "The Texas population is a whopping 19 times greater today than estimated in 1990," Combs wrote in an op-ed about the small songbird in The Dallas Morning News. "This is wonderful news and should be celebrated, but don't expect much, because it turns out the listing and delisting process is less about actual animals and more about agendas."
According to The Austin American-Statesman, "Combs clashed often with the U.S. Fish and Wildlife Service, part of the Interior Department, over restrictions imposed by the Endangered Species Act, which she viewed as an impediment to the state's business development:
A 2015 American-Statesman investigation found that Combs was an active opponent of the law, using her budget to finance studies on species that some academics criticized as politically skewed. She regularly found fault with proposals from Washington to list species as endangered, variously citing inadequate science, low-ball economic impact projections or insufficient notification of local residents. During a 2013 legislative briefing she referred to proposed listings as "incoming Scud missiles."


She also battled federal biologists over protection of the dune sagebrush lizard, whose habitat overlays West Texas oil fields. Federal officials later agreed not to list the rare lizard, instead allowing a state-sponsored protection plan financed by the oil and gas industry. Combs' replacement, Comptroller Glenn Hegar, last year fired the private company that had been charged with overseeing the work.
Brett Hartl, government affairs director for the Center for Biological Diversity, said the office Combs was asked to lead has been run in past administrations by relatively neutral budget arbiters. But Hartl said Combs "fixates" on endangered species, and seems more likely than her predecessors to move money and resources to advance her agenda. "Picking someone as, frankly, extreme as Susan Combs is not a good sign," he said. "Long term, I think it could do some really serious damage."
For several years already the Endangered Species Act has been under relentless attack from congressional Republicans, Hartl said, and departments like Interior and the Environmental Protection Agency seem set on "turning back the clock to an era where industry extraction was the No. 1 goal." Gary Mowad, a former deputy chief for Fish and Wildlife who now helps companies navigate the Endangered Species Act, among other federal environmental regulations, hopes the law will change.
He described Fish and Wildlife extorting millions of unnecessarily mitigation dollars from companies and biologists wrongly claiming violations of the Endangered Species Act. He and Combs have disagreed about the act's implementation in the past but, he said, her criticism of the act law isn't baseless. And he thinks she would be a good fit for the Interior position.
"People who are worried that Susan's going up to D.C. and is going to try to gut the Endangered Species At don't understand the organizational structure of the Department of the Interior," he said.
Ken Kramer, now the chair of water resources for the Sierra Club in Texas, expects that Americans who don't share Combs' political views will nevertheless have opportunities to discuss issues with her. "She's a pretty open person," he said.
We'll see Thursday when Combs, who must be confirmed by the U.S. Senate before assuming the position, is scheduled to appear before the committee on energy and natural resources for a hearing to consider nominees to the Department of Energy and the Department of the Interior.