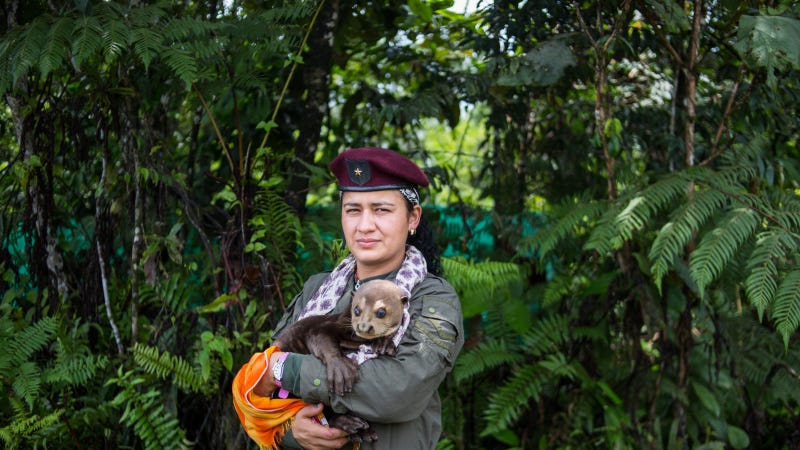 PUERTO ROSARIO, Colombia—When the Revolutionary Armed Forces of Colombia (FARC) came out of the jungle in February, they brought their furry friends along with them.
As combatants from the FARC's southern bloc made their way to a government-run camp where—thanks to an historic peace deal —they will hand in their guns, the guerrillas carried a wide selection of pets that included a macaw, two river otters, a 100-pound pig, and a tiny monkey known as a "leoncillo."
The exotic pets accompanying the FARC fighters on their last march across Colombia offered a surreal touch to a dramatic story.
But the animals' presence was also a reminder of the grittiness of war.
Many guerrillas say they adopted their pets for companionship and stress-relief during years of uncertainty and combat in the jungle. As the war waned last year and fighting with the Colombian military ceased, the rebels began to adopt even larger and louder pets from the jungle and nearby farms.
"We've always liked having pets," said Alex Ramirez, a FARC commander who has been with the rebels for 32 years. "The female fighters liked having them because they were like the kids that they couldn't raise. And for the men, the [pets] helped us to take a break from the tense ambiance of war."
Ramirez carried a tiny monkey named Paquito on his shoulder as he walked through the guerilla's temporary campsite in Puerto Rosario.
"He's been with me for three years, and he has survived it all," Ramirez said. "It's been easy to carry him around because he hardly weighs anything."
Oriana, a guerrilla fighter who has been in the FARC for over a decade, said that when she joined the rebel movement most pets were large dogs that could "move about on their own" and needed less care from the guerrillas, who often went on long marches and changed campsites at night.
But after fighting ended last year, the guerrillas became more sedentary and started to take in other types of animals, such as pigs, otters, macaws, and even cats.
Pincher dogs also became popular pets in the FARC's southern bloc, since they are easy to carry and require little food.
"You get used to caring for them, as you do your daily activities," said Oriana, who owns a macaw named Lucero and a pincher named Nina. Her unit also traveled with Maluma, a black Labrador named after a popular reggaeton singer.
Guerrilla couple Paola and Ivan adopted a pig last year they called Muñeco, who grew from about 30 pounds to 100 pounds in just two months.
"His skin is very sensitive to the sun," said Paola. "So we have to pour a lot of water over him when we move from one place to another." Ivan joked that his pig, which could still triple in weight, has become something of a spoiled brat.
"The only way to transport him now is with a car," he said. "But we're not going to eat him; he is exclusively a pet."
Martha, a fighter with the FARC southern bloc's elite guard, traveled all the way to the government-run transition camp carrying an otter in her arms. She said she adopted the animal late last year after its mother died.
"She makes a lot of noise and needs to be bathed regularly," Martha said. "So there is no way I could have had her before."
The Otter, named Yorki, was an instant sensation among villagers who greeted the guerrillas as they made their way to the government run camp. At one of the stops bus drivers posed for pictures with Yorki and chuckled as Martha fed the animal some milk and oatmeal with a baby bottle.
"They're just like people," one of the bus drivers remarked of the pets.
Martha and the other guerrillas are now wondering whether they will be able to keep their jungle pets as they transition into civilian life. Keeping wild animals as pets is illegal in Colombia and is even punishable by prison sentences of four to eight years.
"We'll have to see what the environmental authorities say," said Elisabeth, a guerrilla who carried a small woodpecker in her pocket. "But it would be nice to keep them. We've become used to them, and they've become used to us."
Manuel Rueda is a correspondent for Fusion, covering Mexico and South America. He travels from donkey festivals, to salsa clubs to steamy places with cartel activity.