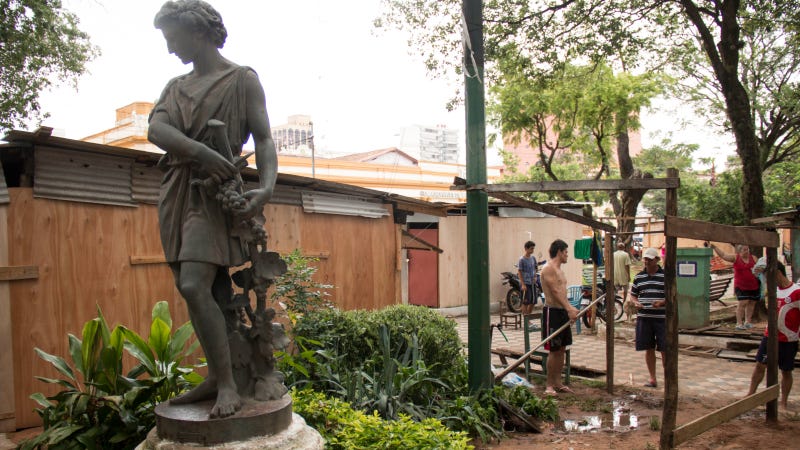 ASUNCION, Paraguay— In Independence Plaza, across from Paraguay's national congress building, middle aged women wash their families' clothes among classical statues of Greek gods. Bed sheets dry on clothes lines over park benches.
The whole park, built in the 1800s to spruce up the city, has been turned into a shanty town filled with dozens of wooden shacks.
The people who live here are climate change refugees who were forced off their lands by unusually violent weather.
"We've been here for six months," says Jorge Franco, an electrician and father of two who was evacuated from his home last December when heavy rains flooded several nearby neighborhoods.
Half a year later, Franco's neighborhood, known as La Chacarita, is still partly underwater.
"The rains are supposedly coming back in June, so we're just going to stay here and see what happens," he says.
There are thousands of other Paraguayans in similar conditions—all left homeless by last year's torrential rains. Many scientists say the record flooding is connected to global warming.
"In Asuncion, the river reached its highest levels since 1905," said Julian Baez, director of Paraguay's National Meteorological Agency. "The world in general has higher temperatures nowadays, and that generates extreme situations."
Baez says Paraguay's floods are tied to El Niño, the weather phenomenon that has led to drought in Central America and northern South America, and flooding in the southern part of the continent.
During the last week of November, temperatures in the eastern Pacific ocean rose by a record-breaking 5 degrees fahrenheit, which has only strengthened this year's El Niño and caused even heavier rains in Paraguay, Uruguay and Argentina.
In December and January, more than 140,000 people were evacuated by flooding in Paraguay, a country that doesn't usually get heavy rains during the southern hemisphere's summer months.
Winter is now approaching and the rain has not stopped. The Paraguay River is still flooded and some neighborhoods in the capital city are still underwater.
"We've tried to go back to clean our home, but it's still not safe to settle there again," says Franco's wife, Silvana Coronel.
Despite all that, climate change isn't really a topic that people discuss in Independence Plaza. Many people here don't seem to know about it, and instead blame the flooding on a dam that was built 30 years ago on another river, 200 miles to the east.
But if you talk to people about changes in weather patterns, they start to describe climate change without mentioning it by name.
"The floods used to happen every ten years or so," Silvana Coronel said. "Last year, we had to abandon our home three times."
"I've lived [in Asuncion] for 56 years," said Roque Valle, a painter who is now living as a squatter in Independence Square. "We used to get flooded every ten years or so, but not as often as now."
In Paraguay's capital city alone, there are 13,455 families displaced by flooding, according to government numbers. They're living in 20 government shelters and an estimated 110 informal settlements of flimsy wooden homes and tin roofs.
Joaquin Roa, Paraguay's minister for disaster relief, told me that the government is providing the climate change refugees with "integral" support, including medical aid, food supplies and materials for their homes. He said the government has already started on plans to build 4,000 new homes for people left homeless by flooding.
But some residents of Independence Plaza say that they don't want to be relocated to places that are far from their original neighborhoods where they've lived their whole lives. And they complain that the government's relief efforts are insufficient.
"Only some of us got wood panels," said Coronel. "We haven't gotten medical aid here either."
The government's relief agency says it's doing its best to deal with the problems, while also trying to prepare for possible outbreaks of mosquito-borne diseases such as Dengue and Chikungunya.
The U.S. government, meanwhile, has donated funds for 500 portable toilets for the various refugee camps.
"It's a tough situation," said Jorge Franco, as he gave me a tour of his cramped living quarters. "All we can do is wait and see what happens."
All photos by Santi Carneri, instagram @santicarneri
Manuel Rueda is a correspondent for Fusion, covering Mexico and South America. He travels from donkey festivals, to salsa clubs to steamy places with cartel activity.