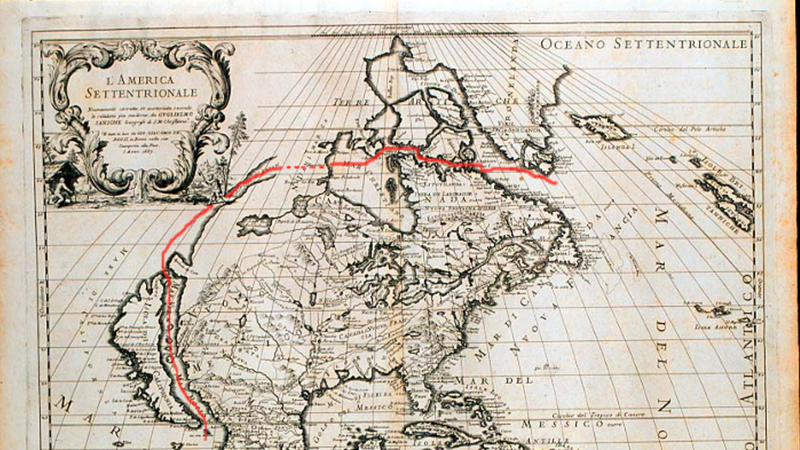 There might not be a sentence that screams 2016 more than "Luxury cruise ship to sail through Arctic channel opened up by global warming." Income inequality and climate change wrapped up with a nice bow.
The Telegram reports an upcoming luxury cruise will be the largest-ever ship to pass through the Northwest Passage through Canadian territory from the Pacific to the Atlantic Ocean.
Centuries ago, the Northwest Passage was the stuff of legend, the "Arctic grail." Many explorers died trying to find a way to get to the Pacific Ocean without having to sail all the way around South America. Henry Hudson, the English explorer for whom New York's Hudson River is named, was left behind to die by his crew when he sought to seek the passage in 1611. But at least they named the bay where he died in after him as well.
The passage was first navigated by sea in 1906 by a small herring boat with a six-person crew, and since then larger and larger vessels have begun to try the journey as rising temperatures have melted ice and made the perilous journey a bit less perilous. But none quite as large as the 68,000 ton Crystal Serenity.
The luxury cruise line plans a 32-day journey this August starting in Seward, Alaska, to New York City. Crystal Cruises' website lists the trip at a bargain basement price of $21,855. For the price of a mid-sized Sedan, you too can explore a thawing frozen hellscape.
The Crystal Serenity's opulent journey is only possible due to the continued retreat of sea ice in the Arctic. NASA estimates of Arctic sea ice in September, around the time of the scheduled cruise, shows a drop of 13.4% per decade since 1979—a reduction of millions of square kilometers.
That doesn't mean it's completely safe. The Maritime Executive magazine (presumably, a magazine for maritime executives) reports several U.S. and Canadian agencies will be meeting with Crystal Cruises next month to discuss safety for the trip. Executive also reports the cruise ship will be accompanied by an escort with ice-breaker capabilities, in case the recent record warmth at the North Pole doesn't do the job.
As of press time, the ghost of Henry Hudson had not returned several requests for comments.
Patrick Hogan is a reporter for Fusion based out of New York. E-mail at patrick.hogan@fusion.net.