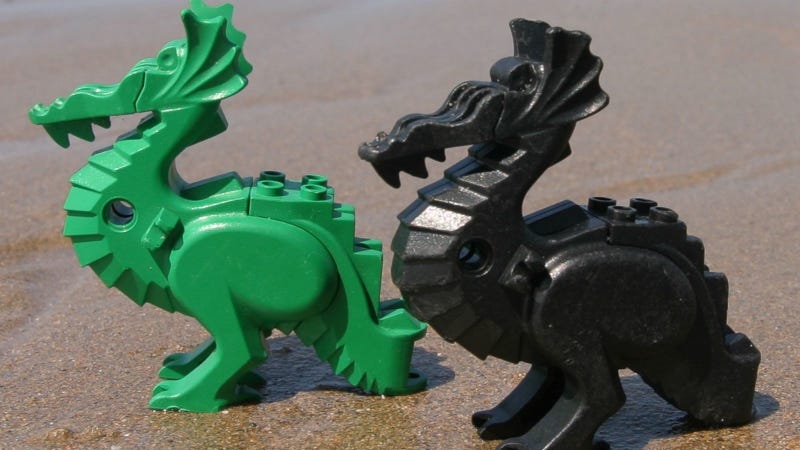 In 1997, the container ship Tokio Express was about about 20 miles off the coast of Land's End, England when it was hit by a rogue wave that tilted the ship first 60 degrees in one direction, then 40 degrees in the other. Afterward, it was discovered that 62 full containers of goods were sent overboard, one of which contained almost 5 million Lego bricks.
Today, these bricks are still washing up along England's beaches— a fate made ironic by the fact that many of the pieces were from kits that depicted life at sea.
The findings, which have been popping up for at least 15 years, have sparked a sizable online community of collectors, led by British writer and beachcomber Tracey Williams.
She even put together a guide to help fellow Lego enthusiasts identify the pieces that might wash ashore.
Photo from Lego Lost at Sea FB
"I'd been running a beachcombing Facebook page and we'd built up quite a big online community," she told Fusion. "I noticed quite a few people were finding Lego during beach cleans so decided to set up a separate page to focus solely on the Lego. I was keen to find out what was turning up, in what quantities and where."
According to the ship's cargo manifest, which Williams got a hold of, there were 4,200 octopuses, 26,600 yellow life preservers, and 13,000 spear guns on board, among other items.
"Interestingly," she notes, "there are many items on the cargo manifest that have not yet turned up. Maybe they are still trapped in crates at the bottom of the ocean."
Or, they might have washed up on other continents entirely. Williams said she recently received a photo of a Lego flipper from someone in Melbourne, Australia, wondering if it could be from the same batch. "We're not sure whether it's from the Tokio Express or not. I understand it's possible!"
For the most part, Williams and others simply come across the Legos while doing regular beach cleanings. She says it adds an extra reward to the cleaning process, as well as helping to highlight the issue of marine debris.
"Many hundreds of containers fall off cargo ships every year. We're still picking up IV saline drip bags from a container spill in 2008," she said. "We also find a lot of fishing gear. Glow sticks, for example, and lobster trap tags and escape hatches from the U.S. and Canada. Earlier this year I found a buoy from Pubnico in Nova Scotia. It all ends up here!"
Photo from Lego Lost at Sea FB
Photo from Lego Lost at Sea FB
Photo from Lego Lost at Sea FB
Photo from Lego Lost at Sea FB
Daniel Rivero is a producer/reporter for Fusion who focuses on police and justice issues. He also skateboards, does a bunch of arts related things on his off time, and likes Cuban coffee.