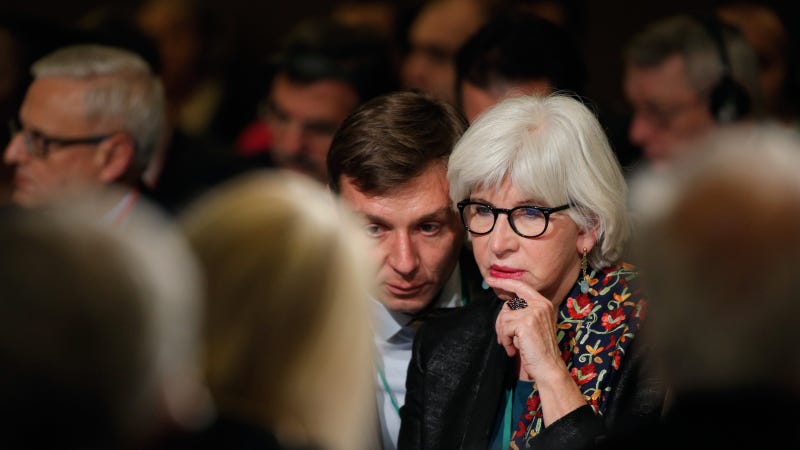 LE BOURGET, France — Keeping abreast of the latest news on climate change can be a tricky task, and following the Conference of Parties (COP) talks is downright difficult. Many of the negotiations are closed to journalists, and even those at the table can get lost in a labyrinth of words in brackets—phrases that are open to deletion in the negotiations.
And there's no shortage of vulnerable text as climate negotiators labor over every detail: Should climate finance be spent on "adaptation, loss and damage" or "adaptation loss and damage?"
"Climate commitment" or "climate contributions"? Should or shall? May or must? It's a lawyer's dream.
And the difference between one word and another could have a ripple effect on policies around the globe for years to come.
So who observes the observers? That's where climate trackers come in.
ClimateTracker.org, part of the nonprofit Global Call to Action, has tasked 14 writers from around the world to cover the Paris climate talks, called COP21. Since 2009, 75 fellows from 35 countries—most of them under the age of 30—have followed the minutiae of climate negotiations.
At 26, Diego Arguedas Ortiz is one of the more experienced climate trackers on the team, so he also functions as a mentor to his thirteen colleagues.
"The idea is to empower younger people who might not be as savvy in the talks," Arguedas said. This is his third time covering the climate talks, and he says this year is the best. "We get more in-depth access on what's happening," he said.
Each tracker homes in on a specific topic. Arguedas focuses on human rights, while others focus on finance, loss and damage, adaptation, and other issues. He is a journalist, but not all the trackers are; some are lawyers, engineers, or scientists. Founders Chris Wright and Joshua Wiese select and train the trackers, with a special focus on those from countries with weak support for coverage of climate change.
Arguedas and his teammates get as close as they can to the negotiating tables, lurking outside closed doors and waiting for delegates and experts to emerge with the latest news. Climate trackers can go where other journalists can't, but they're not seated at every negotiation table. In those cases, they rely on an extensive network of experts to figure out what's going down; and, sometimes, negotiators are willing to talk about what decisions emerged from behind closed doors.
The group is trained to keep track of what has been approved in the draft climate agreement here in Paris, and which parts are still up for debate, breaking down key issues still being furiously argued.
"You need the trackers to be the extra push," said Arguedas. Many of the delegates at these conferences genuinely care about combatting climate change, he added, but they often need public awareness in order to gain momentum on policy changes.
For example: Last year at the international negotiations in Lima, Peru, Arguedas sat in a conference room like any other in the sprawling compound. The topic of conversation among delegates: Should the paragraph addressing gender include the phrase "gender balance" or "gender equality"?
The distinction seemed small enough, but it carried huge weight. "Balance" would acknowledge that women do the same work in addressing climate change that men do, but it would stop there. "Equality," on the other hand, would take the next step to empowering countries and organizations to institute policies that grant women on the front lines of climate change the same rights as men.
As Arguedas covered the tedious back and forth, he noticed a glaring omission from the group of delegates seated around the table. Where was the negotiator from his native Costa Rica? The small country has faced significant climate woes: rising sea levels, flooding and endangered species.
But it is a fairly progressive nation that places low on international rankings of gender discrimination, with a famous female global leader: Christiana Figueres is the head of the United Nations Framework Convention on Climate Change, which is convening COP21. The absence in the room gave Arguedas pause, he said.
Later, he approached a Costa Rican delegate: was the country's commitment to gender equality all talk? Within days, the Costa Rican delegation has announced a renewed focus on gender in its climate plans.
That's the power of a climate tracker.
Arguedas describes the work as a blend of journalism and activism. "With climate change, you cannot not takes sides," he said. "If you don't take sides, you're taking a side." He wants to use media to make the negotiation process more transparent—and wants their coverage to apply pressure on leaders.
"I really like using language to send a message," Arguedas said. It's what attracted him to journalism in the first place: the art of choosing the perfect word to connect with a reader and explain important issues. In the climate negotiations, which often become mired in legalese, "we try to use language the other way around," Arguedas said. "To make it more accessible."
Arguedas is optimistic about COP21: "This might be the year," he said, adding that he's already thinking about what comes next.
"Even if we have an agreement here, we have to implement it, we have to measure it, and we have to evaluate it as it happens," he said. "We need people—really young, empowered watchdogs—to be the voice that local contexts need. This isn't solved in a nice hall with 40,000 people. It's solved at a local level."
This story is part of a series called "Climate of Hope" produced by a team of reporting fellows for The GroundTruth Project with support from the JMB Charitable Fund.
Melody Schreiber is a freelance journalist based in Washington, D.C.