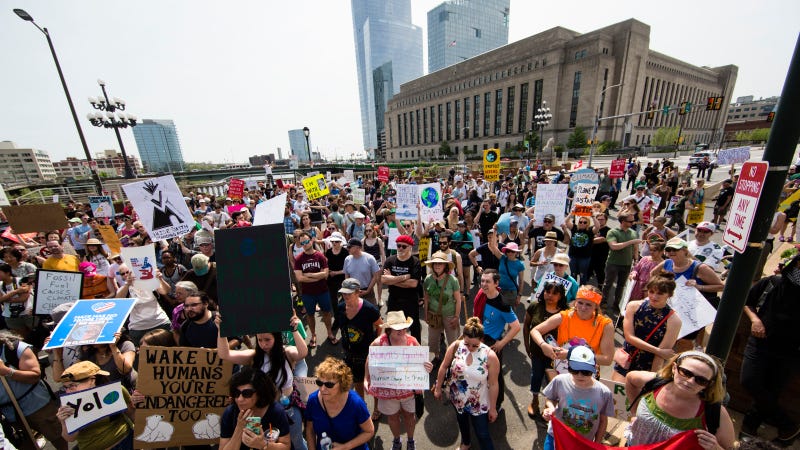 On April 29th, GreenLatinos and other members of the National Hispanic Leadership Agenda (NHLA), along with people from all over the country united in Washington, D.C. for the Peoples Climate March, standing up for environmental justice. Artistic performances, speeches, and thousands of signs helped the event emphasize how critical confronting climate change is and fight the direct attacks from Trump administration on our people and our environment.
With a proposed budget cut of 2.5 billion dollars to the Environmental Protection Agency (EPA), it is evident that we are facing the most hostile administration when it comes to environmental and conservation concerns. As the EPA is confronted with potentially the lowest budget in more than 40 years, the Peoples Climate March was put on to raise further awareness of the effects of climate change on our families and communities and highlight the importance of transitioning to a clean economy.
So why is it important that NHLA—a coalition of 45 of the nation's preeminent Latino advocacy organizations — come out in such strong support of our environment?
Besides being the moral thing to do, the Latino community is disproportionally affected by the dangerous effects of contamination, with half of the Latinos in the U.S. living in cities with the highest rates of pollution. One of the many concerns we face is the effect of carbon emitting plants, truck routes, and factories on Latinos living in inner cities. Health issues are a direct consequence of these emissions, with asthma being a key example. In the U.S., 3.6 million Latinos suffer from asthma, and Latino children are 40 percent more likely to die from asthma. Existing legislation, such as the Clean Air Act, aims to reduce such damages; however, budget cuts create challenges with strong enforcement of these public health and environmental laws.
NHLA advocates for the engagement of Latinos in the development, implementation, and enforcement of environmental legislation, regulations, and policies. Support of policies, programs, and regulations that invest in communities who are most vulnerable to the effects of climate change is critical for our community and our nation. NHLA's recommendations include increasing access to solar energy for Americans, specifically Latino communities, the recruitment and training of Latino conservation leaders in national parks and the promotion of renewable power, energy efficient vehicles, and clean fuels. Furthermore, it is necessary to recognize the impact climate change has on Latinas and women of color. Women of color and immigrant women are constantly exposed to industrial strength, cleaning supplies, medical supplies and other agents that can cause much harm to reproductive health.
NHLA opposed the nomination of Scott Pruitt as Administrator of the EPA, citing his long record working to undermine the environmental protections and enforcement entrusted to this vital agency, and we spoke out against the president's recent executive order to review national monuments and allow protective designations to be rescinded.
The Peoples Climate March served as an opportunity for people across the country to unite and resist the harsh policies that endanger the Latino community and our nation, while building momentum toward transitioning to a clean economy focused on social justice and equity. This is the next step in our mobilization efforts to combat threats to our ecosystem, and we will not sit quietly by while our environment is further attacked.
GreenLatinos and NHLA member organizations find hope in the political power we have to defeat the measures that may result in imminent danger to our community and our nation. As we come together, we have experienced an overwhelming mobilization within the Latino community for environmental protections, and we are confident that our voices are heard.
Executive Vice President & Chief Operating Officer for GreenLatinos.