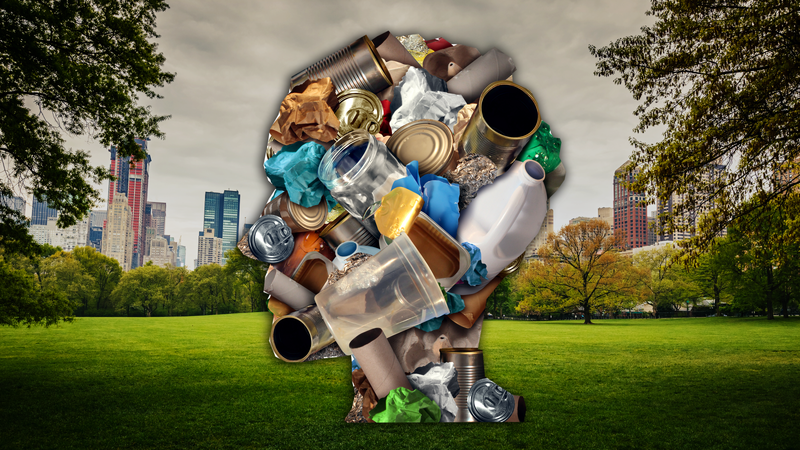 New York's zero waste plan places a big emphasis on recycling—an area where residents have serious room for improvement—but less on reducing the amount of garbage produced in the first place.
Jacquelyn Ottman, a sustainability consultant, is trying to jump start this conversation in communities across the city. On a recent Sunday afternoon, her "We Hate to Waste" workshop had just begun in a Park Slope, Brooklyn church.
The neighborhood is known for its high recycling rates and Ottman recognized that she might be preaching to the choir.
"You guys really hate to waste," she said.
The audience of long-time neighborhood residents agreed. Some have been composting, growing herb gardens in their kitchens, and leaving free items on their stoops for decades. Ottman wants to take this approach a step further by making people question every item's value from the moment they purchase it to its final resting place in the trash. Ottman has lots of ideas about what this could entail, and all of the changes are basically free. They will just require a new mindset about ownership and consumption.
"We need to change people's beliefs," she said. "We need to show them that there's treasure in the trash."
According to New York's Department of Sanitation, the average resident generates 16 pounds of overall waste at home every week. While Park Slope has some of the city's highest recycling rates, its residents still generate about as much waste per person as everyone else.
Recycling as much of this as possible is always preferable, but what's even better is reducing the overall amount of waste entirely. Yet this requires major changes in consumption patterns, waste sorting routines, and attitudes toward reusing items. Just how much people are willing to do has become the underlying issue in New York's zero waste debate.
The Roots of Reuse
Preserving objects and limiting waste used to be a part of daily household life. Metal and wood objects were cleaned and reused. Old clothing was resewn into new material or used as rags. Leftover ash had other purposes. According to the book "Waste and Want" by Susan Strasser, New Yorkers were required to separate their organic waste from other garbage as early as 1896.
Today, household items have become more disposable, and once something is no longer seen as having value it becomes a distasteful discard. New Yorkers are still expected to separate their waste, and have many outlets for doing so, though the average person likely doesn't take advantage of every option available. Many people rinse out their plastic bottles and flatten their cereal boxes at best.
Clothing, furniture, books and much more can be donated to Salvation Army or Goodwill. Textiles such as ripped clothing, old shoes, worn-out bags, and hazardous waste—batteries, chemicals, paint—can be taken to special drop-off points. Residents are now legally required to keep electronic waste like computers out of the regular trash. The city also issues some tickets for improper metal, glass, plastic and paper recycling.
Instead of frequently ordering items online, which come with lots of packaging, people could be more mindful of their purchasing habits. Leftovers may feel tired to the person who made them, but if neighbors came together for weekly potlucks everyone would get to try something new. Rather than using disposable coffee cups people can bring their own mugs. And the list goes on.

The Deal with Organic Waste
Some neighborhoods now have options for voluntarily separating organic waste too. Since 2013, New York's Department of Sanitation has been rolling out a curbside collection program for household food scraps and yard waste. The growing program now services 650,000 residents and aims to make organic recycling available citywide by the end of 2018. Yet for all the environmental benefits of not sending organic waste to landfills, some experts are beginning to doubt if the ends justify the means.
The Citizens Budget Commission, a nonpartisan civic organization, recently released a report questioning whether it's cost-effective to send out additional collection trucks for a small amount of material. Instead, they suggest a targeted approach for certain districts and a move toward in-sink garbage disposers citywide. Food scraps that get sent down the drain are processed at wastewater treatment plants to create biogas and fertilizer products.
The idea of using in-sink disposers on a large scale is still controversial in New York—they weren't even legal until 1997—but the technology has been gaining traction elsewhere. Starting this year, Philadelphia now requires new residential construction to include in-sink disposers and many other cities use the technology as well.
Kendall Christiansen, an in-sink consultant and former chair of the Citywide Recycling Advisory Board, has worked with these disposers for years. He considers them to be a simple solution for managing household organic waste in New York. As for the city's overall zero waste goals, he sees them as more hopeful than practical.
"There's this sense that more of the waste stream could be recycled if only we were better at it," he said. "It's a great aspirational goal, but the reality of it is it would be incredibly complicated and difficult."
Christiansen said the most promising option for getting recyclable materials out of landfills may be to stop expecting people to sort at home. New York's goal of adopting single-stream recycling by 2020—a system that combines metal, glass, plastic and cardboard in one container—is a step in this direction. Many other major cities have already adopted this approach. It runs counter to the message of local environmental groups that believe consumers should be forced to think about what they're throwing out. Mixing glass and cardboard can cause contamination, but the city would likely be able to get more material overall.

The Appealing Notion of Not Separating Trash at all
Rob Watson, CEO of the ECON Group and "father" of the LEED sustainability standard for buildings, wants to take that idea a step further. He is now working to help kickstart a company called EcoHub based on the idea that residents shouldn't have to separate any of their trash at all. He thinks household sorting is a waste of time and that even the people who participate aren't doing it completely right.
"Most of the recovery efforts are well-meaning, but not really serious about capturing large volumes of materials," he said. "Doing more of something that is basically maxed out isn't going to work."
The concept is known as mixed waste processing, and has been used in one form or another for years, though never on this level. While many advanced waste facilities can separate trash into an average of 12 categories, EcoHub has the ability to separate it into 58 categories. Watson said this can guarantee 95% of the original material will be recovered for reuse.
The challenge now is convincing a large city to buy into this concept and fund the creation of a full-sized EcoHub facility. A less advanced version of this technology was briefly used in Montgomery, Alabama with mixed results. Similar plans in Houston and Indianapolis have recently been put on hold.
A pending contract to send some of New York's garbage to an upstate landfill does allow for a pilot program to separate small amounts of mixed waste, but it seems unlikely that this will happen on a local level in the near future.
According to one top sanitation official, the idea goes against New York's zero waste agenda.
"We observe it, we watch it. It is certainly a technology that other cities are looking at. For us it's not part of our plan. We are really focused on a source-separated program," said Bridget Anderson, deputy commissioner for recycling and sustainability, at a recent City Council hearing. "Minimizing the tons of refuse is really our ultimate goal."
The city continues to push all forms of recycling and waste reduction education. The overall total of garbage produced every year has slowly begun to decline, but many feel more drastic measures are required to get real action: Wastefulness will need to start costing people money.

The Merits of a "Pay-as-you-Throw" Program
Mayor Bill de Blasio's OneNYC sustainability plan called for research into a potential "save-as-you-throw" or "pay-as-you-throw" program. Following the model of other cities, it would be free to set recyclables or organics on the curb and cost money to set out refuse. According to a 2007 report by the EPA, more than 7,000 communities were using some form of this system at the time. A working group made up of representatives from real estate, labor, government, and environmental groups has been formed to explore the idea further in New York.
The program is likely years away from coming to fruition. Logistical challenges of figuring out which unit threw away items in a large building and requiring people to buy special bags or stickers still need to be addressed. Plus, the idea has already riled up some strong feelings. Even though the plan could actually save taxpayers money, many New Yorkers view garbage pick-up as a right that they don't want to think about paying for.
For Jacquelyn Ottman and the waste-conscious residents of Park Slope, a pay-as-you-throw system doesn't seem crazy at all. In fact, they're willing to go much further. By the end of the session they've brainstormed ideas about a shared "tool library," "themed hyperlocal stoop sales" and a sports equipment sharing program. One woman even suggested taking over unused space in the local subway station to host some of these concepts.
If Spain can have communal refrigerators for leftovers and San Francisco can open a "Library of Things" for people to take out sewing machines and musical instruments, why can't New York follow suit?
Until residents can break their cycle of consumption and disposal, the city will continue spending millions of dollars every year on increasingly fraught plans to eliminate the waste they create.
"What happens if Pennsylvania calls one day and says take your trash?" asked Ottman. "What are we gonna do?"
This is the third of four articles exploring the future of waste in New York. Read the first two here and here.
Cole Rosengren is a garbage enthusiast, Mainer and Brooklynite. He covers local government and environmental issues in New York.