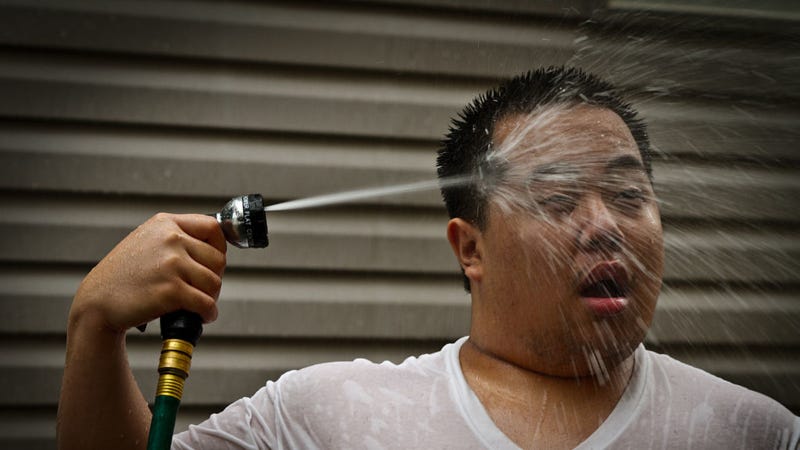 This summer, temperatures are breaking more records than Olympians.
The latest amazing temperature performance goes to July, which was not only the 10th month in a row to break the monthly temperature record, but also the hottest month in Earth's recorded history.
NASA has determined that global average surface temperatures in July were 0.84 degrees Celsius, or 1.51 degrees Fahrenheit, above the 1950-1980 global average. This is 0.18 degrees Fahrenheit warmer than the previous record of July 2011 and July 2015, which were tied for the hottest month on record.
As you probably know by now, human-driven climate change is primarily to blame for these scorching records. The strong El Niño that recently ended also played a role.
If you'd rather bury your head in the sand and ignore the increasingly compelling facts about global warming, you won't be alone. There's a whole ecosystem of climate deniers out there—including many Republican politicians—that choose to not only ignore NASA's data, but also accuse the agency responsible for going to the moon of manipulating the data. For the latest incarnation of this, watch an Australian senator try and tell a scientist that he understands climate change better than the world's top climatologists:
For those of us who are willing to take the leap and put our faith in the world's scientists, as we do for almost every other aspect of life, they've put together some visuals to help illustrate just how stark July's heat record really was:
As Wunderground recently reported, through July this year, the United States has seen 15,061 daily record highs and just 2,709 record daily lows.
And the nights are getting hotter too as the daily low temperatures have been creeping up in the summer.