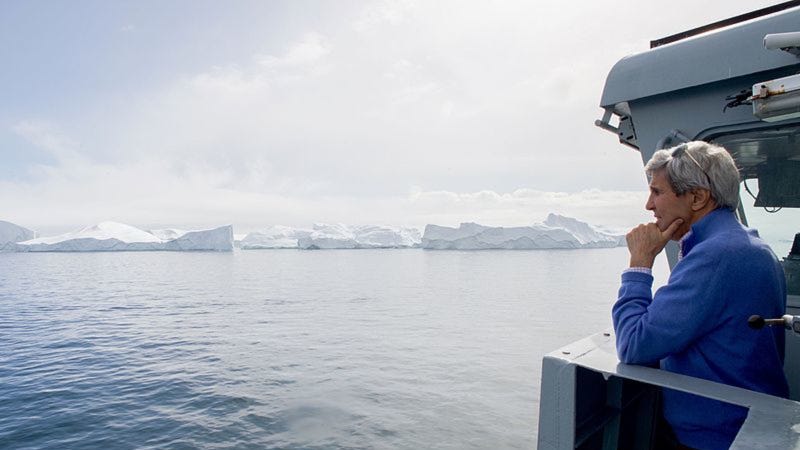 As Americans went to the polls on Tuesday, Secretary of State John Kerry was headed about as far away from the action as he could get without leaving the planet—Antarctica. Kerry, who managed to miss the extremely upsetting results for his fellow Democrats as President-elect Donald Trump rose to victory, is the first Secretary of State ever to visit the frigid continent and the most senior U.S. government official to do so.
With a climate change denier poised to take over his boss's office, Kerry is using precious moments of his final months as the country's lead ambassador to draw attention to what he considers to be the biggest global crisis of our time: climate change.
Kerry's Antarctic visit, taking place from Nov. 10-12, is part of a global tour that will take him to the next round of climate negotiations being held in Marrakesh, Morocco. Just days after the ambitious Paris climate agreement officially went into force on Nov. 4, world leaders are gathered for the event where they hope to help translate the robust agreement into quick, ambitious actions. Kerry's trip will help draw attention to some of the biggest risks of delayed action, now a major concern that Trump has been elected.
The United States has three research stations in the continent, which is one and a half times the size of the continental United States. The U.S. also has the most scientists and personnel of any country there. According to the official State Department release, other policy interests aside from climate change include "promoting scientific research, environmental protection of the continent, ensuring that those who go there are safe, including marine safety for tourists, sustainable management of marine living resources, and regulation of the tourism industry."
From the release:

One of the things that we worry about as a consequence of global warming – and this is over an incredibly long period of time – is that we are seeing more rapid melt in the Antarctic continent as a whole. For the purposes of scale, if you think about the entire ice sheet – and it was mentioned that that is two miles thick at its thickest point – but if you were to convert that to water, you'd end up with a sea level rise globally of 187 feet, or 57 meters…

We have been of the view that the impacts of sea level rise are among the most significant. There are 145 million people around the world who live at less than one meter above sea level – in other words, they live in an area less than three feet above mean sea level. If you imagine a one-and-a-half-meter rise just from this one glacier, you would displace at least that many people. Again, for context, the current number of refugees from civil conflicts around the world is only 65 million; 145 million people would be displaced at a one-meter rise. So you see these kinds of serious consequences.
Scientists recently determined that Antarctic melting alone could raise oceans by more than three feet by the end of the century if greenhouse gas emissions continued unabated.
Kerry visited Greenland—another epicenter of polar climate change—earlier this year to draw attention to the same issues of ice melt and sea level rise.
In Antarctica, Kerry will also get a chance to see firsthand part of the newly established Ross Sea Region Marine Protected Area, the world's largest marine protected area at 598,000 square miles. According to Pew Charitable Trusts, the "area will provide critical habitat, including breeding and foraging grounds, for a multitude of penguins, seals, krill, whales, and other species. It will also implement crucial policies needed to guide human activities such as fishing, shipping, and tourism, safeguarding this region, one of the last pristine oceans left on Earth."
As NPR points out, Kerry's around-the-world trip bolsters some of his statistics as Secretary of State. According to the State Department, Kerry has traveled more than 1.3 million miles since 2013, visiting 90 countries with a flight-time of almost 118 days. Kerry now easily tops former Secretary of State Condoleezza Rice's travel record of 1.06 million miles as well as Hillary Clinton's 956,733 miles.