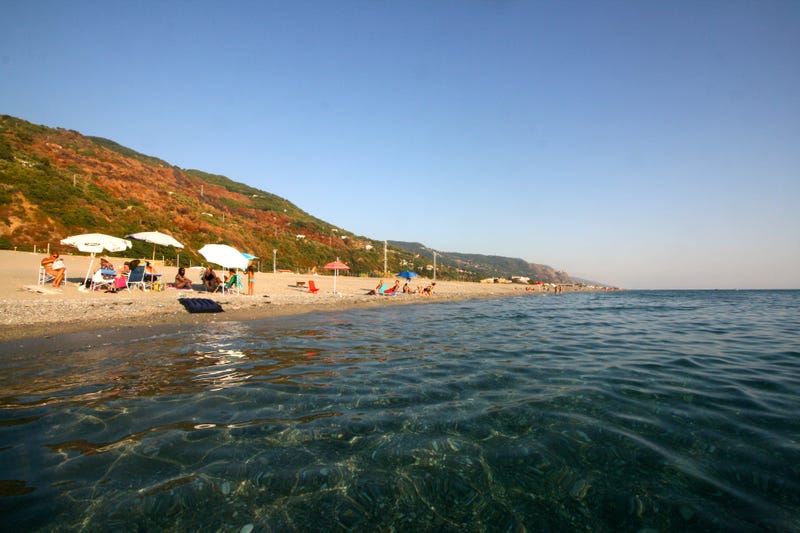 ROME — From the umbrella-covered beaches of the Tyrrhenian Sea, scorched black, brown, and deep red trees climb the hillside towards the coastal Apennine Mountains of Calabria, trails left by one of the 10,000 brush fires reported in Italy since June 15. Beyond beachgoers, amphibious Bombardiers skim the turquoise water, refilling their under-wing tanks before returning to lingering blazes in the nearby Crati River valley.
A quarter mile to the north, 1.5 million Romans are living under the threat of water rationing as leaking pipes, mismanagement, and an ongoing drought have spurred a high-stakes water dispute across central Italy. As the level of drought-affected Lake Bracciano, one of the sources of Rome's drinking water, continues to drop, average August temperatures at the Ciampino airport have been 20F above average.

"Lucifer" Heat

Central and southern Europe are caught in the grips of the so-called "Lucifer" heat wave, the worst to hit the region since 2003. But the country of historic aquifers, picturesque coastlines, and magnificent produce, has been hit particularly hard. While weather warnings have been issued for 26 cities and temperature records have been broken as far north as Emilia Romagna and as far south as Basilicata, the implications of the heat wave for Italy could be much deeper.
In the northwest region of Piedmont, wine growers have already begun to collected grapes from thirsty vines in what Slow Food movement founder Carlo Petrini has called the earliest grape harvest in living memory. According to Coldiretti, Italy's primary farm association, dry conditions have already caused losses of $2.3 billion across the country, two-thirds of which is currently in a state of drought.
For many Italians, the fact that climate change is behind extreme temperatures and dry conditions is neither abstract nor controversial – it's a reality that requires attention. Nicola Zingaretti, the governor of the Lazio region surrounding the capital of Rome, recently commented during an interview on Italian TV: "Getting water from the tap is a right, but we have to deal with the huge problem of drought," he said. "I'd like to invite Donald Trump here [in Bracciano] to show him what happens when one doesn't respect climate change agreements."
Steady Inclines and Declines

Over the past 100 years, Italy's temperature has increased by 1C or 1.6F and in the past 50 years, by an average of 2C or 3.2F. Overall precipitation has steadily declined while instances of flooding have grown. Meteorologists estimate that the spring of 2017 was the second hottest and absolute driest in Italy in the past 60 years, with only 26 days of rain compared to 88 in the same period in 2016. According to NASA, the country has lost a month's worth of rainfall, leaving lakes, rivers, and other reservoirs dangerously dry.

For lifetime resident of Rome Mattia Ciampicacigli, a 31-year-old journalist and the president of the Laura Lombardo Radice cultural association, the changes have been subtle but sure. "It is clear that in Rome, in the summer, it has always rained very little between the months of June and September – this drought accumulates throughout the year," he said. "I am convinced that this is an act of climate change and I am afraid that we are headed towards a progressive reduction of annual rainfall – with this, we have to move quickly."
He has reason to be concerned. In recent weeks, the city of Rome captured international headlines as water rationing threatened to leave 1.5 million residents without water – during record temperatures – for up to eight hours a day. The regional government had initially blocked the partially privatized water utility Acea from drawing more water from Lake Bracciano, but later overturned their own ban as water rationing threatened to exacerbate existing public health concerns.
"The problem has only been postponed for a few weeks," said Fabio Russo, an engineer and professor of water management at Sapienza University in Rome. "Once the emergency has passed, it will be necessary to intervene in two ways – they have to reduce the losses [to leaks] and they have to diversify their sources of drinking water."
In a water-scarce future, Rome will need to invest in new infrastructure – currently only 56 of every 100 liters drawn from Lake Bracciano reach the tap of city residents, according to Russo. But Rome – which may have undergone a climate shift that aided in the fall of the Roman Empire some 1800 years ago – is currently just one of several large cities across the Boot that stand vulnerable in the face of our especially human variety of climate change.

Floodable, Neo-Anthropocene Cities

An estimated 75 percent of Italians live 10 kilometers from the sea and, according to Elisa Delpiazzo, a researcher with the Euro-Mediterranean Center for Climate Change, 88 percent of Italian municipalities are exposed to hydrological or geological risk. Venice is the obvious case, as it is expected to be under water by the end of the century if the sea rises the forecasted 140 centimeters. But between 2010 and 2014, Delpiazzo estimates that there were 145 deaths and more than 44,500 people displaced due to flood and other severe weather events across Italy.
Despite its strong agricultural sector, most Italians are in the cities, a fact that Maurizio Carta, a professor and dean of the polytechnic school at the University of Palermo, in Sicily, sees as an opportunity. He believes that Italian cities will bear the greatest burden of climate change and, as such, as poised to be the "protagonists of resilience" in what he optimistically calls the "neo-Anthropocene."
"Today, more than 50 percent of the world's population is urban and in Europe, we're at 80 percent," Carta said. "It is up to the cities to confront and resolve the issue of climate change." In Italy, where water will increasingly be part of the urban environment, he is pushing cities to design "floodable cities, cities that are porous and permeable."
While Carta encourages local initiatives to combat climate change, he underlined the importance of international support and global initiatives. It was not lost on him that Donald Trump famously wavered on the Paris Climate Agreement ahead of the G7 conference in Taormina, on the other side of Sicily from Palermo.
But for now, Italian cities are simply struggling to get through the week. As the extreme heat begins to cease in the northernmost regions, it is being replaced with severe thunderstorms, intense rains, and hail. In a matter of hours on Sunday, 10 centimeters of rain fell in the northeastern region of Alto Adige, causing the Rio Braies river to pass its banks and a landslide to block a local train. Elsewhere in Italy, however, smoke still fills the air.
And back in the Eternal city, there is no end to the water crisis in site. Many Romans have gone to the beach on vacation, easing pressure on the water demand for now. Meanwhile, the water utility serving the city has until the end of the month to reduce the amount of water it draws from Lake Bracciano from 900 liters per second to zero. But for the experts, September will be the real test.
"If it doesn't rain enough, we will have serious problems again," said Russo. "In this case, I expect the regional government to declare a state of emergency."
This article was supported by Participant Media, maker of an Inconvenient Sequel.