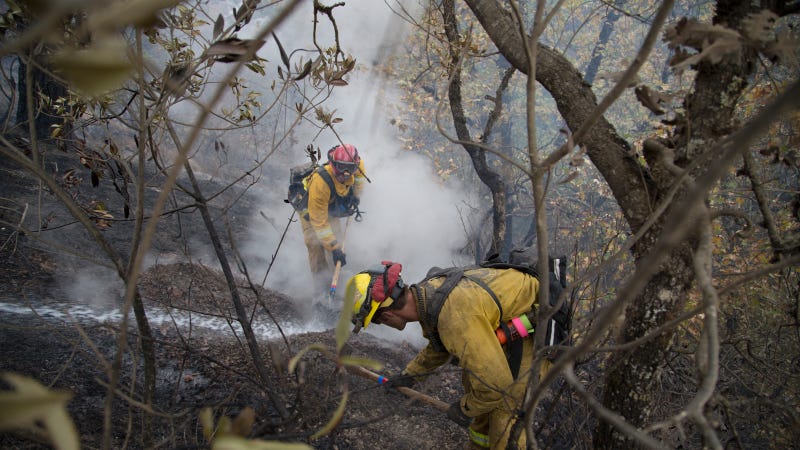 In a move that stops just short of calling climate change doubters total blustering buffoons, The Associated Press has made a significant change to the "global warming" entry in its widely used style guide.
Effective today, the news wire service will no longer refer to people as climate change "deniers" or "skeptics." Rather, it will call them "those who reject mainstream climate science" or simply "climate change doubters."
The news organization gave some background on the change in a blog post on Tuesday. Namely, it says that using the word "skeptics" is a putdown to actual skeptics:

Scientists who consider themselves real skeptics – who debunk mysticism, ESP and other pseudoscience, such as those who are part of the Center for Skeptical Inquiry – complain that non-scientists who reject mainstream climate science have usurped the phrase skeptic. They say they aren't skeptics because "proper skepticism promotes scientific inquiry, critical investigation and the use of reason in examining controversial and extraordinary claims." That group prefers the phrase "climate change deniers" for those who reject accepted global warming data and theory. But those who reject climate science say the phrase denier has the pejorative ring of Holocaust denier so The Associated Press prefers climate change doubter or someone who rejects mainstream science.
There's no way around it: The note seems to take a direct jab at conservative politicians who express doubts about mainstream climate science while adding the asterisk that "I am not a scientist."
Thousands of publications around the world carry material from AP news wires, all of which will now receive reports on climate change with this newer, more accurate language.
In a similar move in 2013, the AP formally dropped the use of the phrase "illegal immigrant," which many consider inaccurate and offensive, when referring to an "undocumented immigrant," which is the new standard.
The effect of that shift was huge. Other publications changed their styles to fit with the new norm, leaving only a select few still using the term. In some cases, publications that objected to the shift (Fox News, to name one) continue to use AP reporting in their stories, but rewrite headlines to include the old language.
To be clear, this means they go out of their way to offend people, which, as a reader or a viewer, is good to know.
The network will likely also be impacted by today's shift, as its biased reporting on climate change science is a well-known and reported phenomenon. A 2013 study even pinpointed the network as a "driving force for global warming denial" in the U.S.
Fox News has not yet responded to the AP's revised style, and a request for comment was not immediately returned.
Daniel Rivero is a producer/reporter for Fusion who focuses on police and justice issues. He also skateboards, does a bunch of arts related things on his off time, and likes Cuban coffee.