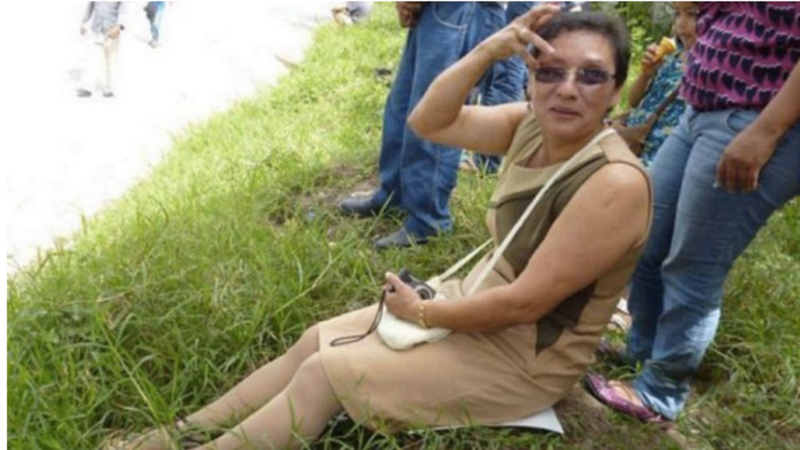 It happened again in Honduras. Another environmental activist has been murdered.
Yaneth Urquia, a 49-year-old mother of three, was a member of COPINH, an indigenous rights group that was co-founded by my aunt Berta Cáceres, who was also murdered for her activism.
Authorities claim Yaneth's murder was either a robbery gone awry, an extortion case, and/or a family dispute. Basically anything to make it seem like it wasn't a politically motivated killing.
Yaneth's body was found near a garbage dump, with severe injuries to her head.
It seems like a horrible repeat of what happened to my aunt. Hours after Berta was killed in her home last March, authorities claimed her murder was an attempted robbery. Then they said it was a crime of passion, or possibly some other type of power struggle.
None of those theories are true. Today, there are five people in custody for Berta's assassination, including at least one member of an elite Honduran Army battalion who received training from U.S. forces, according to media reports. But the intellectual authors remain free.
Similar to my aunt Berta, Yaneth had been fighting against the construction of a hydroelectric dam that was being built on Lenca land without their consultation or approval. The dam project is owned by Arnoldo Castro, husband of Gladys Lopez, the vice president of the Congress and head of the ruling National Party.
Here are two things that weren't reported in local and international press. Yaneth's murder, which happened in normally peaceful town of Marcala (population 30,000), was the fourth to occur there in a week.  And, the day Yaneth was killed, Honduran President Juan Orlando Hernandez was in Marcala for a surprise visit—something that some people in town saw as a sign of official intimidation by the National Party.
Yaneth's assassination is part of a well-documented pattern of intimidation and harassment against those who stand up to business interests promoted by Honduras' elite. Arnold Castro got his government concession to build the Santa Elena dam an hour from Marcala without ever consulting the Lenca indigenous people who have lived on the land for generations. Neither he, nor his wife, have been linked to her killing.
Notwithstanding the fact that Honduras' crime rate is one of the highest in the world, the string of murders is not related to random acts of violence. They are calculated acts of social control. An acquaintance of mine whose family lives in Marcala and is also an activist and organizer for indigenous and environmental rights tells me her family's house has been shot at several times. It's a clear message.
Despite the overwhelming amounts of evidence of collusion and corruption within Hernandez' administration, the U.S. continues its unabashed support for this criminal syndicate that calls itself a government. U.S. Ambassador James Nealon has even told local media that the U.S. "is proud to work with" President Hernandez.
Well, I am Honduran-American, and that partnership doesn't make me proud.
Silvio Carrillo is a Senior Producer for Fusion and documentary filmmaker based in Oakland, California