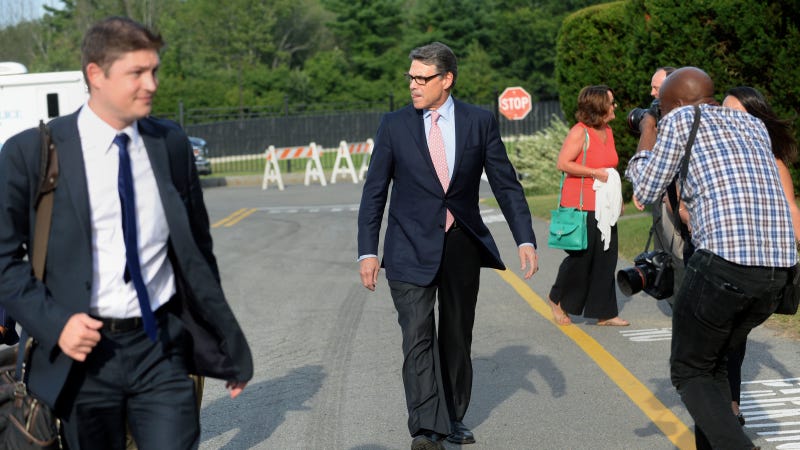 Former Texas governor and two-time Republican presidential candidate Rick Perry is apparently under consideration by President-elect Donald Trump's transition team to be the next energy secretary. If this were come to pass, Perry would have to get used to reliving the infamous 2011 "oops" moment in which, during a televised Republican debate, he couldn't remember the name of the third government agency he would eliminate. That agency was the Department of Energy.
As Trump's transition team works through early and increasingly intense growing pains, Perry is just the latest of a number of unexpected candidates to be floated as potential cabinet members. Former Alaska governor and VP candidate Sarah Palin has been mentioned as Secretary of the Interior. Newt Gingrich has been brought up for Secretary of State. Conservative Alabama Senator Jeff Sessions looks poised to make a run at Attorney General. As or the Energy Department, Robert Grady, former adviser to George H. W. Bush, and Harold Hamm, a prominent oil and gas tycoon, have also been mentioned as candidates.
Daniel Cohan, an associate professor of civil and environmental engineering at Rice University and a contributor to OurEnergyPolicy.org, said that any of the three candidates would be a huge step down from the current energy secretary, Ernest Moniz.
"Moniz came in with tremendous expertise as Director of the Energy Initiative at MIT, and has earned respect across the spectrum of academia and industry for his work at DOE," he said. "Ideally, an energy secretary would continue the tradition of Secretary Moniz in being a forceful voice for climate action. However, the candidates under consideration for DOE are unlikely to sway the President against backtracking on our climate commitments."
Cohan said that the new energy secretary will be arriving in office at a pivotal moment for energy as natural gas overtakes coal and renewable energy sources surge. He said the next few years will have a big impact on how quickly renewables are integrated into power grids and how the transportation sector adjusts to tighter fuel standards and the increased use of electric vehicles.
"There's a real risk of the U.S. falling behind as the world increasingly turns to renewable power and electric vehicles," he said.
Luckily government policy is not the primary driving force for all these trends. Market forces are causing the dramatic shift from coal to natural gas, according to Cohan, and renewables will continue to gain market share as they get cheaper.
He thinks the impact of the next energy secretary will be more over the long term.
"The next energy secretary will need to speak up for the value of energy research, which may face pressures from budget cutting in a Republican led Congress," he said. "The Department of Energy funds research such as ARPA-E that explore game-changing technologies, which could revolutionize energy decades into the future. DOE also funds research that explores how to reliably integrate larger amounts of variable resources like wind and solar onto the power grid."
The Energy Department also oversees the safeguarding of the nuclear fleet and weapons, and the next energy secretary will have to tackle the ongoing issue of how to store nuclear waste.
While Perry doesn't have much experience to prepare him to the job, his past speaks to what sort of leadership he would offer. Perry has long promoted the idea of "energy independence" through increased domestic fossil fuel production. In 2015, Perry's super PAC, Opportunity and Freedom, was given $6 million by Kelcy Warren, owner of the pipeline company Energy Transfer Partners which is currently building the controversial Dakota Access pipeline. Perry is also a long-time questioner of climate science and as governor he engaged in numerous disputes with the EPA.
Cohan said that the next energy secretary is unlikely to have much impact on Trump's plans to abandon Obama's Clean Power Plan, which reduces carbon dioxide emissions from power plants, because the DOE doesn't oversee the Environmental Protection Agency.
However, Trump's intention to appoint climate change denier Myron Ebell to head the EPA transition clears up any doubt about whether Trump will change his tune on environmental issues now that he's been elected.
As John Abraham writes in The Guardian, Ebell's appointment "basically means the EPA will either cease to function or cease to exist. It also appears that the US will pull out of any agreements to limit greenhouse emissions."
Susan Wright, at RedState, wrote that in light of Perry's previous inability to remember the name of the DOE, the Perry mention for Secretary of Energy "looks to be a bit of trolling."
"Of all the positions to put a man with Perry's experience in, Energy Secretary is not one that I would consider, so this one is an oddity," she writes. "There are a lot of interesting names being suggested for the new administration, and at this point, nobody should put full confidence in anything they hear. Trump has said that only he knows the 'finalists', as he has referred to them, which suggests that some names may be floated, just to keep the press guessing."
If Perry doesn't end up in Trump's cabinet, he could always make another run at Dancing with the Stars, the dance competition show from which he was eliminated in October.
In an interview with People, Perry said the experience was a "great privilege" and that on top of being fun, it might have helped Trump out late in the campaign season.
"You know, I was probably more helpful to Donald last night being here than sitting in the audience at the debate because people got to see a Republican that they may have thought was some stuffed shirt—you know, right-wing, crazy wack job or however they would like to identify us—and over the course of the last month, people got to see a person I think that they came to enjoy being around and liked," he said. "[They] saw a real different individual than may have been caricatured in the media over the course of the last 14 years."