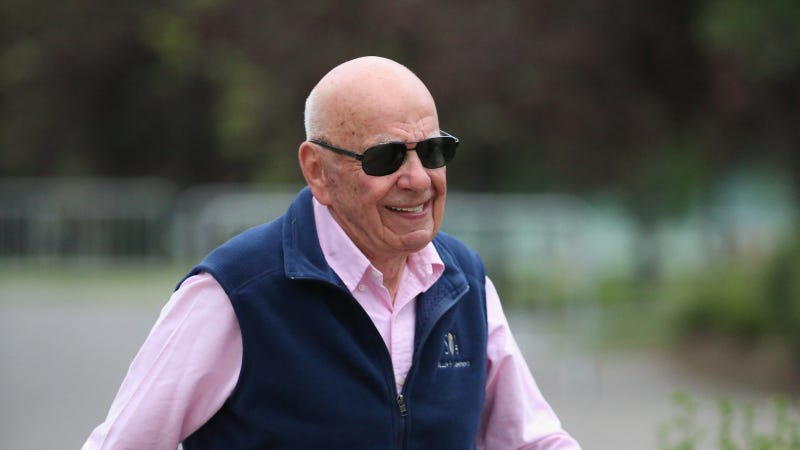 Australian media mogul Rupert Murdoch has been disseminating some very questionable tweets of late. As founder of News Corporation—which includes The Wall Street Journal and Fox—the man knows the power of the pen. So why are his tweets unusually outlandish this week? Perhaps the stock market volatility has him on edge.
On Tuesday, August 25, Murdoch, who was clearly enjoying a vacation along Australia's Great Barrier Reef based on his recent activity, tweeted that "To the naked eye reef looks fully as good as it did 50 years ago."
So maybe to Murdoch's 84-year-old eyes the place maintains the same distinct beauty as it did when he visited in the middle of the last century. In reality, the largest coral system in the world is under siege from human activity. There's dredging for fossil fuel ports, ocean acidification from rising greenhouse gas emissions, and warming waters, to name a few things. In fact, it risks being reclassified from a World Heritage Site to a World Heritage Site in Danger. These are not closely held secrets, and commenters on Twitter made their feelings known.
Queensland Senator Larissa Waters tweeted in response:
Waters was astutely pointing out to Murdoch that studies have shown that the GBR has lost around half its coral in the last three decades.
The very next day, on Wednesday, Murdoch tweeted that "In last 3 decades carbon in US air has reduced by nearly 50%."
There are several obvious problems with this. As ClimateNexus pointed out in a statement:

This is bizarre for a number of reasons, like the fact that CO2 is spread evenly through the atmosphere and doesn't stay within national borders. There's also the more widely known fact that CO2 concentrations reached 400ppm this year, a concentration higher than any time in the last 2 million years. Even Murdoch's own Fox News carried the story.
Even Fox News knows this! No need to elaborate.
ClimateNexus goes on to explain Murdoch's third ill-conceived tweet of the week:

"A climate change skeptic not a denier. Sept UN meets in NY with endless alarmist nonsense from u know whom! Pessimists always seen as sages".

This one is even harder to decipher, particularly as the UN meeting in September is about sustainability (which Bob Ward and Aaron Huertas point out, and which News Corp and Rupert himself support).

But perhaps the worst part of all this denial is how Murdoch acknowledged "climate change poses clear, catastrophic threats" in 2007. While the evidence has grown stronger, Murdoch's conviction has only grown weaker.
Neither is this the first time Murdoch has tried to paint himself as a considerate skeptic rather than an outright denier when it comes to climate change. Last summer Murdoch reflected candidly on climate change during an interview, saying he thought it should be approached with great skepticism.
"At the moment the north pole is melting but the south pole is getting bigger," he said. "Things are happening. How much of it are we doing, with emissions and so on? As far as Australia goes? Nothing in the overall picture."
He went on to say that if temperatures rose under the worst case scenario 3C (5.4F) over the next 100 years "at the very most one of those [degrees] would be manmade."
In true fashion, he did not explain the reasoning behind these statements.