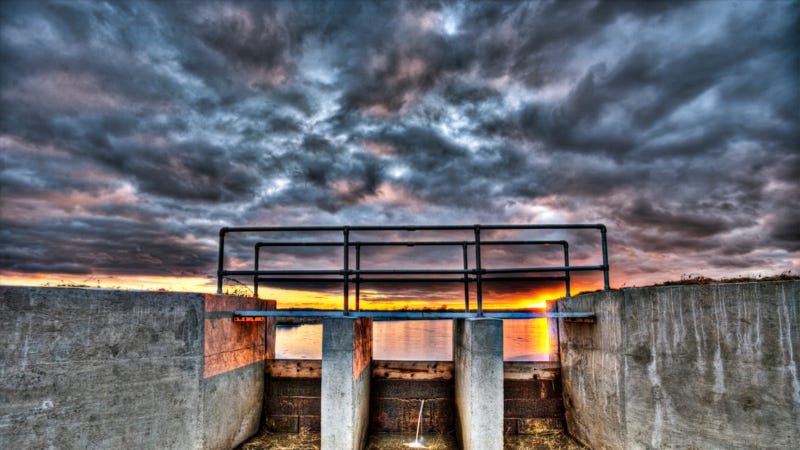 As residents of troubled Flint, MI, continue to survive on filters and bottled water, members of another community, just across Lake Michigan in Indiana, are filing a petition with the Environmental Protection Agency over the condition of their own drinking water.
Last fall, an EPA pilot study conducted on 43 homes in the city of East Chicago found elevated levels of lead in their tap water, which in a number of homes exceeded the EPA's "safe" limit of 15 parts per billion. The findings came shortly after the agency also discovered dangerously high lead content in the community's soil last September, a remnant of the now-defunct USS Lead facility.
Since then, the agency has warned the community about its findings, and the city has boosted the amount of orthophosphate—a chemical used to inhibit the corrosion of pipes—used in its water treatment plant. The EPA has also provided bottled water and filters to the homes included in the study. But the community's residents say it's not enough: They've now filed a petition calling on the EPA to "use its emergency powers under the Safe Drinking Water Act" to secure safe water for the city.
East Chicago and Flint may be continuing to make waves in the news, but they're far from the only places suffering from deteriorating infrastructure and contaminated water. One report from the Natural Resources Defense Council found that more than 18 million Americans were served by drinking water systems with lead violations in 2015. And many others may be currently suffering from other issues related to crumbling water infrastructure, such as recurrent leaks, or may experience them in the near future.
That's because America's drinking water infrastructure is need of a major overhaul, according to a new report from the American Society of Civil Engineers (ASCE). In its 2017 Infrastructure Report Card, just released this month, the group gave the nation's infrastructure a worrying D+ grade overall, and its drinking water infrastructure, specifically—one of 16 categories examined in the report—a D.
Other forms of infrastructure related to water resources performed poorly as well. Dams and levees also received D ratings, and wastewater treatment received a D+.  The ASCE recommends that all forms of infrastructure receive at least at B rating to adequately serve the public.
The main problem with drinking water infrastructure in the U.S. is that it's simply getting old—and there's a marked lack of funding to repair or replace it, according to Greg DiLoreto, a former president of the ASCE and current chair of ASCE's committee for America's infrastructure. Many of the nation's water pipes were laid in the early to mid-20th century and were only meant to have a lifespan of 75 to 100 years, the report notes.
"The fact is that we need to spend additional money on pipe replacement, pipe repair," DiLoreto told Fusion. According to the new report, about six billion gallons of treated water are wasted every day in the U.S. thanks to leaky pipes, and about 240,000 water main breaks occur each year. This is to say nothing of worst-case scenarios like Flint, where outdated infrastructure such as now-banned lead pipelines leads to undrinkable water.
The report notes that, currently, water utilities have a pipe replacement rate averaging about 0.5% of the nationwide system per year—meaning it would take about 200 years to replace the entire system. Overall, the ASCE estimates that it will cost about $1 trillion to upgrade, maintain, and expand the current drinking water system to meet the growth in demand expected over the next 25 years.

Trump's Infrastructure and EPA Plans
Where that funding will come from is the big question. At the moment, $1 trillion is the promised value of an infrastructure package currently being developed by the Trump administration for all the nation's aging infrastructure, water or otherwise. The ASCE estimates that it will cost about $4.6 trillion total to address the nation's infrastructure needs over the next 10 years alone, and there's currently at least a $2 trillion funding gap when it comes to meeting those needs.
The infrastructure plan is still being put together, but Trump has previously suggested that it may rely heavily on public-private partnerships when it comes to raising funds for repairs. But this approach may not work for all the projects that need immediate attention.
As DiLoreto pointed out, some projects have little opportunity for a payout for private investors—replacing old, leaking pipes, for example—and are therefore unlikely to attract investment. Additionally, many environmental and social advocacy organizations have expressed wariness about the privatization of public goods and services, like water, noting that the switch often leads to significant price hikes that disproportionately affect low-income communities.
What the final infrastructure plan will look like remains to be seen. But even as the plan is being developed, some experts are concerned that the nation's water quality may take a hit under other recent executive action. A newly proposed budget plan from the White House has called for extremely steep cuts to the EPA, reducing the agency's staff by at least a fifth and significantly reducing its budget for certain air and water programs while eliminating dozens of other programs entirely.
For now, the budget remains only a proposal. But it's the latest in a string of actions the White House has taken to specifically target the EPA since the Trump administration took office, including temporary limits on agency communications and a temporary freeze on EPA grants and contracts. Such events have raised concerns among environmentalists about the future of the agency's most basic functions, such as the enforcement of clean air and water standards.

Environmental Justice Failed by Infrastructure
And some have pointed out that cuts to the EPA are likely to disproportionately affect the nation's most vulnerable communities—places like Flint or East Chicago, which are predominantly communities of color and have high poverty rates. Such communities are more likely to be affected by disasters caused by failing infrastructure because they're less likely to have the funding for needed repairs. In a recent statement, Greenpeace spokesperson Travis Nichols called the proposed EPA cuts "environmental racism in action."
While cases like Flint have trained the public eye more closely on drinking water in the past year or so, DiLoreto cautioned that nearly all the nation's infrastructure is in serious need of work—in fact the only category to earn the desired B rating on the ASCE report card was the nation's rail system. And all of these different systems tend to be connected and dependent on one another in various ways, he said.
Drinking water systems depend on a reliable electrical grid, for instance—and energy infrastructure earned a dismal D+ in the new report card. And safe roads, a category that earned a D rating, are required in order to transport equipment to repair or replace pipes. Dams (rated D) help supply sources of drinking water to some communities in the first place. And levees (also rated D) help protect other communities from flooding and saltwater intrusion that could affect their groundwater quality.
Altogether, the ASCE estimates that under-investment in infrastructure across the board costs American families about $3,400 per year, or about $9 per day.
In short, the entire system deserves a long, hard look—and soon. And while long-term maintenance and repairs will require significant investment, DiLoreto said it will cost taxpayers less in the long run than continuing to let existing infrastructure fall apart.
"The bottom line is if we don't make these investments, we are sacrificing our quality of life that we've had for hundreds of years," he said.