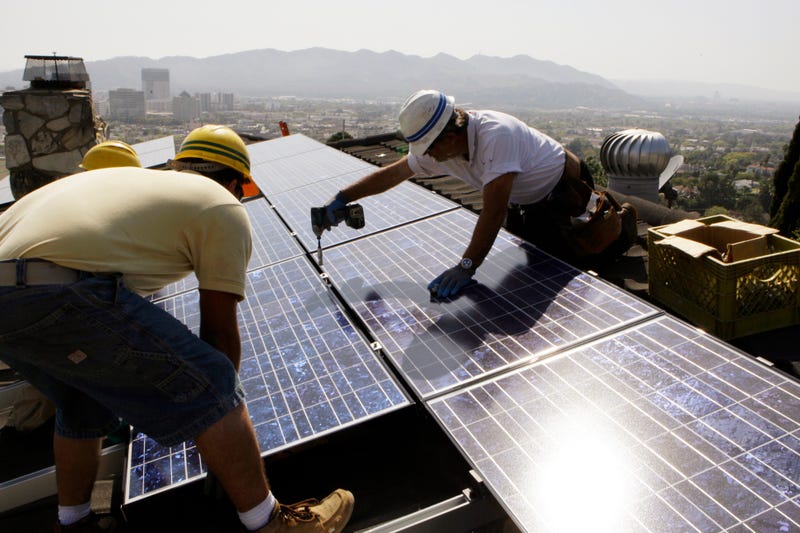 For Mayor Philip Stoddard, requiring solar on new buildings in his city of South Miami was a no-brainer.
"It's one of those things that carries benefits and no cost, unless you're an oil extracting company or you're a utility that doesn't own the sun," Stoddard said. "But from the homeowner's perspective, it's a pure win."
In July, South Miami became the first city outside of California to require solar on new residential buildings. When the law takes effect September 18, it will require either 175 square feet of solar panels per 1,000 square feet of sunlight roof or one solar panel per 1,000 square feet of of living area, depending on the home.
Mandates like South Miami's may be a growing trend. Five cities in California have issued ordinances that require solar on new construction. San Francisco passed a law last year that requires new residential and commercial buildings ten stories and shorter to install solar, a green roof, or both. The city's ordinance came three years after Lancaster, CA, became the first city in the country to require solar on new buildings. The ordinance has worked — so much so that Lancaster, which has a population of about 160,000, upped the ante earlier this year and required all new homes to be zero net energy.
Have the rest of these solar ordinances been as successful as Lancaster's? San Francisco's ordinance has only been in effect for about eight months — and there haven't been any new buildings constructed in that time — so the city doesn't have much info yet on its results, said Jeff Joslin, director of current planning for the city. Santa Monica, similarly, passed an ordinance requiring solar on new homes in 2016, and so far, the city has been "pleasantly surprised" with how smoothly it's run, said Joel Cesare, sustainable building advisor for the city.
"We thought we'd see some issues related to shade of neighboring buildings or trees, or buildings that aren't able to meet the solar requirements based on architectural preferences," Cesare said. "But we've really encountered no major issues thus far."
The only real hiccup the city has run into had to do with renovation. In some cases, a house that's being renovated will fall under the solar ordinance, and this particular house was historic — meaning it had construction limitations of its own. Ultimately, the city worked with the residents of the house to develop a solution, which involved installing solar panels on the home's detached garage.
California's state government may be following in the footsteps of cities like Santa Monica. The state has a goal to have all residential buildings be zero net energy — producing as much energy than they consume — by 2020, which means solar mandates could soon be the norm across the state.
Cesare said it's typical for cities to be ahead of the state on issues like solar in California, and that he wouldn't be surprised if other West Coast cities implemented similar mandates. In Denver, for instance, a campaign launched this year to get a measure on the ballot creating a solar and living roof ordinance similar to San Francisco's. Seattle requires solar-ready roofs and, in some cases, solar itself on buildings of a certain size and height, but so far, California and now Florida are the only states in which solar mandates have been adopted.
"Places where cities are allowed to move forward ahead of the state, I think it probably will be a trend," Cesare said.

Cesare, Stoddard, and Joslin say they've gotten questions about their ordinances from other municipalities. And as President Trump's hostility towards climate action emboldens mayors to take action themselves, more cities could end up passing resolutions like the ones in Florida and California. When Trump pulled the United States out of the Paris Climate Accord this summer, mayors of more than 7,400 cities — including 365 in the U.S. — pledged to uphold the commitments former President Obama made to fight climate change. The mayors of South Miami, San Francisco, and Santa Monica were among them.
Of course, solar ordinances aren't the only ways for a city to combat climate change — and it's been argued they may not even be the best way. And the ordinances have their detractors. In South Miami, some builders groups opposed the solar measure, saying they would have preferred things like tax incentives over mandating solar on new homes, so that residents have the chance to choose whether they want solar.
But solar mandates have been found to have bipartisan appeal: The Republican mayor of Lancaster, R. Rex Parris, said in 2013 that there was "almost no push-back" from his largely conservative constituents over the mandate. And the mandates do hit solar construction when it's cheapest — in the construction phase of a home or building.
As San Francisco's ordinance reads:
"Requiring solar water heating and/or solar photovoltaics at the time of new construction is more cost-effective than installing the equipment after construction, because workers are already on-site, permitting and administrative costs are lower, and it is more cost-effective to include such systems in existing construction financing."
The cost of this mandated solar will get reflected in the cost of the home, however. As Greentech Media points out, that additional cost will likely be negligible compared to a million-dollar home in San Francisco, but it's more noticeable in neighborhoods where home prices are more modest. Joslin said San Francisco didn't see any public pushback over the cost of the mandate or its potential to raise home prices.
"Part of that is because increasingly here rooftop space is really viewed as amenity space anyway," he said. So having a mixture of greenspace and solar on a roof "supports the quality of that environment."
Even with the increase in home price, a solar system will save residents money on their electric bills over the long-term. And the cost of solar has been falling steadily over the last few years, to the point that the cost of a residential solar is less than half of what it was eight years ago. Right now, the U.S. has enough installed solar to power 8.7 million homes, with states like California, North Carolina, and Arizona leading the way in solar capacity.

For his part, Stoddard doesn't think South Miami's ordinance will fix climate change all on its own. South Miami isn't a construction-heavy place: maybe 10 new houses are built each year. But the ordinance has gotten solar on South Miami residents' minds, and he said he's gotten calls and emails from residents to ask how they can put solar on their homes.
"A lot of homeowners who already had a house — it's stimulated their imaginations," he said. "That turned out to be the big dividend, actually."
And he isn't concerned about people moving into the city who may not want to buy a house with solar. He said he saw similar arguments with a county decision mandating storm shutters on new buildings.
"People were saying, 'Well what if they don't want storm shutters? Storm shutters are going to make the house more expensive,'" he said. "Well, they required storm shutters, and it hasn't hurt the housing market."
In fact, storm shutters are what people in the county expect now. Stoddard expects solar roofs will soon be as well — especially in Florida, a state that's particularly vulnerable to climate change.
"When people tell me, 'I want the right to choose,' I say I want my daughter to have the right to choose whether she wants to stay in Florida or not," he said. "If you're refusing to enact any changes in how we do things in order to reduce carbon emissions, then you're taking away rights of entire generations to choose."