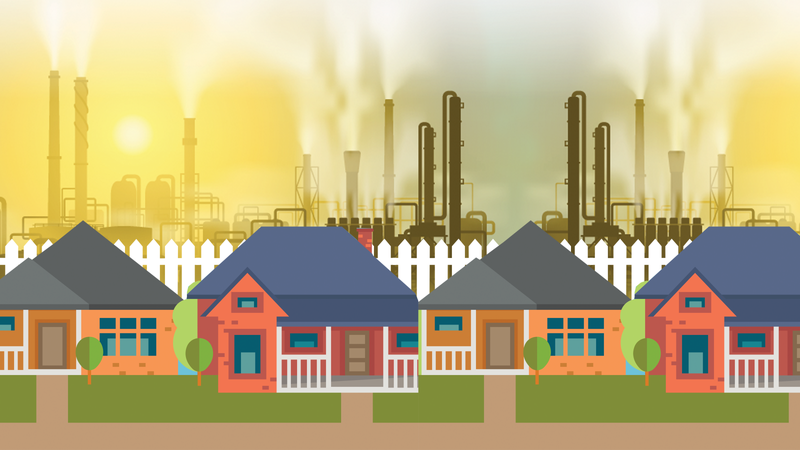 In 1971, Connie Gonzalez and her husband, Polo, bought their dream home in the small, coastal Dona Park neighborhood of Corpus Christi, Texas. At the time, the community of some 300 houses was a decent place to raise a family, said Gonzalez, a mother of two. There was a zinc smelter nearby offering respectable manufacturing jobs, and the Gulf of Mexico provided a pleasant getaway.
More than 40 years later, the encroachment of oil refineries has made life unbearable for many residents. "The refineries kept growing around us," Gonzalez told Fusion. "There was noise all the time and flaring—and the smell, the horrible smell."
Earlier this year, after a drawn out financial and health struggle, the Gonzalezes reluctantly left their home of four decades as part of an unconventional new program that extracted a buyout from a petrochemical company in order to relocate some of Dona Park's hardest-hit residents. It's the latest development in what has made Dona Park a focal point in the confrontation between the sprawling refinery business and the embattled adjacent communities—and a microcosm of local environmental justice issues associated with the fossil fuel sector.
Known colloquially as Refinery Row, Dona Park is part of a larger area along the Corpus Christi bay that is home to primarily low-income, African-American and Hispanic communities living uncomfortably close to more than a dozen oil refineries. According to the Environmental Protection Agency, of the population of people most at risk from refinery emissions, about half are minorities.
These so-called "fence-line" communities have been deeply affected by the noisy and noxious side effects of an industry long associated with environmental pollution, whether in the form of air pollution, water contamination, or waste disposal, according to Earth Works, an environmental non-profit. As a 2012 article in Earth Island Journal, an environmentally oriented magazine, notes, residents of Dona Park have endured:

Gas explosions shattering their windows. Fine black grit coating their cars. Oil slicking their swimming pools. Their yards have been tested repeatedly for heavy metals like arsenic, cadmium, and lead. They've been instructed by the Texas Department of Health and Human Services to abandon their tomato and cucumber plants and to let their tangerines rot on their trees.
The Port of Corpus Christi is the fifth-largest U.S. port, and the local economy is dependent on the oil and petrochemical industry. Corpus Christi's three largest oil refineries collectively process nearly 600,000 barrels of oil a day. Many of the area's refineries are old and out of date. The toxic pollution they spew includes emissions of benzene, toluene, and xylene, as well as other volatile organic compounds. From 1941 to 1985, the zinc smelter near Dona Park operated heavily polluting smokestacks. From 1988 to 2002, there was a hazardous waste management facility in the area. Due to this history, the soils have been tested to exceed acceptable levels of lead and cadmium, according to the Texas Commission On Environmental Quality (TCEQ). Currently Dona Park is exposed to unhealthy doses of flaring, a process by which excess hydrocarbon gases are burned into the atmosphere, from nearby refineries.
"Flares, even when working properly, combust only some percentage of the waste gases that they burn, and so they emit toxic pollution, including cancer-causing chemicals, that community members cannot escape and must breathe," Jessica Hodge, a clear air campaign manager with Earthjustice, a nonprofit environmental law organization, said in an email.
Refineries are an oft-overlooked but critical stage of the fossil fuel life cycle, where oil and petrochemicals are stored, transported, and refined into products we take for granted on a daily basis, such as gasoline, plastic, clothing, and even medicine. They are owned by major corporations like Citgo, Valero, and Flint Hills Resources, a subsidiary of Koch Industries. Many of the residents of areas like Dona Park are employed by the very companies polluting their backyards, meaning they are also exposed to health hazards during the workweek.
Both Gonzalez and her husband have worked at refineries during their careers, and both have suffered bouts of cancer. Gonzalez said she once had her blood tested only to find it contained elevated levels of benzene, a known carcinogen.
In the spring, the Gonzalezes moved to a new home five or six miles away from Dona Park, where you can't smell or hear the refineries. "In my heart and soul, I know we should have been here for a long time," she said.
While Gonzalez's husband is a disabled veteran, allowing the couple to qualify for a VA loan, what helped them get the cash for their down payment was a new program run by the Corpus Christi-based non-profit Center For Environmental Justice (CFEJ).
Known as the Environmental Justice Housing Fund (EJHF), the program was set up earlier this year as means of addressing the ongoing problem of Refinery Row residents not being able to sell their homes for a competitive price—one that would allow them to purchase another property elsewhere. The program has been working to get buyouts from refineries in the region to finance the relocation of burdened residents to neighborhoods with a less toxic profile.
After getting an initial anonymous donation of more than $2 million from a company that remains undisclosed, the housing fund recently got another contribution of an undisclosed amount from Buckeye Texas Partners LLC, a Houston-based petroleum company. In exchange for the donation, EJHF said it dropped a legal challenge against a permit Buckeye needed in order to expand its operations in the area—one of the few tradeoffs available that would directly benefit those suffering the worst impacts of the refineries' pollution.
Buckeye Texas Partners LLC did not respond to multiple requests for comment for this story. The American Petroleum Institute, the American Fuel & Petrochemical Manufacturers, and the the Texas Oil & Gas Association declined to comment, citing a lack of local knowledge. According to Citgo's Corpus Christi website, the company employs more than 1,000 people in the city and has spent or donated more than $1.8 million to community organizations over the last three years.
Suzie Canales, CFEJ's executive director, said in an interview that the group has been entering into permit challenges for two reasons: to help the impacted communities reduce local emissions, and to obtain relocations for families living up against the refineries. She said she hopes the housing fund won't need to rely on permit challenges over time.
"It's time consuming; it takes a lot of resources," she said. "I hope that facilities, the Port of Corpus Christi, and government will support the fund by donating money for broader buyouts. The funds we have are not enough to buy everyone out, but it's a start."
She said someone sent a $100 check to the Corpus Christi Caller-Times in support of the program in response to a recent editorial on the topic. The editorial said the deal with Buckeye was good news on two levels: Not only does it mean that the housing fund is growing, but it also shows that industry is expanding in the area and more people will be working for decent wages. The editors write that in "an industrial city in an environmental regulation-unfriendly state" the housing fund "is a success owed to [Canales] years of commitment to her cause."
Even so, Canales said that people who can't afford to live anywhere else continue to move into the Dona Park neighborhood. This trend can be witnessed across the country in boom-and-bust towns driven by the fortunes of the fossil fuel industry. In other parts of Texas, as well as in North Dakota, where hydraulic fracturing has made new oil and gas deposits readily available, ill-prepared locales have exploded in population as demand for industry workers jumps. Often public services and infrastructure, such as roads, are inadequate in these areas. With oil prices recently dropping to lows not seen since before the 2008 recession, the future of these enterprise towns lies in the lurch.
According to recent data, some 90 million Americans live within 30 miles of one or more of the approximately 150 petroleum refineries scattered across more than two dozen U.S. states. In 2010, refineries reported around 22,000 tons of hazardous air pollution to the EPA, but environmental groups like Earthjustice consider this number to be grossly under-reported, possibly by up to 100 times.
The EPA is in the process of finalizing a new rule to control toxic refinery emissions. According to the agency, when fully implemented it would reduce toxic air pollutants by 5,600 tons per year and volatile organic compounds (VOC) by 52,000 tons per year.
Canales said the rule is long overdue, but nonetheless, it doesn't change the fact that facilities need to pollute in order to operate. "What this rule does is alleviate the situation," she said. "for lack of a better phrase, it's like the rule will not condone salt being rubbed into the wound."
Neil Carman, clean air program director for the Lone Star Chapter of the Sierra Club, said in an email that "too many families and communities near refineries, chemical plants, and fossil fuel-fired power plants are disproportionately affected by the toxic pollution spewed by these dirty and dangerous facilities."
Carman said CFEJ has a long track record of trying to better this situation through both organization and litigation.
"In an ideal world, families wouldn't have to move away from their homes because of pollution, but Citizens for Environmental Justice understandably decided that their top priority is putting distance between people and dangerous toxins—and the new housing buyout program is the hallmark of that work," he said.
Canales said for years she and other members of CFEJ have worked to show how refinery emissions impact nearby residents. She said that industry would not consider a buyout program until the group started challenging permits to get them to the negotiating table.
"I cannot even imagine how much our huge industrial complex is raking in," she said. "To have that much money and not take care of the people, their neighbors, that live at their fence-line, the people that live 24/7 in a toxic soup of chemicals, the people that pay the price with their health for industrial presence and growth, is wrong."
With the housing fund now in place, new challenges have arisen, including establishing a fair application and selection process for those receiving buyouts, as there is not enough money to relocate everyone. Gonzalez said the process has been dragging on as a board is being selected to determine how to distribute the funds.
In the meantime, Gonzalez is carrying a mess of emotions. She is delighted to be breathing fresh air in her new home, but she is wracked with guilt about escaping Refinery Row while her friends and cousins remain there, breathing in unhealthy fumes.
"They want to get out of there," she said. "They are counting the days."