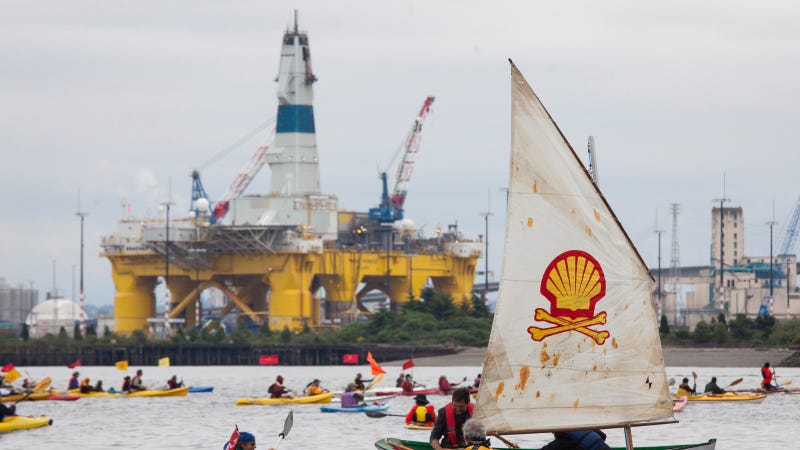 On Monday, Royal Dutch Shell made the surprise announcement that the company would cease oil exploration off the coast of Alaska for "the foreseeable future."
In a press release, the multinational oil and gas company said that while there were indications of oil in the Burger J exploration well, approximately 150 miles from Barrow, Alaska in the Chukchi Sea, they were not significant enough to warrant further exploration.
Marvin Odum, director of Shell Upstream Americas summed up the abandonment of the project, which has already accrued a $3.1 billion balance sheet with a further $1.1 billion in contractual commitments.
"This is a clearly disappointing exploration outcome for this part of the basin," he said.
By Shell's own estimates, the Arctic holds around 400 billion barrels of oil. In July, Ben van Beurden, Shell's chief executive, said the area where Shell was drilling "has the potential to be multiple times larger than the largest prospects in the U.S. Gulf of Mexico."
The U.S. Geological Survey has estimated that the Arctic holds nearly a third of the remaining undiscovered natural gas on the planet and around 13% of the undiscovered oil.
But with oil prices having dropped by more than half over the last two years to around $50 per barrel, the costs and risks have started to outweigh the argument for drilling. Pushback from the active community believing that extraction of oil and gas reserves from the Arctic will be catastrophic for both the local environment and the prospects of avoiding catastrophic climate change has also played a role.
In August, leading Democratic presidential candidate Hillary Clinton declared that Arctic drilling is "not worth the risk," illustrating the uncertain regulatory future of Shell's endeavor, as well as the changing political tide.
After a slew of bad press this summer, as protesters in Seattle, Washington and Portland, Oregon tried to stymie efforts for equipment to be transported north, Shell had planned to commence a two-year drilling program. Environmentalists had been extremely disappointed with President Obama's approval to allow Shell to search for oil and gas in the Chukchi Sea, wondering how he could square this with his fight for climate change action.
They were equally elated to hear the news of Shell's turnaround.
"This is a victory for everyone who has stood up for the Arctic," said Greenpeace USA Executive Director Annie Leonard in a statement. "Whether they took to kayaks or  canoes, rappelled from bridges, or spread the news in their own communities, millions of people around the world have taken action against Arctic drilling."