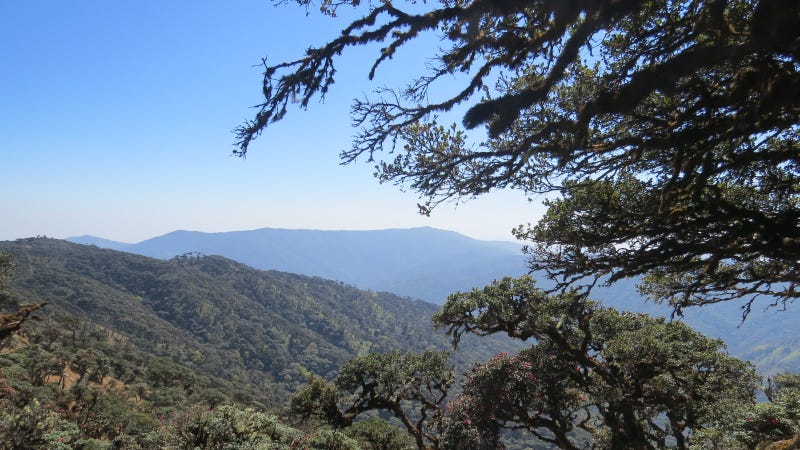 A report published in the open-access journal PLOS ONE shows that Myanmar's rapid economic development has come at a hefty cost: deforestation. The study suggests that unless Myanmar's woodlands are protected, "unchecked exploitation, degradation, and broad-scale conversion to permanent agriculture" will compromise some of Southeast Asia's largest intact forests.
"If you're a country like Myanmar and you have forests, a natural resource that's renewable, it makes sense for you to use them," explained Peter Leimgruber, the paper's co-author and director of the Smithsonian Conservation Biology Institute's Conservation Ecology Center. "But it's a question of how they are used, how sustainable it is, and how well its done in terms of conservation."
Once known as the "jewel of Asia," Myanmar spent most of the 20th century blocked off from the developing world. After unyoking itself from British rule in the late 1940s, the country plunged into a state of civil war and undemocratic military rule, where it would remain for the next 70 years. The isolation placed a heavy burden on Myanmar's people, but it also meant that a significant portion of the country's original forest remained intact into the 21st century. By using publicly available satellite images of Myanmar between 2002 and 2014, the study found that over 60% of the country is covered by forest, "making it one of the most forested countries in the region."
It was only after 2010, as Myanmar took significant steps towards an open democracy, that sanctions against the country began to lift and foreign investment started pouring in. According to Forbes, foreign investment into Myanmar reached almost $9.5 billion in 2015, with American companies like Caterpillar and Coca-Cola investing over $600 million from 2012 to 2014. As foreign money prompted Myanmar to build up its infrastructure and economy, its forests, the majority of which are not protected, rapidly shrank. According to the report, between 2002 and 2014, Myanmar's intact forests declined by about 11%, totaling more than 2 million hectares lost.
The decline of Myanmar's forests is especially troubling given their importance as biodiversity hotspots, supporting endangered species like tigers, Asian elephants, and Asian tapirs. "A lot of the megafauna, the charismatic megafauna that's declining everywhere in Asia, seems to be holding on in some of these spots," explained Leimgruber. "But now the megafauna is probably declining faster than the forest, because they're being poached on top of losing their habitat… If the forest is all converted into palm oil plantations and rice patties, then there's never going to be a chance to bring any of this megafauna back."
Still, Leimgruber and his colleagues remain hopeful that, if the proper steps are taken, Myanmar's natural resources can be used in a sustainable manner. When foreign investors rushed into the country following the 2010 constitutional reforms and elections, so too did conservation groups, hoping to assure that ensuing development didn't rob the country of its natural riches. Over the years, conservation groups have had some success in promoting government protection of Myanmar's  natural resources, including halting the construction of a controversial $3.6 billion dam project, banning exports of certain types of wood, and, in 2016 a complete ban on logging, which expired in March of this year.
"It's not just a negative story of this rampant deforestation, there's also a positive story here," explained Leimgruber. "These are some of the largest forest tracts in Asia that are remaining, and it's very important to highlight this and examine the way forward to preserve these forests."
Leimgruber explained that while the main drivers of deforestation include industrial agriculture and mining projects, there is a fair amount of deforestation that happens on the local level; harmful activities often include unsustainable fuel-wood collection in rural communities, and small-scale timber and agriculture operations. "You can't really say there's a single factor that drives this decline," explained Leimgruber. "But you could say that they [the government of Myanmar] need a much more organized forest management and really some kind of careful planning and enforcement of laws."
Tackling the deforestation situation is made more difficult by the fact that many parts of Myanmar are not under the direct control of the government, but rather controlled by the ethnic groups that reside in those regions. Therefore, rather than recommending specific policy prescriptions, the researchers hope that their study will give governments and local civic groups the information needed to better address deforestation issues themselves. Leimgruber explained that the forest cover mapping used by the study was completed mostly by local NGO workers that received training from Leimgruber's team:

Our purpose was to develop relatively simple tools that can be used by local NGOs… we showed them how they can use free data, free software, free tools to do this mapping very effectively and very fast. You don't need a million dollars to map forests, you can do it for much less, and it can be very very effective…now it's up to the government, as well as civil society organizations to take this data, and evaluate it. Hopefully this will spur useful conversations and dialogue about how the forest should be used in the future.