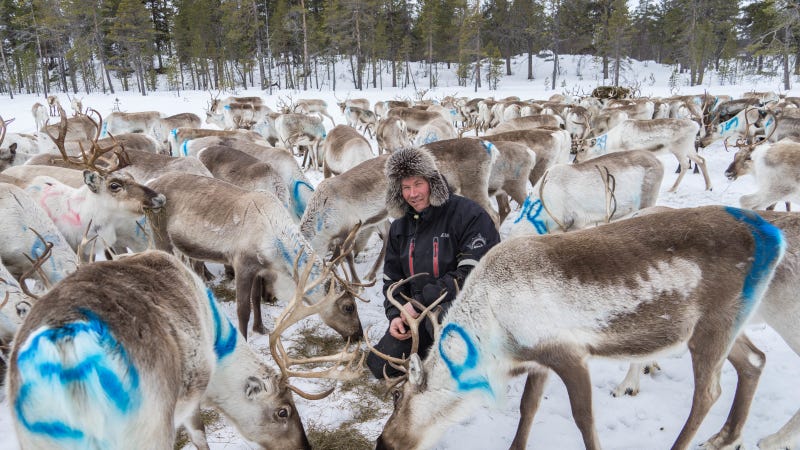 INARI, Findland—A grey sky hung over Osmo Seurujärvi as he pulled his snowmobile into a clearing among the pines. He killed the engine and silence rolled out of the woods and settled at his feet.
"Oy!" he bellowed as he stepped off the machine and ripped the plastic wrapping off a bale of hay. "OYYYYYYY!"
Several reindeer poked their heads out from behind a line of trees and stared.
He yelled again.
A few clip-clopped through the slushy spring snow towards the hay, then more followed: two at a time, then four at a time, then a steady stream of reindeer all grunting and shoving against each other to bury their heads in the feed.
"That's one of the lowest in the hierarchy because it doesn't have antlers," said Seurujärvi as he looked at a reindeer trying to muscle its way into the feeding frenzy. "That one is tame, and that one might be higher up in the hierarchy," he said as he pointed to one with a massive set of antlers. "Usually the ones that have the white blaze are cranky and devilish."
The wet snow was dirty and the hay fell from their mouths and was trampled. More reindeer marched up and their hooves squished and sank as they pushed their way to the food.
Seurujärvi says his family has been herding reindeer so long that nobody knows when they began the practice, but he worries about its future. This month Finland's Parliament enacted the New Act on Metsähallitus, effectively giving the government the ability to harvest resources like timber in areas vital to the Sami—the Indigenous people of Finland.
Government officials say the act is an administrative change necessary to be in compliance with European Union trade laws and that there will be no impacts to Sami lands and practices. However, Sami officials say their concerns have not been addressed by the government and that the act fails to safeguard their traditional practices.
The conflict between Sami reindeer herders and advocates of the New Act on Metsähallitus reveals a growing distrust of the Finnish Government by the Sami people, which number around 10,000 in Finland and as high as 100,000 across Scandinavia. In Finland's Sami territory, actions by the state reflect a much deeper battle between government interests, often perceived as colonial in nature, and the protection of Indigenous land, resources and way of life in an area roughly the size of Rhode Island containing 1,100 Sami herders and over 77,000 reindeer.
"Sami culture and livelihoods can't survive if they are constantly diminished," said Tiina Sanila-Aikio, President of the Sami Parliament. "We will come to a point when these practices wither away or change, and after that, there won't be traditional Sami livelihoods, and a very important part of Sami culture will fade away."

🌲🌲🌲🌲🌲
Here's how the new Act on Metsähallitus works: Metsähallitus is a state-owned company responsible for managing activities in much of the nation's state-owned lands and resources. Those responsibilities range from dealing with hiking and recreation to logging and real estate, and as a state owned company, Metsähallitus has access to low interest loans and enjoys unlimited government guarantees protecting the company from bankruptcy—and that's a problem.
European Union trade laws prohibit these kind of state-run enterprises and in 2007, Finland found itself in court over a similar situation with regards to a state-owned road construction and maintenance business. To keep the country from ending up in court again, the new act makes a type of administrative change to Metsähallitus, moving the company's sales and business to a Metsähallitus subsidiary.
The trouble is that the act has no clause concerning the protection of Sami culture or livelihoods. Previous acts concerning how Metsähallitus operates have. According to the Ministry of Agriculture and Forestry, and Metsähallitus, no changes will be made to how the company conducts itself in respect to the Sami people.
"We live in a democracy so Parliament has all the power," said Mati Heikurainen of the Ministry of Agriculture and Forestry. "The legislation says, explicitly, that we have to take into account the Sami peoples culture and reindeer herding as we have in the past."
In other words, the Finnish government is saying "don't worry, you can trust us," while the Sámi are saying "put it in writing."
According to Heikurainen, previous versions of the current law contained clauses that provided protections for the Sami, negotiated by the Finnish Government and Sami Parliament. However, after elections in Finland in 2015, the government took a more conservative turn with majority wins by center and hard-right politicians. Since then, those clauses have disappeared.
The Sami have survived for centuries in northern Finland by hunting, fishing, and reindeer herding. Jade colored moss and lichen grow in the woods to feed reindeer and the region teems with moose, bears, and birds while salmon, Arctic char and other fish swim in the streams and frozen lakes.
By all accounts, the relationship between the Sami, the reindeer herders, and Finnish business interests has been relatively benign in the past, save for the occasional isolated flare up. However, a few decades of sporadic incidents fueled by profits, coupled with centuries of colonization, hasn't given many Sami the impression that Indigenous rights are on equal footing as the Finnish. With the new act, the main fear is logging. When an area is harvested for timber reindeer essentially stop going there.
"Our main goal to us keep working with local communities in the same way we have previously," said Heikurainen. "Everything else is speculation and we hope that in the near future people will see that our intentions are pure."
According to Esa Härmälä, Metsähallitus CEO, the company abides by the Akwé: Kon Principles—a set of voluntary guidelines governing the development of areas important to indigenous communities—and the inclusion of protective clauses for the Sami in the act is immaterial.
"We succeed in implementing this new piece of legislation if our clients—our timber buyers, our national park visitors, our reindeer herders, our average Finn—see no changes," said Härmälä. "I don't see anything dramatic changes coming with this act."
But tensions are still high, and in December, United Nations Special Rapporteur on the Rights of Indigenous People, Victoria Tauli-Corpuz, addressed the issue by chastising Finland for removing protections for the Sami from the law.
"The act is not consistent with the constitutional provision that says that Indigenous people have the right to maintain and develop their own language and culture as well as that they have the right to have linguistic and cultural self-government," said Tauli-Corpuz. "So the act, which is basically going to deprive them of control over grazing lands, is something that will, of course, affect their culture as well as their self-government."
"I would say that the worries people have are the result of very lively, but logical, imaginations," said Heikurainen.

🌲🌲🌲🌲🌲
Most of the reindeer had eaten their fill and their eyes were becoming heavy. Others had folded their legs up underneath themselves and lay in the snow chewing.
"We had reindeer when I was a child, they were important to me just like they are now to my children," said Osmo Seurujärvi as he surveyed the herd. "They're very important. When the kids get here, they are excited. They check out all the reindeer because each has a mark and they know which ones are theirs."
While Finland's Sami work a myriad of jobs and live across the country, reindeer herding is perhaps a defining characteristic of the culture, and reindeer have become inseparably braided with the Sami. That means threats to the practice have dramatic consequences on the Sami economy, language, and government.
"It's a way of living, we live in the same area and our relationship to reindeer is like a team," said Seurujärvi. "Reindeer were here originally and we came after the reindeer. They have given us the possibility to live here."
He began to tear hunks of grass from the hay and spread it around the clearing so the more timid animals could get something to eat. Some woke up with a start as he walked among them, others skittered away, then he smiled.
"I can't think of doing anything else," he said.
Tristan Ahtone is an award winning journalist and member of the Kiowa Tribe of Oklahoma. Born in Arizona and raised across the United States, he was educated at the Institute of American Indian Arts and the Columbia School of Journalism, and serves as Treasurer of the Native American Journalists Association.