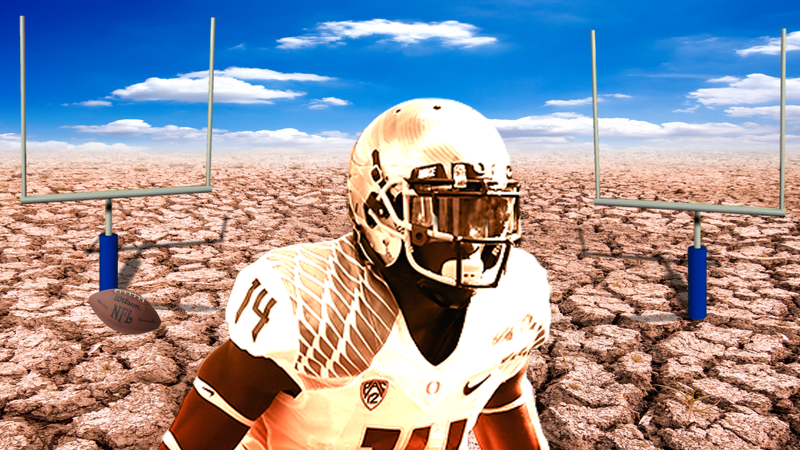 It's autumn. Leaves are changing, pumpkins are changing appearance. Change is in the air, but also a return to the season's annual offerings: festive holidays, football, and a yearly global warming summit are the three that spring to mind.
This year is an especially prominent one for both football and climate change. The National Football League will host the 50th incarnation of what has become one of the world's most popular televised events, the Super Bowl, in February. Super Bowl XLIX on February 2nd, 2015, was the most watched broadcast in U.S. TV history. Super Bowl 50, no doubt, aspires to be even more super.
As for climate change, global leaders from around the world will meet in Paris at the beginning of December for COP21, a long-anticipated climate change summit. During these 12 days (and likely one or two extra crisis-aversion days) thousands of delegates from nearly 200 countries will attempt to produce a landmark deal to stem global warming and avoid the worst impacts to be felt above a 2°C temperature rise.
Both of these happenings are replete with uncertainty.
Every week, NFL teams line-up and literally battle for their standing in the league come playoffs. At the same time, key players in the climate debate are hustling from city to city and country to country to try and align all parties and avoid a disappointing, and possibly disastrous, failure come December. Such a failure could set back coordinated global action for years: A period of time many climate scientists don't think is available to curtail fossil fuel use, limit greenhouse gas emissions, and avoid catastrophic damage in the form of sea level rise, drought, heatwaves, and the many corresponding impacts, such as worldwide food shortages.
With both deadlines bearing down and both efforts ramping up to their respective climaxes, which gritty details are Americans most attuned to? Which outcomes are they most concerned with? Which potential impacts are they thinking about in those minutes between work tasks? Or the lull before dinner?
What are they searching for?
This question is easily answered with a quick scan through Google Search, and the results are both surprising and expected. This is what they look like in the 30 days leading up to October 20:
And what about during the summer football off-season? A one-year comparison shows that even during the July hiatus, NFL searches far outdo those for climate change.
What do these charts show? They show that Americans are far more curious to know the latest NFL news—even during the week when there are no new scores or the off-season when there are no new games—than the latest climate change discourse. While the climate debate can often seem stale absent a crazy statement from a global warming denier, football fans and fantasy players always have news on injuries, lineups, and schedules to check up on.
The discrepancy between these two search terms is so great that when compared to the NFL, searches for climate change fail to show up as spikes even as new studies on the impacts, new assessments of the economics, and new advances in the negotiations come through the wire.
Comparing climate change searches to something less all-American than football, such as the word 'Segway', gives another perspective. As it turns out, in recent weeks Americans are only slightly more likely to search for Segways—the two-wheeled, self-balancing transportation vehicles mostly used for urban tour groups—as they are for climate change.
What's the latest Segway news? In 2010 the owner of Segway accidentally drove an off-road version off a cliff and died. Of late, it looks more like Segway knockoffs, theft, and a wheelchair Segway—well that is interesting.
These Google Search graphs show a term's popularity over time based on the number of searches for that term relative to the total number of searches on Google over that timeframe. As Google explains, "a line trending downward means that a search term's relative popularity is decreasing. But that doesn't necessarily mean the total number of searches for that term is decreasing. It just means its popularity is decreasing compared to other searches."
That's why it works well to compare search terms. Let's do one more. What happens if we compare climate change searches to searches for one of the NFL's worst teams this season, the Jacksonville Jaguars. Over the last three months, climate change searches have for the most part squeaked past Jacksonville Jaguars searches, aside from weekend game-time spikes.
It would be highly unreasonable to expect search interest in climate change to outperform that of the NFL, that's just the reality we've created in America. Even searches for Obama pale in comparison to the NFL over the last three months.
While interest in climate change may not reach a cultural flashpoint for years to come—if ever—it has been gaining momentum in the broader political discussion heading into an election year, in no small part thanks to Obama's prioritization of the issue in his second term.
Recent data also show that the wider public opinion might be starting to coalesce around an affirmation of climate change's significance after decades of industry and political pushback and obfuscation.
A recent poll found that at least 70% of Americans believe that there is evidence of climate change over the last several decades, the highest percentage since 2008, about a year before climate change engagement appears to have peaked on Google Search. The survey also found that a majority of Republicans, 56%, now believe that there is solid evidence of global warming, up nearly 10% from a year ago.
Maybe what we really need to swing the pendulum is a Super Bowl halftime commercial about climate change. Or better yet, a halftime speech by Al Gore. Although that might backfire.