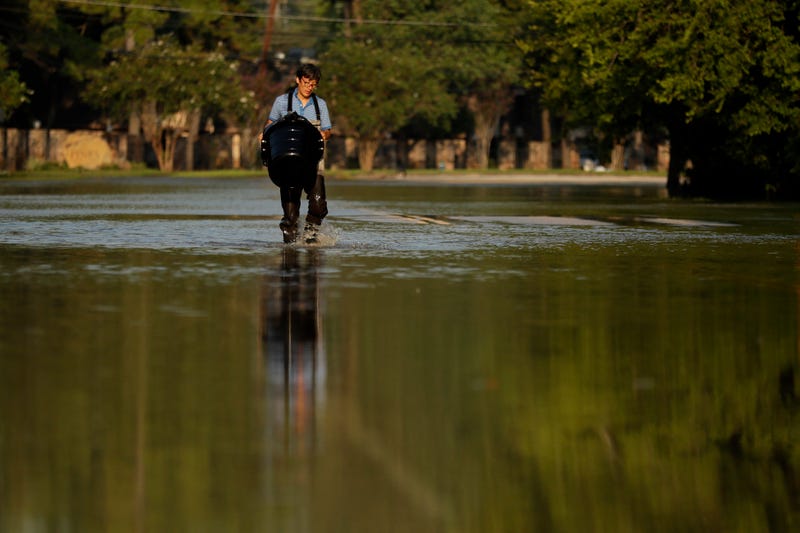 As young Texans, it is alarming and devastating to witness the flood waters that continue to submerge our state in the wake of Hurricane Harvey and now Florida is bracing for Hurricane Irma, a category five storm barreling toward the U.S. and the latest in a string of extreme weather events. For many of us living in Texas, Hurricane Harvey is the first time we have experienced a storm of such magnitude. Sadly, though, for most of us it will not be the last. While we may have been too young to fully understand the devastation caused by Hurricane Katrina, we vividly remember the images of families stranded on rooftops and collapsed homes caked in mud.
At the time, we believed Hurricane Katrina was a "500-year storm," an isolated event that would go down in history. Now, as Hurricane Harvey marks the most extreme rain event in the history of the United States and Hurricane Irma on the way, we know better. Climate change helps fuel storms like Harvey and Katrina, so we must take action now to prevent the rest of our young lives from becoming inundated by floods and punctuated by other extreme weather events. For each degree Celcius increase, our atmosphere is able to hold up 6% more water. A new atmospheric "regime" has already dawned with extreme weathers and profoundly different storms. From impassible roadways to school districts shutting down indefinitely, extreme weather dampens our chance of being able to succeed in life.
Calling this hurricane, and the destruction and heartbreak it is causing, a "natural disaster" suggests that events like these are inevitable and inescapable, and that we are powerless against them. We refuse to accept that. The link between climate change, extreme weather, and displaced communities is well documented and increasingly clear. As the planet warms, the atmosphere can hold more moisture, and ocean temperatures rise. The Gulf of Mexico is 1.5 degrees warmer today than it was in 2010, creating the conditions for superstorms like Harvey. If we stay on our current path, warming trends will not only continue, they will accelerate.
The economic costs of disasters like Hurricane Harvey are difficult to calculate and there are many aspects of the storm's aftermath that no amount of money can salvage. Houston alone is estimated to lose $10 billion in economic output and has the fourth largest economy in the country. What do massive economic losses like this look like in practice? How can you put a monetary value on a human life? Can any price tag truly capture the worth a family's belongings and community, photographs of our childhood, and our very livelihood?
When addressing these questions, it is important to acknowledge that both the economic costs and social costs of the storm are disproportionately borne by those who are already marginalized in our society: communities of color, immigrants, low-income households, those with disabilities, and the elderly.
As the floodwaters recede, it is critical to work toward climate solutions that will reduce emissions and stop storms like Harvey from occurring with such intensity. That is why we are part of #PutAPriceOnIt, a national movement of students working to put a price on carbon to reduce emissions and create a prosperous future.
Though it is difficult to think of the death and destruction from extreme weather and the sullying of our natural beauty from pollution in monetary terms, that is the only language corporations speak. So we must, unfortunately, quantify the suffering in a way that industry feels compelled to address. This requires putting a price on carbon pollution so that fossil fuel companies no longer use our atmosphere as a free waste dump.
Carbon pricing not only holds polluters accountable for the harm they're causing, it is also a proven policy solution to reduce carbon emissions and quicken the transition to clean energy. In the U.S., California and several Northeast states have successfully reduced emissions by enacting a moderate carbon price and investing in clean energy solutions. Through the Regional Greenhouse Gas Initiative, nine northeastern states have shown that going green makes money. Their efforts to cut power plant pollution by 40 percent (the equivalent of taking over 28 million cars off the road) has lowered consumer power bills and grown their economies faster than the rest of the country. And doing so created over 22,000 jobs. More importantly, it has saved somewhere between 300 and 830 lives and prevented over 8,000 asthma attacks, saving the states an incredible $5.7 billion in averted healthcare costs. In California, the legislature recently voted to extend the state's carbon pricing program through 2030, building on the program's five years of success since it was first launched.
As the consequences of climate change rapidly become more dire, it is time for more of our political leaders to come together and enact a strong, rising price on carbon.
We see Hurricane Harvey as a warning of what our future could look like: families flooded in superstorms that engulf entire cities. For those of us who have most of our lives ahead of us, the choice is clear. We either accept the new normal — a planet of rising seas and extreme weather events — or we fight to preserve a livable world by passing sensible policies that will reduce emissions and create economic opportunities. This is not a political decision; it is a moral one.
Polluters should be held accountable for these costs to compensate for that which can be measured in monetary terms, and to better protect that which can't.
Sarah Durham and Neha Singh are Texas students who volunteer with the Put A Price On It campaign, which is co-led by Our Climate and Years of Living Dangerously.