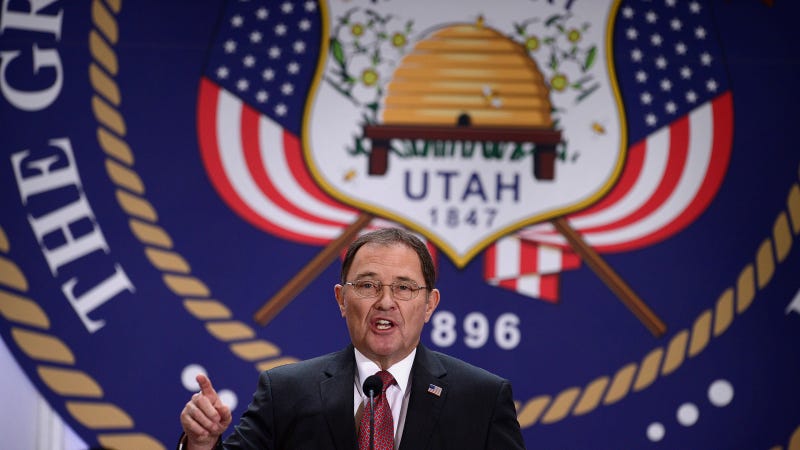 A controversy over public lands in Utah, and the future of its newest national monument, is now causing ripples on a nationwide scale. In fact, it's prompted some of the country's top outdoor retail companies to pull their flagship trade show from Salt Lake City after 20 years and begin exploring locations in other states instead.
The decision was made following a Thursday conference call between leading members of the outdoor retail industry and Utah Gov. Gary Herbert, who has recently called on President Trump to rescind the federal protections on Bears Ears National Monument in southeastern Utah. The 1.35 million acre stretch of land, which contains thousands of sacred ancestral Native American sites, was just granted monument status by former president Barack Obama in December.
"It is important to our membership, and to our bottom line that we partner with states and elected officials who share our views on the truly unique American value of public lands for the people and conserving our outdoor heritage for the next generation," said Amy Roberts, executive director of the Outdoor Industry Association, in a statement.
It's the latest news in a controversy that's been building in Utah for weeks now. On Feb. 3, Utah Gov. Gary Herbert (R) signed a resolution passed by the state legislature urging President Trump to reverse Bears Ears' national monument status and return it to state control. Because national monuments are typically off-limits for certain land-use changes, such as oil and gas development, the resolution suggests that "the Bears Ears National Monument designation will forever remove the possibility of economic development and decimate the economy of the region with impacts felt around the state" and adds that "Utahns are best positioned to care for and manage our public lands."
The move has sparked debate among experts as to whether the monument could even legally be rescinded—it's never happened before with a monument of this size. A federal law known as the Antiquities Act allows presidents to establish national monuments without congressional approval. But as some experts have noted, the act does not grant the president power to modify or revoke national monument status, once it's been granted, without the approval of Congress.
But regardless of the legal thorns, the resolution met with immediate criticism from Native American tribes, environmental groups and, perhaps most notably for the Utah economy, the outdoor recreation community. Shortly after the resolution was passed, prominent outdoor clothing and supply company Patagonia announced its intent to withdraw from the Outdoor Retailer show, a major trade show which is held twice annually in Salt Lake City and brings an estimated $45 million to the local economy each year.
In an attempt to come to an agreement on the issue, Gov. Herbert (R) participated in Thursday's conference call with members of the industry, including representatives from the Outdoor Industry Association and the Outdoor Retailer show, as well as executives from Patagonia, The North Face and REI. But the two groups were unable to reach an understanding.
"We were looking for a clear signal that the governor would stand up for public lands," an REI spokesperson said in a comment emailed to Fusion. "It didn't happen. We were there to listen but he didn't show willingness to move in any meaningful way."
As a result, Outdoor Retailer plans to move the show to another location after its contract with Salt Lake City ends in 2018, to the applause of both Native American and environmental groups.
"Bears Ears is a cultural landscape with hundreds of thousands of archaeological and cultural sites sacred to dozens of tribes," said Alfred Lomahquahu, vice chairman of the Hopi Tribe and co-chair of the Bears Ears Inter-Tribal coalition, a group of five Native American tribes united in support of the area's conservation, in a statement. "Tribal Nations will not stand by while the governor, and those who support his position, trample these sacred lands."
However, representatives from Gov. Herbert's office have denounced the decision as "offensive." Speaking to reporters following the call, Herbert's deputy chief of staff Paul Edwards said the governor had extended an invitation for more talks on the issue, but added that "we had sort of a curt finish to the conversation after it was clear that they were not eager to accept the governor's invitation for further dialogue."
In a subsequent statement, Edwards added that the decision to move the Outdoor Retailer show "perpetuates the false narrative that Utah—a state that derives much of its inspiration and identity from its iconic public lands—a state that invests tens of millions of dollars into the protection of and access to its public lands—is somehow hostile to those public lands."
Several Western states, including Montana, Oregon and Colorado, have already come forward to express their interest in bidding for the retail show's new home. In fact, environmental group Conservation Colorado has already taken out ads in several Utah-based newspapers proclaiming the state's suitability as a location. "We have stronger beer. We have taller peaks. We have higher recreation," the ads read. "But most of all, we love our public lands."
Despite the uproar over Bears Ears, Gov. Herbert signed yet another resolution over the weekend calling on Utah's congressional delegation to support reducing the size of a different national monument—the 1.8-million-acre Grand Staircase-Escalante National Monument in the southern part of the state.
The ongoing battle for public lands doesn't end with the state of Utah. Recently, there's been a growing push among conservative lawmakers to return federally owned land all across the West back to state or local ownership.
Just last week, two lumber companies filed a lawsuit challenging the expansion of yet another national monument, this one in Oregon. In his final days in office, former president Obama announced a 48,000-acre expansion of the state's Cascade-Siskiyou National Monument—an area which lumber companies Murphy Co. and Murphy Timber Investments LLC say has had an immediate economic effect by curtailing timber sales in the area.
In late January, Rep. Jason Chaffetz, a Republican representing Utah, introduced a bill known as the Disposal of Excess Federal Lands Act, which aimed to sell more than 3 million acres of federally held land in Arizona, Colorado, Idaho, Utah, Nebraska, Montana, Nevada, New Mexico, Oregon and Wyoming. But Chaffetz withdraw the bill shortly thereafter, following public outcry and criticism from outdoors organizations.
Other Republicans in Congress have more generally supported measures that would make it easier to transfer federal lands over to state control. The issue frequently revolves around restrictions that federal ownership places on land use in the West, for example by limiting oil and gas drilling or cattle ranching. Conservative lawmakers have often argued that these restrictions come at the economic detriment of the states. But environmental and outdoor recreation groups have stood behind federal protections over public lands, citing benefits for the climate, biodiversity, natural resources and ecosystem services, as well as outdoor recreation.
And despite a general GOP push for more local control of public lands, the debate exists within the Republican party as well. In fact, President Trump has previously expressed opposition to the transfer of public lands, and his pick for Secretary of the Interior, Rep. Ryan Zinke —who would oversee the department responsible for the management of public lands—also opposes the idea. In fact, Zinke actually resigned from his position as a delegate to the Republican National Convention last summer over the party's support for the transfer of federal lands to the states.
As far as Bears Ears is concerned, President Trump has yet to act on the Utah state legislature's resolution, and it's unclear how the issue will move forward from here. But the powerful outdoor industry's response to the recent events in Utah may prove to be a formidable force for conservative lawmakers to keep in mind for the future.