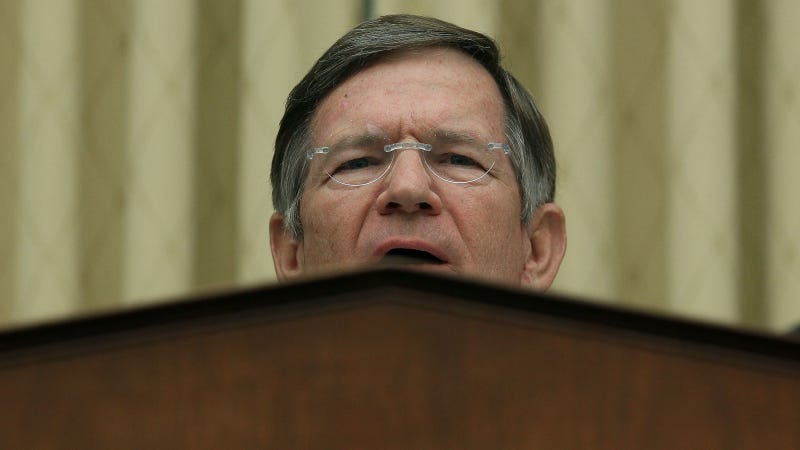 The House Science Committee is not our finest committee. In 2012, a then-member of the committee, Paul Broun (R-Ga.) referred to "evolution, embryology, Big Bang theory, all that" as "lies straight from the pit of hell." When the committee holds hearings, they're mostly about aliens: National Journal reported this year that the committee held more hearings on extraterrestrial life than on climate change.
And those alien hearings are generally a mess, focusing on pop culture and fear-mongering than actual inquiry. During a hearing on extraterrestrial life last year, senior SETI astronomer Seth Shostak fielded questions like, "Have you watched Ancient Aliens and what is your comment on the series?" (Shostak's response was, "Pyramids were built by Egyptians") and, with regards to a hypothetical discovery of alien life, "What's the plan? Do we announce it to the world?"
So it's not surprising that the National Oceanic and Atmospheric Administration, or NOAA, was wary when it was slapped with a subpoena from the committee. The Washington Post reported last week that Smith subpoenaed NOAA to release internal documents related to a June study, published in Science, that found there has been no pause in global warming. From the Post:

Smith… a prominent congressional skeptic on climate change, issued the subpoenas two weeks ago demanding e-mails and records from U.S. scientists who participated in the study, which undercut a popular argument used by critics who reject the scientific consensus that man-made pollution is behind the planet's recent warming. Smith's document request to the National Oceanic and Atmospheric Administration ordered the agency to turn over scientific data as well as internal "communications between or among employees" involved in the study, according to a letter Friday by the House committee's ranking Democrat, Rep. Eddie Bernice Johnson (Tex.).
At least one other study has since confirmed the finding, but NOAA's news was not well received by climate change skeptics, who had heralded the apparent pause as evidence that global warming isn't a big deal. The right-wing blog Breitbart reported on NOAA's study like this:

What's the most embarrassing and inconvenient truth for the cause of climate alarmism? Probably the fact that there has now been no "global warming" for 18 years and six months. Not only does this contradict all the doomladen climate models cited in the IPCC's various reports – none of them predicted the so-called "Pause" – but it also means that not one of the kids in school being fed climate propaganda by their on-message teachers has ever personally lived during a time of global warming. So it's quite understandable that… the alarmists are doing their damnedest to write the "Pause" (or, if you will, "hiatus") out of scientific history.
NOAA likely wouldn't have faced this kind of request a few years ago. Politico explained in January that the science committee was one of several to see more lax subpoena processes this year. The new rules allow some committee heads, including Smith, unilateral subpoena power.
The call for internal documents is, then, a loaded one, and so far NOAA has ignored the request.
Smith told Nature he thinks NOAA is hiding fudged data. "NOAA needs to come clean about why they altered the data to get the results they needed to advance this administration's extreme climate change agenda," he said. "The Committee intends to use all tools at its disposal to undertake its Constitutionally-mandated oversight responsibilities."
But NOAA spokesperson Ciaran Clayton told Nature that "we stand behind our scientists, who conduct their work in an objective manner… we have provided all of the information the Committee needs to understand this issue."
Nature reported on Tuesday that NOAA considers confidentiality to be standard with regards to internal scientific discussion:

While NOAA's latest response to the committee skirted the issue, it suggests in a 27 October statement to Nature that it has no intention of handing lawmakers documents that reveal its internal deliberations. "Because the confidentiality of these communications among scientists is essential to frank discourse among scientists, those documents were not provided to the Committee," the agency said. "It is a long-standing practice in the scientific community to protect the confidentiality of deliberative scientific discussions."
Others have come to NOAA's defense, notably House Science Committee member Bernice Johnson (D-TX) who wrote in a scathing letter to Smith that "this subpoena appears to be furthering a fishing expedition, rather than engaging in focused oversight with a legitimate goal in mind." She added that, as NOAA has pointed out, much of the information sought by Smith is already publicly available. Instead, she said, this request seems like another way for skeptics to deny climate change:

Though I can find no legitimate stated purpose for your demands for these communications in any of your letters to NOAA, I am concerned that the Majority has a different and wholly illegitimate purpose for this request. I cannot help but note that your requests in this case echo the tactics of notable climate change skeptics, who frequently submit similar FOIA requests of climate scientists in both the federal government and in state universities.
Your move, Smith.
Danielle Wiener-Bronner is a news reporter.