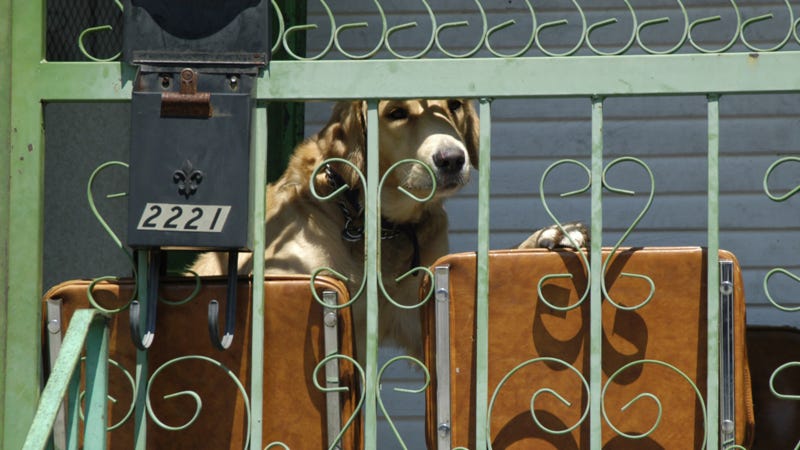 Ten years ago this month Hurricane Katrina blew into New Orleans from the Gulf of Mexico, flooding 80 percent of the city and leaving residents scrambling for dry ground.
In the aftermath of the devastation, Terri Steuben, a California-based pet whisperer who can, in her own words, "talk telepathically to animals and hear what they say" was called to the scene by the Humane Society to help rescue the more than 100,000 animals that remained stranded in New Orleans and the surrounding areas.
Steuben encountered dogs, cats, horses, pigs, and other animals during her two weeks scouring the region with Search and Rescue teams. In one instance, an old white pit bull that was stranded for more than a week told Steuben of his experience:

When the water started to go down, I had to jump back in it, because I was up high on the white thing (refrigerator). I was afraid I wouldn't be able to get down. So I jumped in again and swam to a countertop in the kitchen … It was dark, and then there was water, and I was standing up to breathe, and then it was dark again. It seemed like it went on and on.
The effort to rescue this pit bull and countless other animals became the largest animal rescue operation in U.S. history, according to Eric L. Sakach, senior law enforcement specialist with the animal cruelty, rescue and response team at the Humane Society.
"While all of our team members exhibit a variety of talents, Terri possesses something more — the ability to communicate with animals," Sakach writes in the introduction to Steuben's new book, "Tails of Triumph: Animals Tell Their Katrina Stories," released to coincide with the 10-year anniversary of the devastating storm.
Based on Steuben's journal from the third and fourth weeks of the recovery effort, the book recounts the tragedy from an overlooked perspective — pets.
Up until Hurricane Katrina, the protocol for pets had been overlooked in disaster relief. But thanks to the lessons learned during Katrina, just a year later Congress passed H.R. 3858, the Pets Evacuation and Transportation Standards (PETS) Act. Signed into law by President George W. Bush, it is a silver lining in the otherwise dark cloud left by Katrina, which cost more than $100 billion in damages and the lives of more than 1,800 people.
The PETS Act gave the Federal Emergency Management Agency (FEMA) authority to provide rescue, care, shelter, and essential needs for people with household pets and service animals as well as the animals themselves in the case of a major disaster or emergency.
Tom Lantos, a member of the U.S. House of Representatives from California at the time of Katrina and co-sponsor of the PETS Act said that "the scene from New Orleans of a 9-year-old little boy crying because he was not allowed to take his little white dog Snowball was too much to bear."
Watching the hearbreaking choices that Gulf residents had to make when it came to their pets moved him "to find a way to prevent this from ever happening again."
According to the American Veterinary Medical Foundation, approximately 600,000 pets were either killed or abandoned as a result of Hurrican Katrina or its aftereffects.
Steuben, who is certified by FEMA and completed training with the Humane Society of the United States, told Fusion that "Katrina was a real turning point for animals."

It wasn't until after the event that animals became part of disaster response. Before animals were considered livestock, not necessarily a priority. But what happened during Katrina is the authorities went down to evacuate people and some of the people wouldn't leave because of their pets.
Steuben said that in ensuing natural disasters, such as Hurricane Sandy, which tore through the Northeast in October 2012 and became the second costliest hurricane ever after Katrina, pet shelters and human shelters have been co-located and coordinated. She said people often check their pets in before checking themselves in.
"A lot of humans won't let go of their pets," she said.
During Katrina, Steuben took part in animal search and rescue efforts in the Lower Ninth Ward, an especially hard-hit part of the city that is still engaged in recovery efforts a decade later. She said a lot of the animals there were guard dogs that were still trying to protect their territory even after all the chaos and abandonment.
"I had to explain to them that mom and dad were kept away and we had to come get you to take you to a place to get safe," she said.
Much of the Lower Ninth Ward remains dilapidated to this day. As Mother Jones recently reported, it is one of the city's four poorest neighborhoods with less than half of its pre-storm population.
Steuben said she was born not only with the ability to talk to animals, but also with medical intuition: the ability to feel when and where an animal is experiencing pain. She says it wasn't until third grade that she realized not everyone had this sort of psychic awareness.
Aside from hurricanes, Steuben said her unique talents have been used to aid in wildfire response efforts in California as well as with animal hoarders and cockfighting seizures. She said she hasn't found an animal that "she can't chat with."
While Steuben said animals don't directly discuss climate change, they have talked about "things being warmer."
"They know when a storm is coming," she said. "If you ever see a lot of animals heading in one direction, go with them."