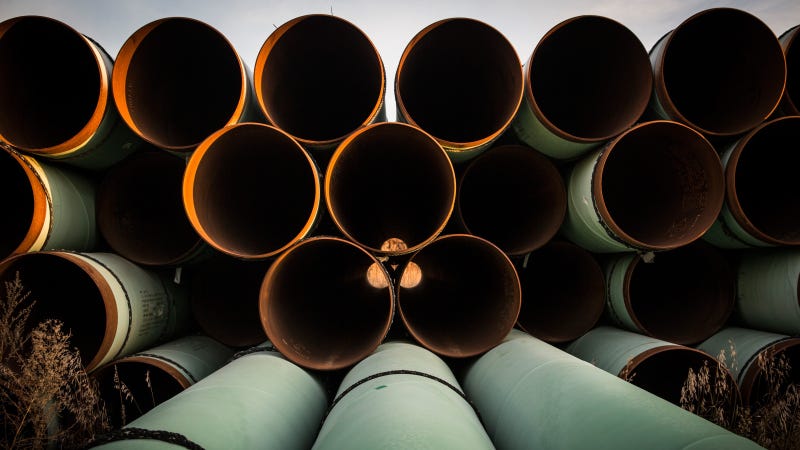 A proposed 616-mile oil pipeline that would snake its way across North Dakota and northern Minnesota has been moving swiftly through regulatory and legal hurdles in the last two weeks, even as protests against its construction gather steam and Native American tribes argue the project could ruin their land.
The Sandpiper pipeline, a $2.6 billion project, would carry crude oil from the Bakken Fields in North Dakota to Superior, Wis., where it would connect with other pipe infrastructure and serve the east and the midwest.
The pipeline proposal comes from Enbridge, a Canadian company that operates 50,000 miles of pipelines across the continent. According to a report from the National Wildlife Federation, leaks in the company's pipe network have caused more than 800 oil spills between 1999 and 2010.
In both North Dakota and Minnesota, the company, which argues that the pipeline is in the public good, will use eminent domain to force some landowners to sell their land rights. Of the 799 North Dakota landowners Enbridge needed to buy property rights from, it has secured rights to build from all but one—James Botsford, who with his wife Krista, opposes the pipeline on principle.
"I don't think we should be going after this extreme extraction of the last drops of fossil fuels," Botsford told Fusion in a Skype interview from Bangkok, where he's on vacation.
Botsford said the oil company called him repeatedly at his Wausau, Wis. home, first offering $25,000, then $38,000, then $50,000 for the rights to build on his land. Each time, he refused, and the company finally sued him, arguing eminent domain.
The Botsfords' stand was dealt a blow last Thursday when Judge Debbie Kleven ruled in Enbridge's favor in a summary judgement, avoiding a trial. Botsford's lawyer, Derrick Braaten, told Fusion that they were likely to appeal. Botsford says he wants his day in court to let people speak out against the pipeline.
"I grew up learning how to drive a tractor with my grandfather in that area, in that county," he said. "Now my wife and I want to keep up that tradition, and pass the land onto our children. We feel like we are the stewards of this land."
Meanwhile, across the border in Minnesota, Enbridge has purchased 95 percent of the land rights it needs for the pipeline. The project got a boost last Friday when the state's Public Utilities Commission unanimously voted that the project is needed and is in the public interest, a crucial step in the regulatory process. "The state is saying that a private foreign company that's not serving Minnesota with its petroleum is a public utility," Andy Pearson, an organizer with environmental group MN350, told Fusion.
But unlike in North Dakota, there's still a while to go before the company can start building in Minnesota. In the next few months, a series of public hearings will be held across the state to evaluate the proposed pipeline route, Dan Wolf, the executive secretary of the state's Public Utilities Commission, told Fusion. It's likely that a final decision won't be made until the end of this year or early next year.
There's sure to be local and tribal opposition. Several thousand people gathered in St. Paul, the state capital, last weekend to protest the pipeline. "They're seeing us as flyover country that they think is politically pliable enough that they can just run right through and not put up a lot of opposition to them," Pearson said. "They've been right in the past, but they aren't as much anymore."

Notably, the Sandpiper route would pass closely by wild rice lakes in Minnesota that Native American tribes say are a key part of their heritage. Winona LaDuke, a member of the Ojibwe tribe and Ralph Nader's Vice-Presidential candidate in 1996 and 2000, said a possible oil spill would desecrate the region's rivers and bodies of water. "It really cuts through the heartland of our wild rice, our most sacred food—the central part of who we are as Ojibwe people," LaDuke told Fusion. "That's all we've got left, these rice beds."
"Our tribe and our people feel that this is pretty much a declaration of war against us," she added.
Honor the Earth, LaDuke's environmental organization, plans to take Enbridge to court, arguing that the pipeline could violate 19th-century federal treaties with Native American tribes guaranteeing them access to hunting and fishing land.
The company said it gets the significance of the rice lakes. "We understand this is a sustaining resource for many along the route and will treat it as such," Lorraine Little, an Enbridge spokesperson, said in an email. "We welcome the opportunity to have a dialog with all stakeholders along our current and proposed project routes."
Enbridge, which hopes to begin service in the pipeline by 2017, says the project will create 1,500 "well-paid construction jobs" and that transporting oil by pipeline is safer than the alternative, by train. The research supports that argument, although when pipes fail, they spill more oil.
The Sandpiper "will help increase our nation's energy independence by offsetting imports from countries that are unstable or unfriendly to U.S. interests," Lorraine Little said in an email.
The Sandpiper isn't the only pipeline project Enbridge is planning in Minnesota: The company's Line 3 replacement project, which is further behind in regulatory approval, would build a pipeline from Alberta that follows much of the same route as the Sandpiper, and its Line 67 upgrade project would increase the oil-pumping capacity of another already-existing pipeline from Alberta.
The company's push for an expanded pipeline network comes as its rival, TransCanada Corp.'s Keystone XL pipeline, is stalled by President Obama's veto earlier this year. Because the Sandpiper does not cross the U.S.-Canada border, it will likely not require federal approval.
Casey Tolan is a National News Reporter for Fusion based in New York City.