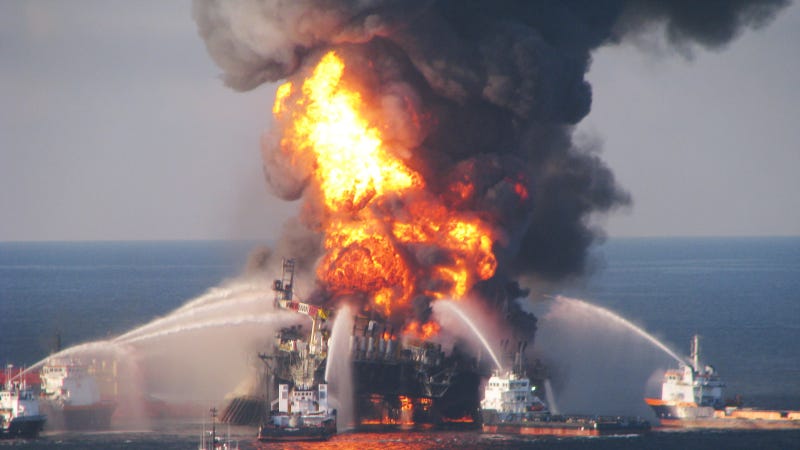 When BP agreed last week to pay the federal government and five states $18.7 billion in a settlement over the 2010 Deepwater Horizon oil spill, the Department of Justice heralded it as a big win.
"If approved by the court, this settlement would be the largest settlement with a single entity in American history," Attorney General Loretta Lynch said in a statement. "It would help repair the damage done to the Gulf economy, fisheries, wetlands and wildlife; and it would bring lasting benefits to the Gulf region for generations to come." The $18.7 billion agreement was a fair penalty, she argued, for the company whose policies led to the worst offshore oil spill in U.S. history, sending oil gushing into the Gulf of Mexico for 87 straight days.
But the oil giant could end up paying far less than the publicized amount thanks to a legal loophole that allows the company to deduct a big chunk of the fines from its federal tax bill. BP could end up saving a cool $4.66 billion when it files its taxes, reducing the total settlement to $14.04 billion. BP isn't the first large corporation to take advantage of the legal system to deduct the fees they owe for breaking the law; it's typical in big environmental and bank settlements.
According to a fact sheet released by the Justice Department, only $5.5 billion of the settlement is considered a penalty under the federal Clean Water Act. Everything else, including payments for coastal cleanup, is considered tax deductible. The company could simply claim those settlements as a "business expense" and use them to reduce the taxes it pays to the U.S. government, according to a report from the U.S. Public Interest Research Group.
And those deductions will be shouldered by U.S. taxpayers, said Phineas Baxandall, a senior analyst with the group. "It's a grey area in the law," he told Fusion. "The law gives a lot of wiggle room on this, and the lawyers for BP will take a mile with that wiggle room."
It could be even worse: BP may be able to argue that because 80 percent of the Clean Water Act penalty (that $5.5 billion) is going to the five affected states—Florida, Alabama, Mississippi, Louisiana, and Texas—that money also qualifies for a tax break. The payments are also stretched out over 15 to 18 years, further reducing the value of the settlement: A billion dollars today will likely be worth a lot more than a billion dollars 18 years from now, given inflation.
BP could have been on the hook for a lot more money. Eastern Louisiana District Court Judge Carl Barbier ruled last September that BP was "grossly negligent" in its behavior leading up to the spill, cutting costs despite safety risks. In January, he ruled that the company could face up to a $13.7 billion Clean Water Act penalty based on the size of the spill—far more than the $5.5 billion agreed to in the settlement. That finding changed the tone of negotiations completely, and BP was suddenly very interested in settling.
The agreement, which ended five years of protracted litigation, likely took the fact that some charges were tax deductible into account. "I'm sure that was bargained for, and they were more willing to pay a higher sum if parts of it were tax deductible," Edward Sherman, a Tulane University law professor who's studied the case, told Fusion. Notably, BP's stock price rose by more than five percent after the agreement was released.
The final settlement still has to be approved by the judge, but Sherman said he thought it was unlikely that it would be rejected. There will also be a period of public comment before the settlement officially goes into effect.
The Justice Department could still add language into the final settlement specifying that BP cannot deduct any of the charges. "All they have to do is add those few words and they would save taxpayers 4.7 billion," Baxandall said.
Justice Department spokesperson Wyn Hornbuckle declined to comment, pointing out that the settlement is not final. BP did not respond to a request for comment.
BP isn't the only big company that has deducted its way out of big settlements. When Exxon settled with the U.S. over the 1989 Exxon Valdez oil tanker spill in Alaska, it ended up paying about $300 million of the final $500 million settlement. This has also been a trend among big banks, as Matt Taibbi has noted in Rolling Stone: J.P. Morgan's $13 billion settlement with the federal government in 2013 allowed the bank to call $7 billion of that a "business expense" and thus write off $2.45 billion.
There are some advantages to having a settlement instead of a court-imposed punishment: states will start getting funds sooner and won't have to wait for appeals. "Five years [of litigation] is a long time, but it's short in comparison," Sherman said. "Exxon Valdez was 20 years, it went up and back through appeals… There's a finality to this, assuming the court accepts it."
Some members of Congress have proposed legislation banning companies from deducting any payments related to a federal settlement. Theoretically, at least, it's an issue that could appeal to Republicans looking to hold federal agencies accountable and Democrats looking to get more from big corporations.
But for the Justice Department and the corporations it settles with, the current situation works out pretty well. "The Justice Department gets a larger figure in their headline, and BP gets to tell their shareholders that they're not actually spending that much money," Baxandall said. "Everybody wins, except for the public."
Casey Tolan is a National News Reporter for Fusion based in New York City.