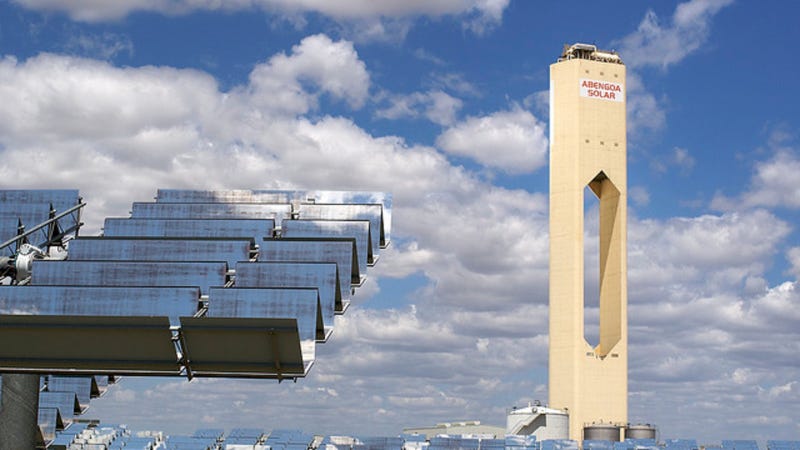 Solar power could comprise the largest share of global electricity production by 2050 — and it wouldn't be expensive to get there.
In a report released Monday, the International Energy Administration (IEA) lays out a roadmap to make electricity generation entirely zero-carbon within the next 35 years, with solar power leading the charge.
According to their outlined energy matrix for 2050, 16 percent of electricity generation would come from solar panels (also known as photovoltaics), with an additional 11 percent generated by solar thermal installations. In this scenario, all existing coal plants are modified, and wind power is also significantly expanded. But nothing takes as large a share of electricity capacity as solar.
The IEA's four scenarios for the world's electricity mix. 2DS means what it would take to limit the earth's temperature increase to just 2 degrees Celsius; 6DS, 6.
But to get there will require more governmental support and oversight, something that has been fading in Europe and is set to sunset in the U.S. after 2016, when the federal solar investment tax credit expires.
"In many European countries, in particular those where [photovoltaic] manufacturing has never been important, such as Spain, thousands of [photovoltaic]-related jobs have been created and eliminated more because of on-again off-again renewable energy policies than because of competition from Asia," the agency points out.
The IEA posits that the era of rapid global price declines for solar technology is over. The unique economic environment that saw European subsidies create a solar manufacturing boom in China has passed, as Europe reins in its renewables spending. Photovoltaics in particular remain a capital intensive technology that is highly sensitive to investment risks, which are increased by a lack of long-term price visibility, they note.
But any countries where the price of solar remains high still have room to converge with lower priced-ones as more people start to use solar, and as solar technology improves. On that latter bit, solar cells continue to hit new milestones of efficiency:
Each line represents new lab-grown levels of solar cell efficiency — how much electricity can be retained from irradiance.
And for solar thermal, which involves directing vast arrays of mirrors at a tower that converts the heat into electricity, the agency says the industry continues to experiment with cheaper parabolic trough and tower designs.
Declining costs of batteries, which solar systems need to retain power when the sun isn't shining, could also play a huge role. "If battery costs fell in line with the most optimistic assumptions, 14% to 18% of electricity demand in Germany, Spain and Italy could be met by self-produced solar electricity – with 6% to 9% of electricity demand replaced on these markets by 2020," the report says.
So the public subsidies required to front-load solar energy won't need to be as great as they are currently to realize the more robust solar buildup.
And as market prices decline, policy consistency — the opposite of the aforementioned situation in Spain — will actually be more important than finding the resources to pay for the technology.
If the right steps are taken, the IEA says solar electricity prices could fall to as low as $0.30/Watt by 2035, from just under a $1.00 today.
One interesting wrinkle is that it would be $4.5 trillion cheaper for the world to bolster nuclear and carbon capture technologies to meet its carbon goals than it would be to invest in renewables such as solar and wind. But the IEA says that scenario is unlikely because of the current turn away from nuclear in most of the world, and the fact that no one has really adopted carbon capture and storage technology.
Still, the energy agency says the world would only need to invest an additional $1.9 trillion than all planned infrastructure spending through 2050 to reach the outsized solar capacity scenario. That is actually less than the approximately $4 trillion estimated in another recent report on the cost of lowering the world's carbon footprint through changes in the power supply mix.
Back in May, the agency lamented that "the political will to make meaningful progress at a global scale has yet to be demonstrated."
It's not clear whether that has changed in the intervening months, but if governments are interested, they now know where to look.
Rob covers business, economics and the environment for Fusion. He previously worked at Business Insider. He grew up in Chicago.