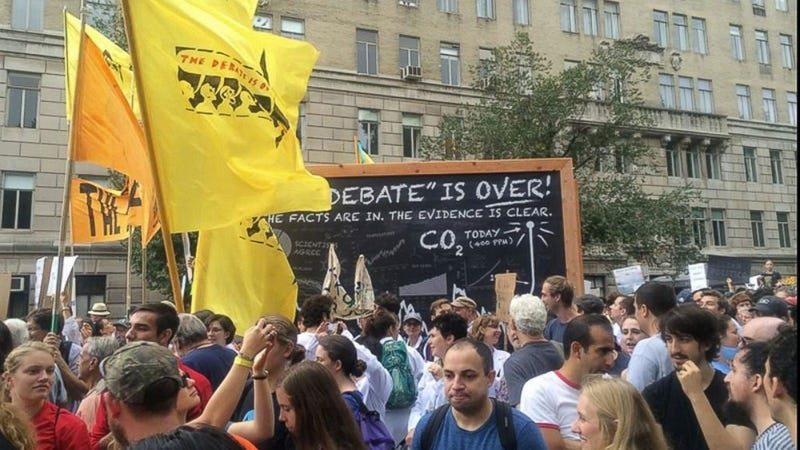 What better way to spend your Sunday than ensuring a better tomorrow for the entire planet?
Today, you can check in this space to follow the goings on at the Climate March in New York, as well as on Fusion's various social networks, on Twitter @ThisIsFusion and @FusionIsNews, on Tumblr, on Facebook, on Instagram, and on Vine. (We will not, unfortunately, be updating our Friendster page.)
Also, check out this piece by Fusion's Rob Wile on why it is actually cheaper to address climate change now than waiting to do something later.
The videos below were captured by Fusion's Danilo Lauria.
TIME LAPSE IMAGES: Watch the whole march in 18 seconds.
FROM THE STREETS
Fusion's Nicolas Ibarguen was on the front lines of the march.
Fusion's Tim Pool has this image from the march.
Also, Fusion's Abby Rogers has a beautiful gallery of images from the day over on Tumblr. Here's a selection.
UPDATE 2:41 p.m.
UPDATE 2:24 p.m.
The march itself is over, but here's a wrap from Democracy Now, who covered the event.
UPDATE 1:57 p.m.
Images from the March, captured by Fusion staff.
UPDATE 1:50 p.m.
Some folks are having a great time, it seems.
@fusion