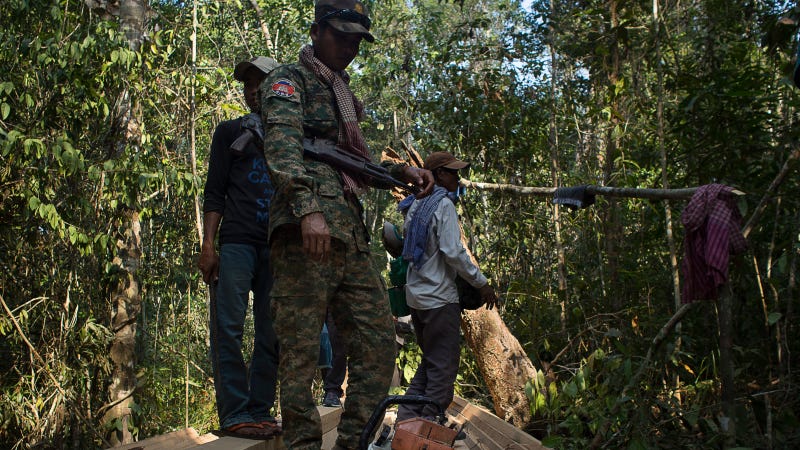 PREY LANG, Cambodia—The Asian elephant, the banteng and the sambar are just some of the species threatened by illegal logging in Cambodia, where an estimated 804 square miles of forest disappear every year.
One cause of this deforestation is often overlooked: global demand for luxury timber. In the case of Cambodia, the Chinese craving for rosewood—which includes any number of richly hued timbers—has spawned an illegal multi-million dollar timber trade where rare tree species are poached. Around 85% of Cambodia's timber exports end up in China, where the wood is turned into furniture for the local market, but also into wood products such as luxury floors exported to U.S. and European markets.
The rapid loss of forest in Southeast Asia is a microcosm of the global issue, and if action isn't soon taken the local and global effects could be devastating. Deforestation accounts for almost 20% of human-driven greenhouse emissions, according to the UN's "REDD" initiative.
Cambodia's biggest logging tycoon is Oknha Try Pheap, who, according to environment watchdog Global Witness, "is at the helm of an all-encompassing illegal logging network that relies on the collusion of state officials and supposed enforcement agencies."
The illegal timber racket works very much like any organized crime undertaking; by relying on intimidation and violence.
Four years ago, one of Cambodia's most prominent environmental activists, Chut Wutty, was murdered by a military police officer. Half a year after his death, journalist Hang Serei Oudom, who had investigated illegal logging, was found murdered in the trunk of his own car. In 2014, another journalist, Taing Try, was shot in the head while investigating an illegal logging site in Kratie province.
Reporters Without Borders has dubbed Cambodia the most dangerous country for an environmental reporter.
Just after midnight on November 7, 2015, forest ranger Sieng Darong and police officer Sab Yoh were shot and killed only hours after confiscating chainsaws from an illegal logging site in Preah Vihear Protected Forest in northeastern Cambodia.
This is not unique to Cambodia, but part of a global trend where environmental activists are murdered with impunity like never before. Global Witness recorded more than 950 murders of forest defenders worldwide between 2002 and 2014.
Because data is lacking and many killings go unreported, this is believed to be an underestimate. Despite these risks, indigenous people and activists in forests across the globe continue to put up a fight.
One such group is the Prey Lang Community Network that regularly patrols Cambodia's Prey Lang forest—one of the largest remaining evergreen forests in all of Southeast Asia. Covering roughly 1,350 square miles, the forest is home to over 20 endangered species and about 250,000 people, predominantly from the ethnic minority Kuy that subsist mostly as foragers and farmers.
Many activists from this region rely on collecting tree resin from the Chhe tiel tree for their livelihoods, as it is used in waterproofing boats. These same trees are being targeted by illegal timber poachers.

While out on a recent patrol, the anti-logging activists quickly honed in on a gang of illegal loggers with activist Chheng Phan taking the lead.
As they moved past a tractor hidden beneath some branches the sound stopped, causing Phan to come to a halt. After hushing his fellow activists, Phan signaled them to divide into two groups and approach the illegal logging site from two directions.
"Stop!" Phan suddenly shouted as he saw people running away. The activists had been spotted. They picked up their pace, but were unable to catch the loggers. Instead, they discovered their abandoned camp with a chicken stew boiling over a fire. Nearby, a chainsaw was stuck halfway through a tree. Phan determined that the loggers were just about to fell their last tree before dinner.
What activists like Phan try to do—besides confiscate chainsaws and illegally felled timber—is gather data on illegal logging to create awareness and spur governments into action. Supported by international organizations and donors such as Danish aid organization Danmission and the Alexander Soros Foundation, the PLCN have started using smartphones to collect evidence of illegal logging. The pictures they take are uploaded along with GPS data and other statistics to a database. In use for just about one year now, the database has recorded over 800 validated cases of forest crimes. The activists do not receive a salary, but are supported with technical and logistical assistance as well as certain necessary financial assistance.
The approach has paid off. The PLCN was awarded the UNDP's Equator Prize at the recent climate summit in Paris. At that conference, the Cambodian government delegation promised to restore the country's forest cover back to 60% by 2030. Its current level is just under 50%, according to Open Development Cambodia. In January, Prime Minister Hun Sen went on to create the "Coalition Committee for Forest Crime Prevention" with the ostensible purpose of cracking down on illegal timber smuggling.
Josie Cohen, a senior land campaigner with Global Witness and an expert on Cambodia, said there are reasons to be skeptical of these efforts.
"Hun Sen is a master of making it look like he's trying to do something," she said. "We know that Oknha Try Pheap is at the top of these illegal logging networks, yet there is no mention of him in the committee's mission. So, a task force on forest crime that doesn't focus on the person who is central to this organized crime doesn't seem to have the proper mandate to really crack down on illegal logging."
The PLCN activists are pleased with the attention their cause is garnering, but also remain skeptical of the government's efforts.
"How are they going to restore forest cover up to 60%?" asked Chea Sokheoun. "We haven't seen any improvements in forest protection over the last 15 years. What we have seen is loggers only getting more active and more threatening."
Despite the commitment of activists like Phan and Sokheoun and international support and recognition for PLCN's efforts, the group has barely made a dent in the illegal logging trade in Cambodia, the scale of which is difficult to grasp.
The investigation by Global Witness showed that the Try Pheap Group alone is shipping off as much as 30,000 cubic feet of timber every day.
As international demand grows, the scramble for rare and precious species of timber intensifies.
Sokheoun has concluded that this is an issue that ultimately will need to be solved on a higher level.
"To save Cambodia's forests we have to stop the demand for timber," he said. "For that, we need market regulations and more control of the international trade, and that's not something we can achieve by ourselves."
Attempts in the West to regulate and certify the timber trade have yielded mixed results. In 2008, the U.S. law against illegal wildlife trafficking—the Lacey Act—was amended to include illegal lumber imports.
In the beginning of 2016, Lumber Liquidators, an American company, was fined $13 million for importing flooring manufactured in China from timber illegally logged in eastern Russia. This was the biggest penalty for timber trafficking ever under the Lacey Act, according to the U.S. Department of Justice.
In Europe, enforcement has been weaker. In a recent review of its own regulation—known as the EU Timber Regulation (EUTR), in place since March 2013—the European Commission found that the implementation by EU member states has been both "slow" and "insufficient".
According to Global Witness, as much as two billion euros worth of illegal timber, pulp and paper could have entered the EU in 2014. The biggest importers were the U.K., Germany, France and Italy.
"The law [EUTR] has been in place for three years but we have so far seen no prosecutions and no serious penalties," said Colin Robertson, campaigner for Global Witness. "Meanwhile illegal timber continues to flood the EU market in enormous quantities."
Axel Kronholm is a freelance journalist, based in Sweden, covering politics, conflict, ecology and development, mainly across South and Southeast Asia. He has contributed to The Guardian, BBC, Al Jazeera America, Vice News, Public Radio International and more.