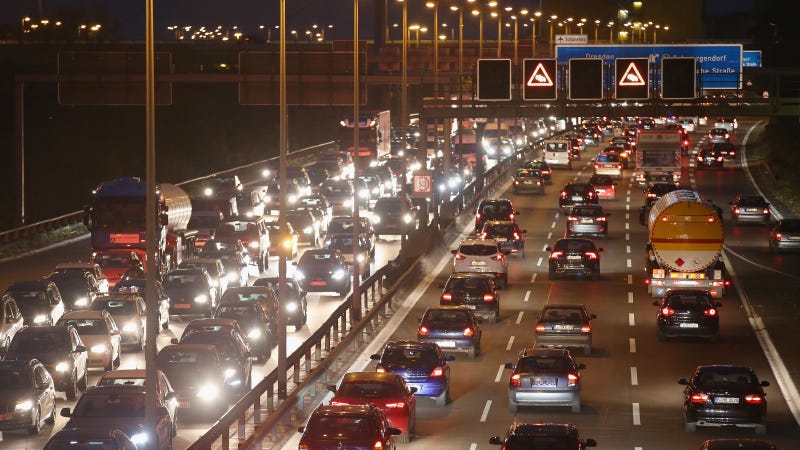 Over the weekend, German lawmakers passed a resolution that aims to make EU roads emissions free by 2030. This is great news, though the planet is probably still screwed.
The resolution was passed by the Bundesrat (which represents the 16 German federal states and is roughly analogous to the U.S. Senate) and Spiegel Online reports that it has support from multiple political parties, though it's non-binding. The legislation calls for new, EU-wide regulations that would take all petrol and diesel burning passenger vehicles off the road in the next 14 years. It also takes aim at Europe's diesel subsidies, as Diesel sales have fallen across the continent in the year since Volkswagen's 'Dieselgate,' where the company was found to have fudged emissions data on its diesel burning vehicles.
The suggested new rules are meant, in part, to try and ensure that Germany hits goals set in last year's Paris climate agreement. German Green Party Bundesrat member Oliver Krischer told Spiegel that the proposed changes were necessary if the Paris agreement is "to be taken seriously." While the Bundesrat's resolution carries some weight given Germany's huge economic influence within the EU and Volkswagen's status as the world's second largest car manufacturer in 2015, regulators and legislators in Brussels will still have to implement the ideas put forth.
Though it's a step in the right direction, a report issued by Germanwatch and Climate Action Network Europe points out that emissions continue to rise globally. The U.S. remains second in emitting greenhouse gases, after China, and efforts here like President Obama's Clean Power Plan continue to face obstacles.
In other words, we still have so much work to do.
Ethan Chiel is a reporter for Fusion, writing mostly about the internet and technology. You can (and should) email him at ethan.chiel@fusion.net